A-Rod gets booed and pinch-hit for; Yankees win
On a wild night in the Bronx, Raul Ibanez pinch-hit for Alex Rodriguez and tied the game with a ninth-inning home run -- and then won it with another home run in the 12th.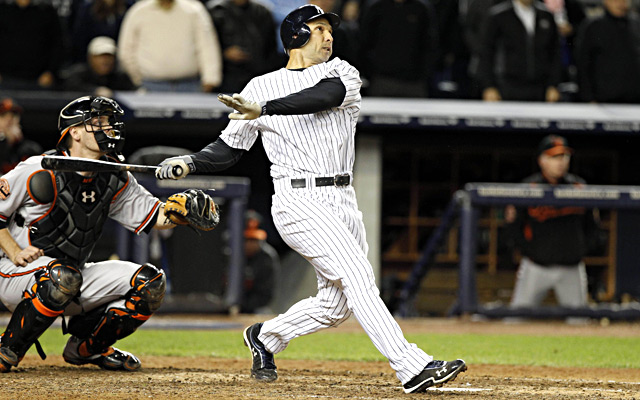 Raul Ibanez hits a walk-off blast in the bottom of the twelfth inning. (US Presswire)
NEW YORK -- The Yankees are alive.

The A-Rod questions are alive, too.

Hard for both to be true, but there was no doubt about it Wednesday night at Yankee Stadium. Just as there was no doubt about Raul Ibanez's game-tying home run in the ninth inning.

A pinch-hit home run . . . pinch-hitting for A-Rod.
And then he did it again. Ibanez homered off Brian Matusz to lead off the 12th inning, giving the Yankees a 3-2 win and a two games to one series lead, and ending a crazy night in the Bronx.
A crazy night that included Alex Rodriguez getting pinch-hit for in the ninth inning of a game his team trailed by a run.
Yes, Yankee manager Joe Girardi sent Ibanez up to bat for Rodriguez, in the ninth inning of a game the Yankees trailed by a run. And yes, Ibanez's pinch-hit home run tied the game in the ninth, just as his pinch-hit home run tied a key game last week against the Red Sox.


And he won it with a walkoff, just as he did in that Red Sox game.

The questions will continue about Rodriguez. The overriding popular sentiment in New York was already that he shouldn't continue to bat third. The New York Post suggested on its back page Wednesday morning that Girardi drop A-Rod to sixth.

Girardi rejected that suggestion and all the others, and left Rodriguez in the same lineup spot he has been in for much of the year. Then Rodriguez went 0 for 3 with two strikeouts, drawing loud boos with every out.

He wasn't the only struggling Yankee, but he has the biggest contract and the most history. Dating back to last October, A-Rod is 3 for 30 with 13 strikeouts in eight postseason games.

A-Rod doesn't take over games anymore, but he does take over stories.

This one should have been about the feisty Oriole rookies, from starting pitcher Miguel Gonzalez (1 walk, 25 strikeouts in three brilliant starts in the Bronx) to Rule 5 pick Ryan Flaherty (who homered for the game's first run) and 20-year-old Manny Machado (whose fifth-inning home run gave the Orioles the lead that lasted until Ibanez's homer in the ninth).

Machado became just the third 20-year-old to homer in a postseason game (not counting Andruw Jones, who homered at 19 but not at 20). You may have heard of the other two: Miguel Cabrera, in 2003 with the Marlins, and Mickey Mantle, in 1952 with the Yankees.

When Machado was a kid (isn't he still a kid?), he was compared to A-Rod.

Now he does what A-Rod once did. And A-Rod gets pinch-hit for (with a guy three years older than he is).
The Rangers' lefty and wife Heidi have done a very good deed

Will J.D. Martinez be Boston's next target?

Could catcher J.T. Realmuto be the next Miami player to be traded?
If the slow-play for Martinez, Hosmer and Arrieta sounds familiar, it should

The Nats will host the All-Star Game in 2018

The Orioles are looking to trade Machado heading into his walk year