All-Time Single-Season team: Expos/Nationals
It's time for the 29th of our 30-installment series where we look at the best all-time single-seasons from each franchise. It's a mixture of the Expos and Nationals today.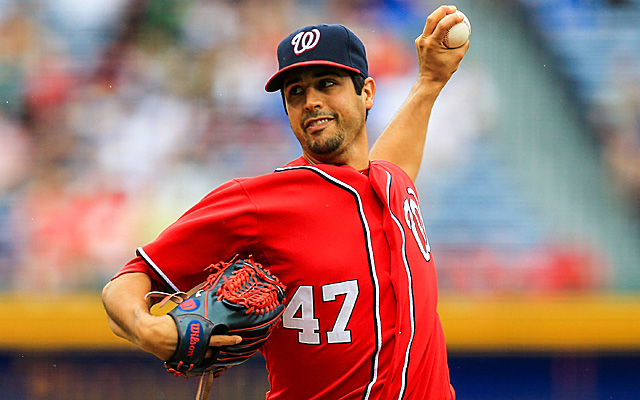 ALL-TIME SINGLE-SEASON TEAMS: CHC | STL | MIL | CIN | PIT | CHW | DET | KCR | CLE | MIN | ARI | COL | SD | LAD | SF | SEA | HOU | LAA | TEX | OAK | BOS | NYY | BAL | TOR | TBR | MIA | NYM | ATL
We have arrived at the penultimate installment in our month-long series to bridge the gap from Hall of Fame jabbering to when spring training is upon us. It has been a fun ride. This time around, we'll check out the all-time single-season team for the franchise that is now called the Washington Nationals. Of course, that has only been the case since 2005. It was the Montreal Expos from 1969-2004.
Considering the Expos had a lot more years from which to choose and the Nationals were pretty bad for a handful of years, expect to see many Expos.
Before diving in, some obligatory points.
1. This is only looking at the best single season in franchise history. Thus, don't think about "who is the best first baseman in franchise history" but instead "who had the best season at first in franchise history." There's a difference -- a quite distinct one, in fact -- one that still seems to trip people up from time to time.
2. This is subjective. That means that it's our opinion. We can have differences in opinion without one of us being stupid. Feel free to make your own lineup and compare.
3. Just for the sake of variety, we've installed a rule that one player can only be used once per team.
And now, the Expos/Nats.
CATCHER - Gary Carter, 1982

No other catcher in the history of this franchise had a season worthy of consideration over about nine Carter seasons, so it was a matter of which one of Kid's to choose. It was very close between '82 and '84.
The offensive lines:
'82: .293/.381/.510, 146 OPS+, 32 2B, 29 HR, 97 RBI, 91 R, 163 H
'84: .294/.366/.487, 143 OPS+, 32 2B, 27 HR, 106 RBI, 75 R, 175 H
What a toss up. I think I'd go '82 there due to the OBP and slugging, but defense makes it a bit easier. Carter threw out 40 percent of opposing basestealers in 1982 against 32 percent in 1984.
It is ever-so-close, but '82 is the pick.
FIRST BASE - Al Oliver, 1982

Oliver paced the NL in hits, doubles, RBI, average and total bases in 1982 for a very good Expos offense that finished third in runs and second in OPS in the NL. He hit .331/.392/.514 (150 OPS+) with 204 hits, 43 doubles, 22 homers, 109 RBI and 90 runs. He tied with Pedro Guerrero for third place in NL MVP voting behind Dale Murphy and Lonnie Smith.
Andres Galarraga in 1988 was nearly a dead heat, with 2012 Adam LaRoche, 2011 Mike Morse, 2010 Adam Dunn, 2006 Nick Johnson and 2004 Brad Wilkerson (seriously, go check it out) in the mix -- in addition to some more Oliver and Galarraga years.
SECOND BASE - Jose Vidro, 2000

It's hard to figure where the subjective term "great" begins and ends, but just a cursory glance at the history of this franchise shows there hasn't really been anything I'd personally consider a "great" season at second base. Vidro was a very good hitter for a handful of years while Delino DeShields was a fine table-setter, base-stealer and defender. Others like Mike Lansing, Vance Law, Danny Espinosa and Ron Hunt (1971) seeped into at least mild consideration, but I ultimately went with Vidro's best offensive season over DeShields' 1990-93 seasons.
Vidro made the All-Star team for the first time (of three) in 2000 when he hit .330 with a 126 OPS+. He had exactly 200 hits, with 51 doubles and 24 homers among them. He scored 101 runs while driving in 97. That's pretty solid production from second base, even if I don't consider those numbers "great" considering the video-game offensive-stat era some call the "steroid era."
SHORTSTOP - Ian Desmond, 2012

Hey, it didn't take that long before we saw a National, eh?
An abdominal strain prevented Desmond's breakout 2012 season from being even better, as he only managed 130 games. Still, while playing for the team with the best record in the regular season, Desmond hit .292/.335/.511 (125 OPS+) with 33 doubles, 25 homers, 73 RBI, 72 runs and 21 stolen bases in those 130 games. He added stellar defense and, again, bonus points for being a big part of the 98-win breakout in DC.
The biggest competition here came from Desmond last season and Orlando Cabrera in 2003. Wil Cordero warrants mention here, along with Mark Grudzielanek and Hubie Brooks.
THIRD BASE - Ryan Zimmerman, 2009

We could probably have a pretty good debate on whether Zimmerman has yet surpassed Tim Wallach on career acumen, but Zimmerman's 2009 all-around greatness wasn't matched by a single season put together from Wallach.
Zimmerman won a Gold Glove and Silver Slugger in '09 while scoring and driving home more than 100 runs each. He had 37 doubles and 33 homers while hitting .292/.364/.525 (133 OPS+).
The decision here was mostly a handful of Wallach seasons against a handful of Zimmerman seasons, but Bob Bailey had a great bat for several years while bouncing around the diamond and spending some time at third.
And the runner-up here was actually Larry Parrish in 1979, when he hit 30 homers and finished fourth in MVP voting behind Keith Hernandez and two Hall of Famers. The hitting lines are very comparable and it was the glove that won it for Zimmerman.
LEFT FIELD - Tim Raines, 1985

I kept going back and forth between Raines and the one season Alfonso Soriano spent with the Nationals. I'm still not sure I have the right answer (well, I actually don't have the "right" answer since there isn't one in the case of an opinion).
Here are the lines:
Raines: .320/.405/.475, 151 OPS+, 30 2B, 13 3B, 11 HR, 41 RBI, 115 R, 70 SB, 81 BB, 60 K
Soriano: .277/.351/.560, 135 OPS+, 41 2B, 2 3B, 46 HR, 95 RBI, 119 R, 41 SB, 67 BB, 160 K
Here's where I fall:
Despite his power, Soriano didn't finish in the top 10 in the NL in slugging percentage, OPS or OPS+. He ranked seventh in runs created, but Raines in 1985 ranked second. Raines was third in average, third in on-base percentage, eighth in OPS and third in OPS+ -- all of which help to put some perspective on the difference in the eras, offensively.
Soriano does, obviously, have a huge edge in homers while being behind a good amount in steals -- though 41 in 2006 ranked him sixth in the NL.
It was a real tough call. I have no problem with those who believe the 40-40 season trumps Raines. I'd note the arbitrary nature of such a benchmark, but it's all in the eye of the beholder. For what it's worth, both major versions of WAR show Raines on top by a decent margin.
The third strong candidate here was Moises Alou in that fateful 1994 season. He had a 153 OPS+ at the time of the strike.
CENTER FIELD - Andre Dawson, 1983

The Hall of Famer known as The Hawk had a number of outstanding seasons for the Expos in center before knee troubles shifted him to right. His 1981 season may have ended up better, but unfortunately we'll never know due to the strike. In both '81 and '83, Hawk was the runner-up in NL MVP voting.
I'll go with the gaudy numbers in '83 by a slim margin. Dawson hit .299/.338/.539 (141 OPS+) with 36 doubles, 10 triples, 32 homers, 113 RBI, 104 runs and 25 stolen bases. He led the NL in hits (189), total bases (341), hit-by-pitches (nine) and sac flies (18). He also won a Gold Glove and Silver Slugger.
Quite a packed resume there, Hawk.
The decision here was mostly which Dawson season to choose, but Marquis Grissom pushed him with some Rondell White mixed in as well.
RIGHT FIELD - Vladimir Guerrero, 2002

I actually feel like Vlad's career is in the that underrated stage until Hall of Fame discussions pick up and people start to remember just how awesome he was. And 2002 was right there with 2000, 2003, 2004 (with Angels) and 2005 (again with Angels) in the argument for his best season.
We'll go with '02 because Guerrero led the NL in hits and total bases while stealing a career-high 40 bases. He hit .336/.417/.593 (160 OPS+) with 37 doubles, 39 homers, 111 RBI, 106 runs and walked more than he struck out. He actually drew a whopping 32 intentional walks that year, a career high. He led the majors in the non-Bonds division (as a sidenote, this is hilarious: Barry Bonds drew 68 intentional walks that year).
In addition to the aforementioned Vlad seasons, Rusty Staub was very good for a handful of seasons, Ken Singleton's 1973 effort (over 100 RBI and runs) merits strong consideration -- just as Jayson Werth's 2013 season did.
And, of course, we have Larry Walker in the great '94 season that was sadly cut short. He actually had 44 doubles in only 103 games.
STARTING PITCHERS - 1997 Pedro Martinez, 1982 Steve Rogers, 1991 Dennis Martinez, 2012 Gio Gonzalez, 1994 Ken Hill

Pedro Martinez in 1997 began what was one of the greatest runs in the history of baseball for a starting pitcher (no exaggeration at all, click through to see). He went 17-8 with a 1.90 ERA (219 ERA+), 0.93 WHIP and 305 strikeouts in 241 1/3 innings. He led the majors in ERA, WHIP and complete games (13, with no one else having more than nine).
Rogers finished second in Cy Young voting in 1982 to the great Steve Carlton. Rogers went 19-8 with an MLB-best 2.40 ERA and 152 ERA+ in addition to a 1.12 WHIP, 179 strikeouts, 14 complete games and four shutouts in 277 innings.
El Presidente in '91 posted a sick 2.39 ERA (best in the majors and good for a 153 ERA+) with a 14-11 record. He also led the majors with five shutouts and topped the NL with nine complete games. I know, I know ... Record! Consider the Expos were 55-75 when he didn't start and 16-15 when he did. The Expos scored two or fewer runs in 13 of his starts.
Gonzalez finished third in NL Cy Young voting in '12, going 21-8 with a 2.89 ERA (138 ERA+), 1.13 WHIP and 207 strikeouts in 199 1/3 innings -- leading the Nationals to their first playoff berth.
It's tough picking 1994 players (and 1981, for that matter), but I felt like we definitely needed at least one from that 74-40 Expos team that remains cemented in Montreal lore. That was what got Hill the nod over several other worthy candidates. He finished second in Cy Young voting that season to some dude named Greg Maddux (seriously, who is that?). Hill went 16-5 with a 3.32 ERA (127 ERA+) in 154 2/3 innings of work.
Lots of pitchers had at least one season under consideration here, such as Livan Hernandez, Javier Vazquez, Jordan Zimmermann, Bryn Smith, Ross Grimsley, Bill Gullickson and Bill Stoneman -- along with partial-season efforts from Pascual Perez and Mark Langston.
RELIEF PITCHERS - 1993 John Wetteland, 2005 Chad Cordero, 1972 Mike Marshall

Yes, Wetteland was the closer on that '94 team, but he was better as an individual in '93 and it wasn't particularly close (he blew 10 saves in 35 chances in '94, for example). In 1993, Wetteland was 43 of 49 in save chances with a 1.37 ERA (305 ERA+), 1.01 WHIP and 113 strikeouts in 85 1/3 innings. He even managed nine relief wins in a monster season.
Cordero and his pulled-down-too-far cap saved an MLB-best 47 games in '05 along with a 1.82 ERA (225 ERA+) and 0.97 WHIP.
Much like he was on our Dodgers' entry, Marshall is our ironman reliever. He worked 116 innings in 65 relief appearances for the Expos in 1972, putting together a 1.78 ERA and 1.11 WHIP. He had 14 wins and 18 saves while stranding 42 of the 58 runners he inherited. He pitched at least three innings in relief 18 times.
---
THE LINEUP
1. 1985 Tim Raines, LF
2. 1983 Andre Dawson, CF
3. 2002 Vladimir Guerrero, RF
4. 1982 Al Oliver, 1B
5. 2009 Ryan Zimmerman, 3B
6. 1982 Gary Carter, C
7. 2000 Jose Vidro, 2B
8. 2012 Ian Desmond, SS
Something to watch: Will Bryce Harper join the fray anytime soon? He has a tall order with those corner outfielders.
Up next: The final entry in the series in the form of the Philadelphia Phillies.
Josh Harrison doesn't sound pleased Gerrit Cole and Andrew McCutchen have been traded away

The team's media contracts expire following the 2019 season

San Francisco could use more help in the outfield and at the back of the rotation
The White Sox, Athletics, Orioles and Marlins are the holdouts after the Blue Jays and Angels...

Molina's deal expires after the 2020 season

Sheffield has the numbers to make it to Cooperstown, but he has received very little suppo...