Ben Cherington resignation ends very odd tenure with Red Sox
One World Series championship along with what appears to be three last place finishes. What a weird tenure for now-former Red Sox GM Ben Cherington.
So, how was the Ben Cherington Era for you?
'Twas a mixed bag, no matter if you are a Red Sox lover or hater.
In nearly four seasons as the Red Sox general manager -- Cherington resigned Tuesday night as the ballclub hired Dave Dombrowski as club president -- the highs and lows were as extreme as imaginable for the first-time boss.
Remember, Cherington took over the team in the wake of the historic 2011 collapse, where the Red Sox led the AL East on Sept. 1 and blew a nine-game lead over the Rays within 25 days. It culminated with a Jonathan Papelbon blown save coming minutes before Evan Longoria hit a walk-off homer to clinch the wild card for Tampa Bay.
Meanwhile, long-time, decorated executive Theo Epstein was headed to the Cubs and long-time, decorated skipper Terry Francona was out.
Cherington was then tasked with finding a new skipper, only to be vetoed and overruled by then-president Larry Lucchino in favor of Bobby Valentine.
The offseason also provided one of the more annoying storylines, with the beer-and-chicken nonsense from the clubhouse, specifically the reports that starting pitchers would be playing video games while eating chicken and drinking beer in the clubhouse during games they didn't start.
Things didn't get better from there.
The Valentine season was an unmitigated disaster. Cherington was able to clear tons of salary in moving Adrian Gonzalez, Josh Beckett and Carl Crawford to the Dodgers in an August blockbuster, setting the table for a big offseason makeover, though.
That makeover was grabbing a group of veterans on cheap, short-year free agent deals, many of whom were known as pluses in the clubhouse: Shane Victorino, Mike Napoli, David Ross, Koji Uehara, Ryan Dempster, Jonny Gomes and Stephen Drew.
The changes paid off, as the Red Sox -- now with John Farrell at the helm instead of a fired Valentine -- were the best team in baseball, winning their third World Series in the last decade.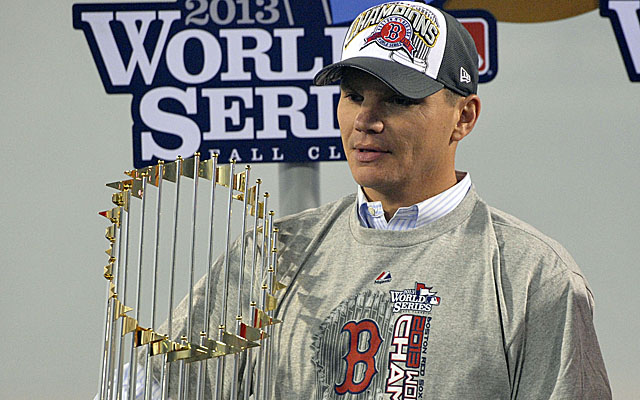 That season, however, turned out to be an outlier.
After losing Jarrod Saltalamacchia, Jacoby Ellsbury and a few others, the 2014 Red Sox dealt with injuries and underperformance in their 2014 hangover, resulting in a 71-91 last-place team. Jon Lester, John Lackey and Jake Peavy were traded from the rotation.
In the offseason, Cherington elected to build a stable of groundball-heavy pitchers instead of landing a big-name ace to front the group (the reported offers to Lester were more like non-offers, given the climate), meanwhile adding huge offensive contracts in Pablo Sandoval and Hanley Ramirez. Cuban outfielder Rusney Castillo had been added late in 2014, too.
What the Red Sox got this season was a disaster of a pitching staff with one of baseball's most-explosive offenses. The big mistake in hoping the grounder-heavy strategy worked seems to be in having Sandoval at third base and Ramirez in left. The need for a tip-top infield defense is there as well as a good defensive outfield if the sinkers aren't sinking.
Regardless, it appears the Red Sox are headed for a third last-place finish under Cherington. In four years.
But, wait! In the other year, Cherington's ballclub won the World Series.
So how is he to be viewed by posterity in Boston?
It's hard to say.
On one hand, flags fly forever and you can't take away that World Series title. Cherington did gut part of the core he inherited in order to piecemeal his 2013 roster.
He also inherited the following players from the Epstein regime (which, it should be noted, Cherington was part of as the assistant GM once Jed Hoyer departed for San Diego):
Saltalamacchia, Dustin Pedroia, Will Middlebrooks, Ellsbury, David Ortiz, Xander Bogaerts, Lester, Lackey, Felix Doubront, Clay Buchholz, Junichi Tazawa, Andrew Miller and Daniel Nava, among a few others.
That's an awful lot of value to that 2013 ballclub that Cherington already had with which to work.
He did, however, make the supplemental moves that helped push them over the top.
On the other hand, he's been pretty bad overall, especially since the World Series title.
He did win the World Series, though, and many GMs can't say that.
But many GMs didn't inherit a core that talented with the significant resources of the Red Sox to boot. 
Man, this is exhausting. We could probably keep going.
What a weird tenure.
Sayonara, Mr. Cherington. We hardly knew thee. And kinda still don't.
Get 15 percent off any order of more than $75 at CBS Sports Shop

Get your sports fans something that they'll wear all year

No, you're not imagining things. This MLB offseason has been very slow compared to the last...
Francesa will retire from radio next month, so he'll have plenty of free time next summer

The Twins need help in the rotation, and they may look to the trade market to find arms

Here are the bullet-points of what went down Tuesday regarding MLB and the Braves' punishm...