Bring long-ball hitters for ideal Home Run Derby lineups
The All-Star Game rosters have been announced, but we're still waiting on the Home Run Derby participants. Here's who should be in the event.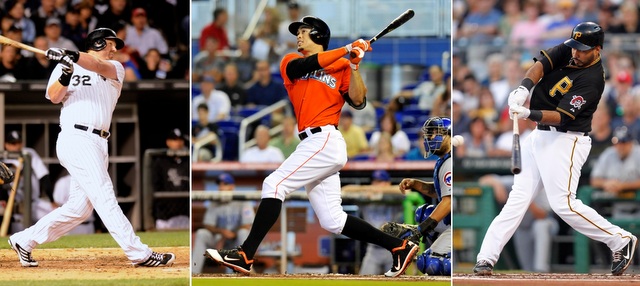 More All-Star Game: AL and NL Rosters | All-Snub Teams | Final Vote Player Profiles
The All-Star Game rosters were announced over the weekend, but we're still waiting to find out who will participate in the Home Run Derby come next Monday at Citi Field. We do know that David Wright of the Mets and Robinson Cano of the Yankees will captain the NL and AL teams, respectively, and it was a smart move on MLB's part to get the two hometown stars involved.
Wright and Cano will invite various other players from around the league to partipate in the event, which is nothing more than an exhibition. The Derby raises money for charity but otherwise doesn't count for anything -- there's no impact on World Series home-field advantage, nothing like that. It's a dog and pony show.
Every year more than a few players decline those invitations -- Red Sox slugger David Ortiz said he was done with the Home Run Derby a few weeks ago -- and the talent pool thins out, so to speak. In recent years we've soon good but not great players like Rickie Weeks, Nick Swisher, Corey Hart, Brandon Inge and Chris Young participate in the Derby. The lineups always seem to be lacking.
My approach to building the ideal Home Run Derby would be pretty simple: bring home run hitters. I wouldn't worry about whether the player was selected to All-Star Game or anything like that, just bring guys who hit the ball a mile. I'm totally cool with the idea of bringing a token hometown player (or two, in the case of some cities like New York), but otherwise I don't care if these guys are hitting .150 as long as they can put on what amounts to a great batting practice display.
With that in mind, here are my ideal lineups for next Monday's Derby:
American League
Cano - captain
Davis might be my most favorite hitter to watch right now because it looks like there's no effort in his swing whatsoever, yet he still hits the ball as far as anyone else in the game. For example: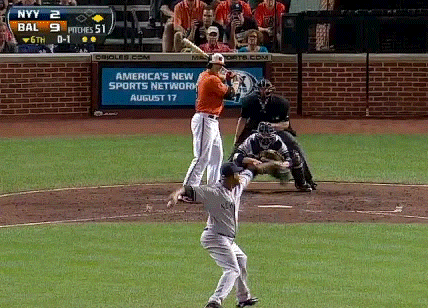 That is just so awesome. Given his MLB-best 33 home runs, I'm guessing we'll see Davis in the Derby next week. He already told Dan Connolly of the Baltimore Sun he is interested in participating.
Dunn has long been one of the best pure power hitters in the game, averaging 39 homers per 162 games for his career with six 40-homer seasons to his credit. He's on pace for another 44 this year. Hard to believe he's never once taken his hacks in the Home Run Derby.
Trumbo participated in the event last year and almost made it to the finals before losing a swing-off tiebreaker to Jose Bautista. He's on pace for 35 homers this year after hitting 32 last year and 29 the year before. Trumbo's homers average 417 feet, according to ESPN's Home Run Tracker, which is nuts.
Others AL players who received consideration were Bautista, Mark Reynolds, Prince Fielder, Miguel Cabrera, Edwin Encarnacion, Mike Trout, Yoenis Cespedes and Chris Carter.
National League
Wright - captain
Stanton is pretty much a no-brainer as far as I'm concerned. The knee and hamstring injuries cost him a bunch of time and production this year, but it's fair to say he has the most raw power in the game right now. At the very least, he's in the conversation.
Alvarez comes from the Davis school of "easy power," and he gets bonus points for hitting a ball clear out of PNC Park earlier this season. He's on pace for 41 home runs this year despite his trouble against left-handers. Just make sure there's a right-handed pitcher on the mound for the Derby and we're all good here.
Harper confirmed to Amanda Comak of the Washington Times that he has received an invitation to this year's Derby, but he has yet to decide if he will participate. I truly hope he does. The 20-year-old (!) had a legitimate shot at hitting 40+ homers this year before losing more than a month's worth of games to a knee injury. Harper averages 30 long balls per 162 games for his career, which is bonkers at that age. He was put on the planet for events like this.
Other NL players receiving consideration were Carlos Gonzalez, Domonic Brown, Paul Goldschmidt, Jay Bruce and Yasiel Puig.
Gallardo spent the first eight years of his career in Milwaukee

MLB revenues are at a record high right now, but teams aren't spending it on players

Chicago added Tyler Chatwood earlier this offseason but might not be done adding to the ro...
The Dodgers and Braves pulled off a whopper on Saturday

Sabathia will reportedly spend a 10th season in the Bronx

Fowler suffered a knee injury at Chicago's Guaranteed Rate Field