CC Sabathia compensating for lost velocity with more sinkers, cutters
CC Sabathia has lost more than a little velocity in recent years, and this season he is compensating with more moving fastballs.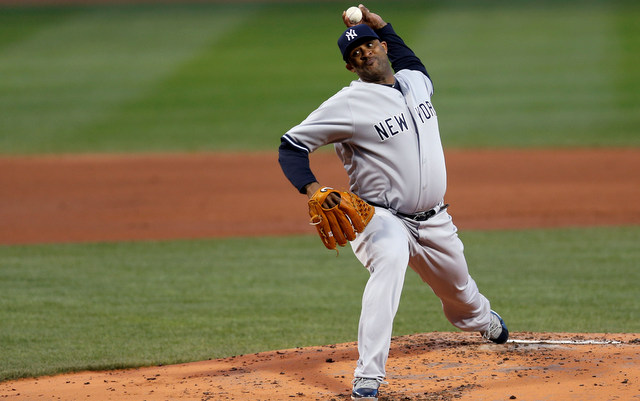 More MLB: Power Rankings | Expert Picks | Latest news & notes | Fantasy news
In the first inning of the first game of the season, it looked like Yankees lefty CC Sabathia was in for another long year. His 4.78 ERA ranked 76th out of 81 qualified starters in 2013, and on Opening Day the Astros roughed Sabathia up for four runs before he recorded his second out. Not an ideal start, for sure.
Since that first inning in Houston, Sabathia has a 3.77 ERA in 31 innings. His overall 4.78 ERA (identical to last year!) is nothing special but it has gradually come down with each start. He has faced quality lineups too: the Red Sox twice, Rays and Blue Jays. It's going to take a while to work off that first inning against the Astros. Sabathia allowed three earned runs total in two starts on the team's just-completed road trip, including two runs in six innings against Boston on Thursday.
It's no secret the 33-year-old Sabathia has lost velocity in recent years. It was especially noticeable last season and it has dropped even more this year. Here's his velocity graph from Brooks Baseball: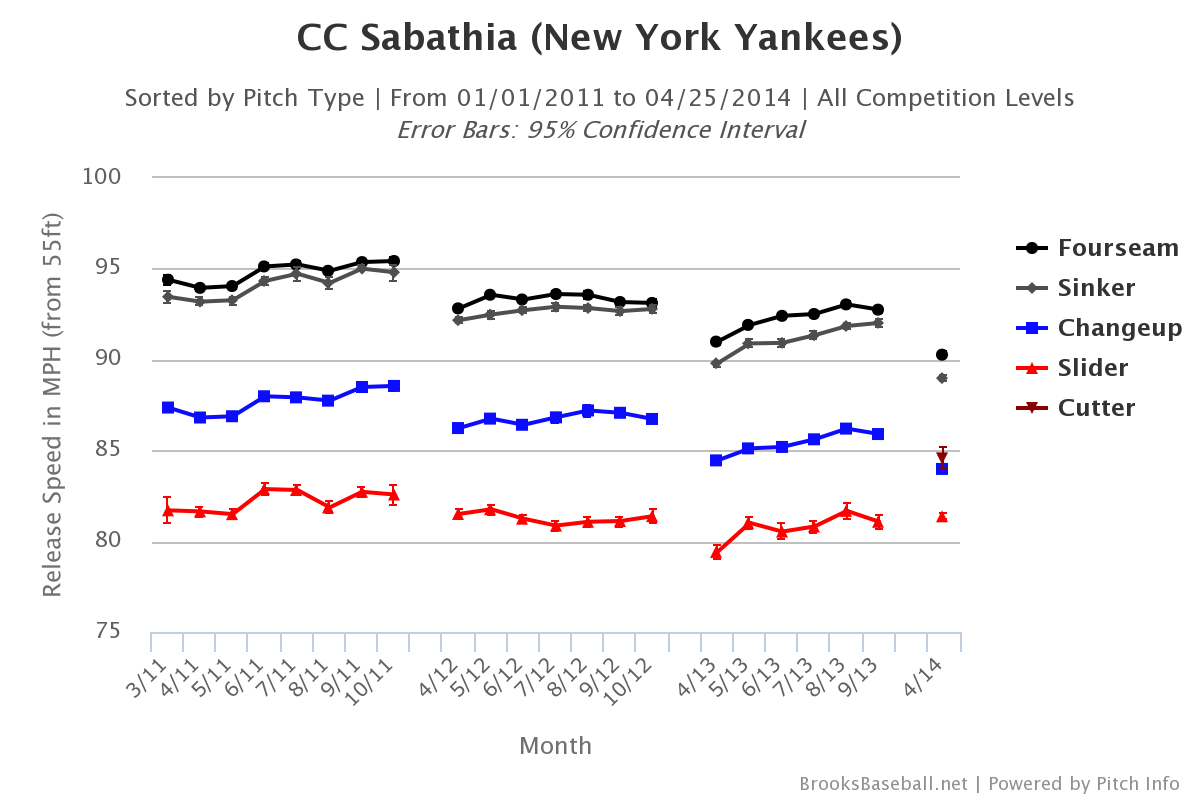 It has been a slow but steady decline, which is perfectly normal for pitchers Sabathia's age. It happens to almost everyone, especially guys who have nearly 3,000 career innings on their arms.
Sabathia admitted to having a hard time adjusting to his lack of velocity last season -- offseason surgery to remove bone chips from his elbow didn't help because it altered his usual offseason routine -- and it was a big reason why he was legitimately one of the worst regular starters in the big leagues. Making that adjustment isn't easy when you've been pitching one way your entire life.
Through five starts this season, Sabathia appears to be adjusting to his new reality. The missing velocity isn't coming back because it never does. Something had to be done to compensate, and like many veterans before him, Sabathia is dealing with his slower fastball by using more pitches with movement. Again, courtesy of Brooks Baseball, here is his pitch selection during his six years (already?) in New York:

Those are percentages, just to be clear.
Sabathia added a cutter during spring training with help from former teammate Andy Pettitte, though he only throws a handful per start. He didn't throw any against the Red Sox on Thursday night. It's a clear fifth pitch at this point.
The biggest difference in Sabathia's pitch selection comes in his four-seam fastball and sinker usage. He has cut back on the straight four-seamers -- the pure heat, basically -- and nearly doubled how often he throws his sinker compared to the past few years. In fact, PitchFX has misclassified a few of Sabathia's sinkers as changeups this year because of the lack of velocity, so he's really throwing his sinker more than 28.74 percent of the time.
Thanks to the new sinker, Sabathia's ground ball rate has jumped from 44.7 percent in 2013 (46.4 percent from 2011-13) to 56.7 percent this year. His strikeout rate has also jumped a bit, from 19.3 percent of batters faced last summer (22.1 percent from 2011-13) to 25.9 percent this season. It is still early of course, but these are encouraging signs for the Yankees and Sabathia.
Over the past three full seasons, the majority of the pitchers who have thrown the highest percentage of sinkers are veterans in the second half of their career, according to FanGraphs -- Jake Westbrook, Hiroki Kuroda, Kyle Lohse, Bronson Arroyo, guys like that. Compensating for a lack of velocity by incorporating more moving fastballs like cutters and sinkers is a common adjustment made by older pitchers, an adjustment Sabathia is making right now.
In all likelihood, Sabathia is done as a true ace. He was one of the five or six best pitchers in the game from 2006-12, but he has slipped with age and is now more of a mid-rotation workhorse starter. There's nothing wrong with that, especially since the Yankees don't need him to be an ace after signing Masahiro Tanaka. It took Sabathia all of last season to make these adjustments, adjustments he still isn't finished making. This is an ongoing process, and based on these past few starts, the early returns are positive.
A beardless Wilson says that he tried to outrun the police on the second day he had his driver's...

The Diamondbacks outfielder was not impaired, he was just going way too fast

MLB can unilaterally implement rule changes, which will also include limits on mound visit...
If the MLBPA wants to repair MLB's salary structure, it should push for more money for young...

Fans aren't happy Gerrit Cole and Andrew McCutchen have been traded away

Acuna is arguably the best prospect in baseball