MLB, NPB officially announce new posting system
MLB and NPB have officially agreed on a new posting system with a $20 million maximum "release fee." Multiple teams can pay the max and negotiate with players who have been posted.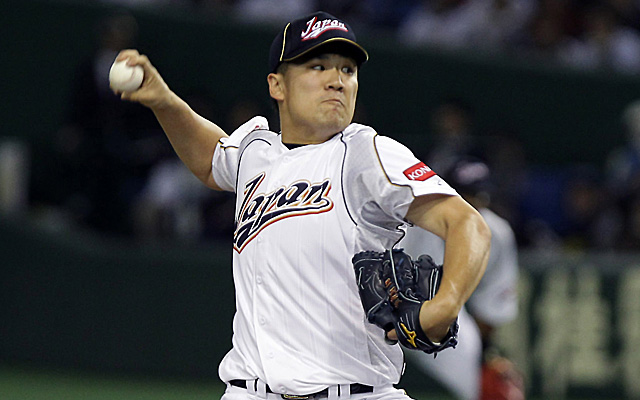 MORE: FA tracker: position players | FA tracker: pitchers
Major League Baseball and Nippon Professional Baseball have officially finalized their agreement on a new posting system for players wishing to depart the Japanese baseball league for MLB before hitting free agency in NPB.
As expected, the maximum "release fee" will be $20 million.
The process will be as follows:
1. If an NPB club wishes to make one of its players available to MLB teams, it will set a maximum of $20 million as the release fee.
2. MLB then posts the player availability sometime between Nov. 1 and Feb. 1 in that particular offseason.
3. Any MLB team willing to pay the release fee will have 30 days from the time the player is posted to negotiate with the player in an attempt to sign him.
4. When a deal with one MLB club is reached, the player will sign with that club and that club will pay the release fee to the NPB club that has lost its player. No other teams will owe a dime.
5. If a deal isn't reached, no money to will change hands at all, including the proposed release fee.
This posting agreement has been signed for a three-year period, but will continue on a year-to-year basis after that unless NPB's commissioner gives MLB at least 180 days notice to terminate the agreement.
So now that this is settled, the next question becomes: Will the Rakuten Golden Eagles post Masahiro Tanaka?
The Pirates recently shipped Gerrit Cole and Andrew McCutchen to Houston and San Francisco,...

Surely, Martinez and his agent are holding out for more

The reliever had a very good 2017 season with the NL Central champs
We don't need to discuss Chipper's Hall of Fame case, so let's have fun instead

Dioner Navarro still hopes to return someday

Christian Yelich's agent says his client's relationship with Marlins is 'irretrievably bro...