Pirates-Cardinals NLDS preview: Who has the edge?
Now that the Pirates have won the NL wild-card game, it's time to look forward to their NLDS matchup with the Cardinals.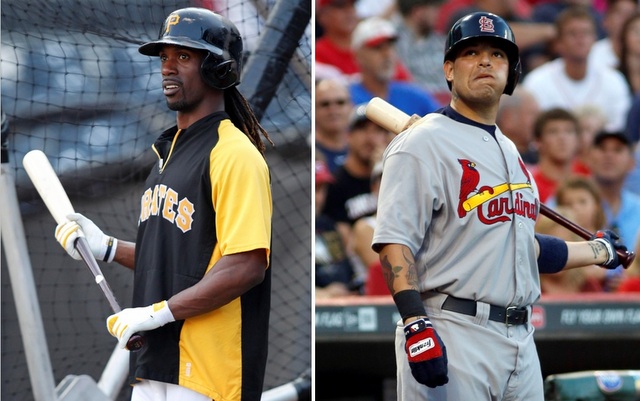 More: Dodgers-Braves: Who has the edge? | Rays-Indians: Who has the edge?
The novelty portion of the NL playoffs is out of the way and we can finally get down to business. The Pirates beat the Reds by the score of 6-2 in the NL wild-card game on Tuesday night, and now they have a date with the NL Central-winning Cardinals. The best-of-five NLDS starts at 5:07pm ET on Thursday.
Although St. Louis finished with the best record in the league this season at 97-65, Pittsburgh was right behind them at 94-68. In fact, these two clubs were battling for first place pretty much all season. The Pirates won the season series 10-9 but were outscored 87-85 in the process. Can't get much closer than that, folks. This series should be a blast. Let's break it down, position-by-position.
Catcher: Russell Martin vs. Yadier Molina

You've got the best all-around catcher in the game and a top five or six all-around catcher. Martin quietly had a 4.3 WAR season (seventh among catchers) -- he also hit a pair of homers on Tuesday night, you know -- but Molina is a legitimate MVP candidate who is the best hitting and best fielding catcher in the league. And he led all catchers with 5.7 WAR.
First base: Justin Morneau vs. Matt Adams

With Allen Craig sidelined until at least the NLCS with a foot injury, Adams has taken over as the regular first baseman for the Cardinals. He whacked 17 home runs in part-time duty this season and is every bit as productive as Craig on a rate basis. Will he be exposed with regular playing time? He hasn't yet. Morneau hasn't hit much since coming to Pittsburgh and his power has been down all year.
Second base: Neil Walker vs. Matt Carpenter

This is another Molina vs. Martin situation. Walker is very productive and a rock solid second baseman, but Carpenter is among the very best in the league. He led baseball in hits (199) and runs (126) this season while transitioning to second base without much of a problem. On many days, Walker is the best player on the field at his position. He won't be in this series.
Shortstop: Clint Barmes vs. Daniel Descalso

The truly awful Pete Kozma handled shortstop duties for most of the season for St. Louis, but Descalso has taken over the position in recent weeks and figures to keep it in the postseason. He's an offensive upgrade -- that's not saying much -- and roughly equal on defense. Barmes can't hit either, but he's a slick fielder and will help that way. Jordy Mercer could see some time in the series, but expect manager Clint Hurdle to rely on the veteran.
Third base: Pedro Alvarez vs. David Freese

Freese was the NLCS and World Series MVP just two years ago, but he hit nine home runs with a .381 slugging percentage this year. Yuck. Maybe he'll ratchet his game back up in the postseason. Alvarez, meanwhile, tied for the league lead with 36 homers and can change the game with one swing. Neither guy will remind you of Brooks Robinson at the hot corner.
Left field: Starling Marte vs. Matt Holliday

A severe hand contusion kept Marte on the sidelines for about a month, but he and his dynamic leadoff skills returned to the lineup not too long ago. He's a 41-steal guy and a legitimate game-changer on the bases and in the field. Holliday is just a brute masher who hits for average, hits for power, and gets on base. He isn't much in the field anymore, which limits his value. I think you could make a case either guy is better than the other, but I'll call it a draw.
Center field: Andrew McCutchen vs. Jon Jay

The most lopsided position in the series. McCutchen is one of the five best players in the world and the likely NL MVP. Jay is ... an okay player who won't kill you at the plate in the field. Someone you can run out there everyday but probably would like to replace. There's no contest in center field.
Right field: Marlon Byrd vs. Carlos Beltran

Just as we all predicted back in March, Byrd finished among the top 10 qualified outfielders in slugging (.511) and WAR (5.0) this year. Pfft, and they say you can't predict baseball. Beltran continued to be Beltran, meaning insanely productive at the plate (128 OPS+) with power, patience, average ... the whole nine. He's got a sneaky good Hall of Fame case, but that doesn't really matter in this series. Both clubs enjoy very strong right field production.
Bench

The Pirates have three solid reserve bats in Gaby Sanchez, Garrett Jones and Jose Tabata, plus backup catcher John Buck can run into one from time to time. Mercer is the backup infielder and, depending what they do with the pitching staff, either utility man Josh Harrison or the left-handed hitting Travis Snider could make the club as an extra bench piece.
St. Louis' bench took a huge hit with the Craig injury because it forced Adams into the lineup everyday. Outfielders Adron Chambers and Shane Robinson, infielders Ryan Jackson and Kozma, and catcher Tony Cruz make up this primary bench unit, and someone like Kolten Wong could sneak onto the playoff roster as well. Not that these guys are bad players or anything, but they lack the potential off-the-bench impact of the crew from Pittsburgh.
Rotation: Francisco Liriano, A.J. Burnett, Charlie Morton, Gerrit Cole vs. Adam Wainwright, Lance Lynn, Shelby Miller, Joe Kelly

Wainwright is the best pitcher in this NLDS, but as we saw in the NL wild-card game, Liriano can be as good as anyone when he's on. Same goes for Burnett ... and Lynn, Miller, Cole, and pretty much every other starter in the series. Both teams have four quality starters, including three who miss bats at a very high rate. Morton and Kelly are the exceptions to the whole high strikeout rate thing. The series might come down to the reliability of Wainwright against the unpredictable dominance of Liriano or Burnett.
Bullpen

For much of the year, Jason Grilli and Edward Mujica were two of the best closers in baseball. Then Grilli got hurt and Mujica had a late-season meltdown, so both clubs have some ninth inning questions. Setup men Mark Melancon and Trevor Rosenthal are two of the very best in baseball though, and both clubs have a pair of shutdown left-handers -- Tony Watson and Justin Wilson for the Pirates, Kevin Siegrist and Randy Choate for the Cardinals. Those are the guys who will do most of the heavy lifting in a short postseason series, but both teams do have some quality extra arms as well -- Bryan Morris and Vin Mazzaro for the Buccos, Seth Maness and Michael Wacha for the Redbirds.
Defense

Without looking at any stats, my gut feel says the Pirates are better defensively. The Marte-McCutchen-Byrd outfield is very strong, as is Barmes at short. Walker and Morneau are solid while Alvarez is a weakness. Beltran was an unreal defensive center fielder once upon a time, but he's just an okay right fielder now that age and injury have taken their tolls. Jay is solid, Holliday isn't. Descalso and Carpenter are very good, Freese and Adams aren't.
That's the quick and dirty version. Now to the numbers: Pirates had +4.4 UZR as a team this season while the Cardinals were at -49.4 UZR. So yeah, the quick and dirty version was on the mark. Pittsburgh isn't great defensively, they're about league average, but the Cardinals were just dreadful this summer. That -49.4 UZR was the fourth worst in the game. The difference between a bad defensive team and an average defensive team might not show up in a short series, but there's no doubt the Buccos have a nice advantage here.
Prediction
When the six of us filled out our postseason picks, I was the only one to pick the Pirates over the Cardinals in the NLDS. There's no turning back now. I've got Liriano, Burnett and Cole coming up huge on the mound while the McCutchen-Byrd-Alvarez portion of the lineup does just enough damage to sneak by a St. Louis team that, frankly, is a big favorite coming into the series. Pirates in five.
Colon wants to break a Dennis Martinez record

The Twins have been rumored to be interested in Darvish all winter

Rolen is one of the best third basemen of all time, but you wouldn't know it based on this...
Neither Josh Donaldson nor Brian Dozier have talked about a new contract extension

Francisco leads the Dominican Winter League with seven home runs

Thome deserves enshrinement and here's why the case against him does not hold up