Rays deal James Shields, Wade Davis in 'most difficult' trade they've made
Trading pitchers James Shields and Wade Davis to the Royals on Sunday night marks another pivot point in the brief history of the Tampa Bay Rays, and that's not all. ...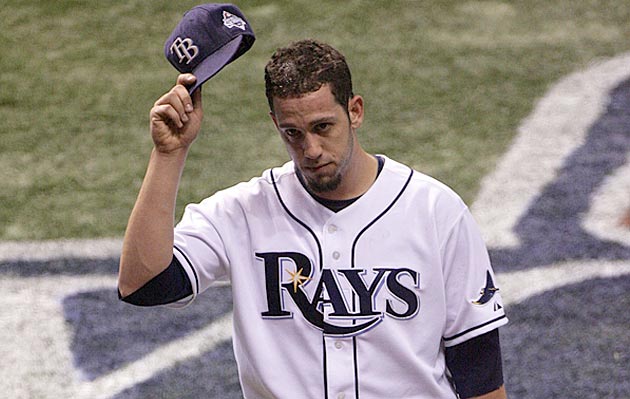 The reality of Tampa Bay's financial situation is it routinely has to trade someone of James Shields' talent. (Getty Images)
Trading pitchers James Shields and Wade Davis to the Royals on Sunday night marks another pivot point in the brief history of the Tampa Bay Rays, and that's not all.
"Personally, I think this is the most difficult trade we've made to date," Rays general manager Andrew Friedman said on a late-night conference call. "It is a painful loss for our club. But I'm confident in our resilience."
Bottom line is, the Rays would never have made this deal if they didn't have to treat each day as if one bad decision could lead to bankruptcy and financial ruin.
More on Royals-Rays trade
Column

Related links
But that's the way it is for one of baseball's smartest and most threadbare organizations. And with the prospect of Shields and David Price making a combined $20 million in 2013 ... well, there simply was no way the Rays were going to devote that high of a payroll percentage to just two players.
Friedman said he has been discussing various permeations of a deal with the Royals since October. In the end, the Rays shocked the industry by including two pitchers in the deal, Shields and Davis, but the deeper the Rays and Royals got into trade talks, the more it made sense.
"Kansas City has one of the deepest farm systems in the league," Friedman said. "It's already contributed key players to the major league club, and as we went through this process, we lined up really well with them.
"We didn't start out to trade two pitchers, but it made sense for both teams."
From the time Friedman and club president Matt Silverman took over, their operating philosophy has been to keep stockpiling young starting pitchers, because they're too expensive on the free-agent market. The latest example of that, Zack Greinke, agreed to terms with the Dodgers over the weekend for $147 million over six years. No way can the Rays play in those waters.
But they also learned a very hard lesson in 2012: As good as their pitching is and has been, they can't live with a one-man-band offense featuring Evan Longoria. He's hurt too often, and it's too risky. Their pitching was great in 2012, yet they didn't make the playoffs.
Enter Wil Myers, the centerpiece of the package coming back from the Royals.
Two things have to happen for the Rays:
One, they have to stay financially solvent.
Two, they have to back their pitching with some run support.
No way they would have traded Shields, let alone Shields and Davis both, if their financial picture weren't so bleak.
As Silverman said late Sunday, also on the conference call: "We're always cognizant of our financial situation, and we're managing it with every transaction, whether it's a trade like this or signing like Evan.
"We run this team like we're balanced on the head of a pin and there's zero margin for error."
So difficult as this is -- and believe Friedman when he calls it the most difficult trade they've made so far -- the Rays were left with no choice but to ship away Shields.
You don't make this deal if it's a straight baseball trade.
You make it if $$$ signs are glowing -- and blinding you.
"James is a true professional pitcher, and we're going to miss his contributions on and off field," Friedman said. "He's an ace, and his departure leaves a void that cannot be filled overnight.
"He's been a key to the success we've had over the past five years, and I'd like think his impact is going to have a lasting impression on our pitchers."