Robinson Cano: Still the same but in a very different way
Mariners second baseman Robinson Cano is having a productive season, but he's going about it in a very uncharacteristic manner.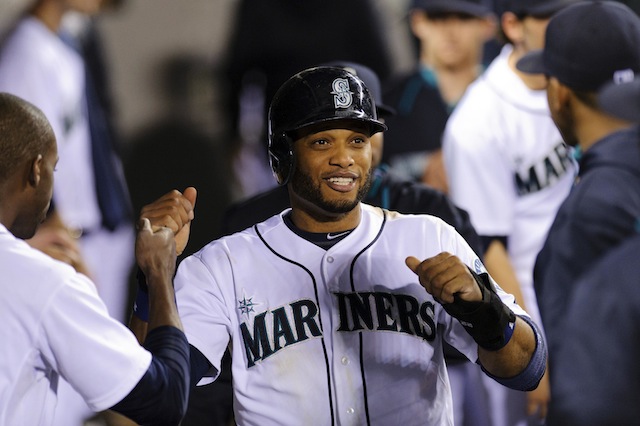 More MLB: Power Rankings | Expert Picks | Latest news & notes | Fantasy news
In the course of the Mariners' 6-1 win over the Padres on Tuesday, Seattle second baseman Robinson Cano tallied a home run and a walk in four trips to the plate. For his efforts, he's now batting .327/.384/.438 on the season. 
Obviously, that last component of the "slash line" -- the SLG -- isn't what we're accustomed to from Cano, who entered 2014 with a career slugging percentage of .504. Of course, he's swapped out Yankee Stadium and its comehither right-field porch for power-suppressing Safeco. As well, run scoring in the AL this year is down from even the already low levels of 2013. Given those contexts, it's worth noting that Cano's 2014 Weighted Runs Created+ (wRC+) of 126 is the same as his career wRC+. In other words, when it comes to producing independent of playing environment, Cano is what he's been for a long time, which is a frontline hitter. 
On a more granular level, Cano is also showing a selectivity profile that's very much in keeping with recent history -- i.e., he's swinging at pitches in the zone and out of the zone and making contact with those pitches at rates that are roughly typical for him. He's also still using the whole field, particularly when he hits the ball in the air. 
Within that characteristic level of production and those underlying numbers, however, are some uncharacteristic tendencies. The raw power numbers hint at this, of course: Cano's on pace for just nine homers, and his Isolated Power of .112 would be a career low by a wide margin. All of this is largely a consequence of Cano's increased penchant for hitting the ball on the ground. For instance, this season he's lugging around a groundball/fly-ball ratio of  2.48 versus a prior career high of 1.89 in 2012. 
Believe it or not, this has actually been a good thing for him in 2014, as his production on fly balls is way down (.857 OPS on fly balls this season versus 1.061 OPS for his career). As well, this season, 6.0 percent of Cano's fly balls are going for home runs, which is less than half his career rate. To be sure, part of that is Safeco, but there's also this: Last season, Cano ranked 52nd among qualifiers with an average fly ball distance of 291.67 feet, and this season he ranks 129th with an average distance of 279.21 feet. Sure, warmer temps may help, and the atmospheric conditions of Seattle surely play a role. Those factors, however, may not fully explain a decline in fly ball distance of almost five percent.
To frame it another way, Cano in 2013 hit 81 balls at least 300 feet. In 2014, he's thus far hit just 18. That's Cano's cratering fly-ball percentage and the declining authority with which he's hitting the balls he does put in the air all bound together. 
As for all those ground balls, it's worth noting that Cano is seeing more sinkers this year, but that doesn't explain everything. While Cano has been higher than 50 percent grounders before (he was a primary groundball hitter early in his career), never has the GB/FB ratio reached these heights.
Poke around Cano's page at Brooks Baseball and you'll find that in particular he's having trouble hitting hard stuff from right-handers in the air, at least relative to his established norms. Maybe this is a sign of age-related decline (he may in the first year of a 10-year pact, but the larger reality is that Cano is a heavily used 31-year-old second baseman).
Look at his batted ball chart from 2013 (grounders in green) ... 
Source: FanGraphs
And compare it to this year ... 
Source: FanGraphs
You perhaps see more of a spray-side drift to his groundballs this season. It may be that Cano just isn't getting around on high-velocity stuff like he once did, as pitchers continue to work him low and away. When he does pull the ball this season, it's on the ground three-fourths of the time. To put a finer point on it, prior to 2014 Cano's highest GB/FB ratio on pulled balls in play was 4.67 in 2006; this season, that figure is up to ... 13.75 (!). 
Let it be said again, though, that the approach is working for him, as Cano's BABIP of .360 is driving much of his batting-average-heavy production. If Cano's going to continue on as this new type of productive hitter -- i.e., one that thrives despite strong groundball tendencies and despite lacking the speed to take advantage of so many grounders -- then the knack for placing the ball where the defense isn't will need to continue. History suggests it won't. 
In the end, Cano is still one of the most productive middle infielders in baseball, but the "un-Cano" way in which he's arriving at that productivity raises some worries moving forward. Robinson Cano, you see, is still himself, even though he's now someone different. 
(Sources: FanGraphs, Baseball Savant, Baseball Heat Maps, Brooks Baseball)
Pawol is expected to umpire in the minors again come the regular season

No. 3 Texas Christian is looking to ruin Long Beach State's return home

Martinez's physical isn't taking much longer than usual
The Rangers have a lot riding on Mike Minor and Matt Bush

Though the process is far from complete, taxpayers got good news Thursday

Dickerson had been designated for assignment by the Rays last week