The Lineup: A's record 10th walk-off win
The second-place teams in the AL West, AL Central and NL East gained ground on their division leaders with head-to-head matchups on Friday.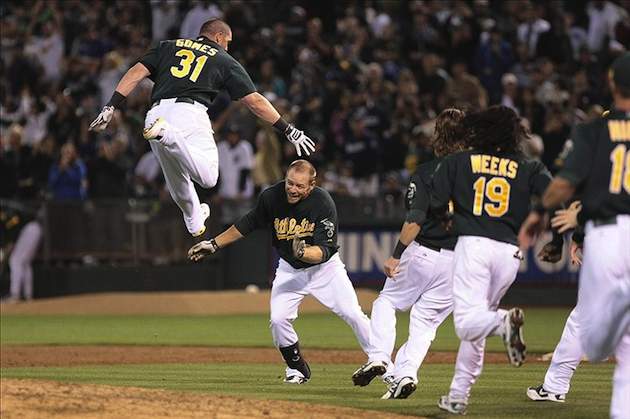 Brandon Moss, center, is congratulated by Jonny Gomes after the A's recorded their league-leading 10th walk-off victory. (US Sportswire)


Half of the divisions in baseball saw their top two teams face off in the first game of a series on Friday and in all three, the second-place team won -- the Angles, Tigers and Braves all made up ground.
Full Friday scoreboard with recaps and box scores for every game.








3 UP

Brandon Moss, A's: After coming up empty twice in the game with the bases loaded, Moss had just two men on in the bottom of the ninth when he came up to face the Yankees Cody Eppley in the bottom of the ninth. Moss lined the first pitch he saw into right field to score Yoenis Cespedes for their 10th walk-off win of the season. The A's have won three in a row and they're just a game-and-a-half behind the Angels for second place in the AL West.

Homer Bailey, Reds: On the day his doppelganger, actor Christian Bale, released his big movie, Bailey had a pretty good day of his own. The 26-year-old struck out 10 Brewers in eight innings, while walking none. His 10 strikeouts tied a career high, as did his ninth victory of the season. In his last four starts, he's walked three and struck out 27 in 30 2/3 innings.

Quintin Berry, Tigers: Behold:



3 DOWN

Washington Nationals: The Braves came back from a 9-0 deficit to beat the Nationals, and in a game like that, there's plenty of blame to go around. We'll start with the starter, Stephen Strasburg, who was staked to a 9-0 lead. He gave up four runs in the sixth and was lifted with just one out in the inning. Clinging to a one-run lead in the ninth, Nationals closer Tyler Clippard started the inning by walking Dan Uggla and hitting Paul Janish, before giving up a one-out triple to Michael Bourn to surrender the lead. After the Nats forced extras, Ryan Zimmerman's error in the 11th put Uggla in scoring position for Janish, who drove him in for the winning run.

Derek Lowe, Indians: The 39-year-old right-hander didn't retire a batter in the fourth inning before being yanked. He gave up nine runs on seven hits -- with all seven hits going for extra bases (five doubles, two homers). He also walked five batters.

Miami Marlins: The Marlins had 13 hits against the Pirates on Friday, but none with a runner in scoring position, falling 4-3 in PIttsburgh. Miami has lost three in a row and are five games below .500. The Marlins have just one hit in its last 23 at-bats with runners in scoring position.




Winner takes first: After Friday's victory, the Tigers have a chance to take the AL Central lead from the White Sox on Saturday in Detroit. While the Tigers' ace was on the mound Friday, it's time for Chicago's Chris Sale to help his team on Saturday. 4:05 p.m.

Hot on the heels: With Friday's win, the Angels are five games behind the Rangers with two more games left in the series. The Rangers have Yu Darvish on the mound against the Angels' Ervin Santana. Darvish is 0-2 with a 6.75 ERA in his last two starts. He's making his third start against the Angles, going 1-1 with a 3.86 ERA in his first two. 4:05 p.m.

See you later? Could this be Cole Hamels' last start in Philadelphia as a member of the Phillies? The team has made an offer to Hamels to keep him in Philadelphia for years to come, but if he turns them down, they may look to trade the left-hander. He's scheduled to face off against San Francisco's Matt Cain in a matchup of two starts with double-digit wins. 4:05 p.m.
Saturday's probable pitchers








• WBC boycott? Japan, winners of the first two World Baseball Classics, are threatening a boycott of the 2013 event if their pros don't get a greater share of the revenue. Japan has been threatening some sort of boycott recently and it seems unlikely they won't participate. Still, it's something to keep an eye on, for all those WBC fans (of which I count myself). [Wall Street Journal]

• What if? Paul White of USA Today asks, "what if Barry Larkin had been a Yankee?" The former Reds captain may have been the captain before… you know, "The Captain." White goes one further and looks at the similarities of their stats. It's pretty impressive. What he doesn't mention is that Larkin is one of the biggest reasons Jeter is a Yankee. One of the reasons Jeter wasn't taken by the Reds with the fifth overall pick was that they already had Larkin, a 28-year-old future Hall of Famer entering his prime with a World Series title already under his belt. Instead, Cincinnati took catcher Chad Mottola and the Yankees took Jeter -- who like Larkin before him -- appeared to be headed to the University of Michigan. Another coincidence, Larkin was taken by the Reds in the second round of the 1982 draft, but decided to accept a football scholarship at Michigan instead.

• Big-league dis: Speaking of Jeter, he has no idea who Logan Morrison is -- but for some reason this made my day. [The Sports Grid]

• McCarver to receive Frick Award: With Joe Morgan no longer calling baseball games, there's no doubt Tim McCarver would receive the vast majority of votes in any least-favorite baseball announcer poll. Still, he's still employed, so somebody must like him. Oh, and then there's the Ford C. Fricke Award by the Hall of Fame. The ceremony is Saturday -- now separate from the induction ceremony, unfortunately. [New York Times]

• No ads: I'm sure he'll be blasted by someone for this -- but Bud Selig said MLB would not be adding ads to their uniforms, as the NBA plans to do for the 2013-14 season. [MLB.com]

• Frenchy's fan club: FoxSportsKansasCity.com's Sean Keeler writes about the complicated relationship between Royals fans and Jeff Franceour.

• He won on Jeopardy! CSNBayArea.com Giants beat writer Andrew Baggarly won $15,600 on the episode of Jeopardy! that aired on Friday. [CSNBayArea.com]

For more baseball news, rumors and analysis, follow @EyeOnBaseball on Twitter, subscribe to the RSS feed and "like" us on Facebook.
Pawol is expected to umpire in the minors again come the regular season

No. 3 Texas Christian is looking to ruin Long Beach State's return home

Martinez's physical isn't taking much longer than usual
The Rangers have a lot riding on Mike Minor and Matt Bush

Though the process is far from complete, taxpayers got good news Thursday

Dickerson had been designated for assignment by the Rays last week