The Lineup: Jarrod Parker silences Rangers' bats
The Rangers managed just one hit off of A's starter Jarrod Parker, while Angels rookie Mike Trout had four hits by himself.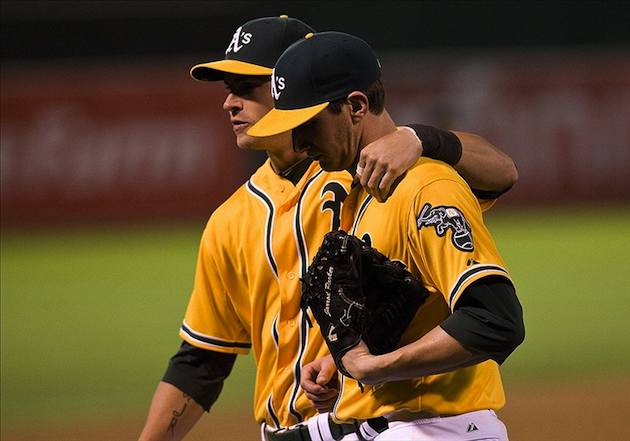 Even though the draft was taking place on Monday, Major League Baseball still had action on the field, albeit in a limited schedule.
Full Monday scoreboard with recaps and box scores for every game
3 UPJarrod Parker, A's:
The 23-year-old right hander held the game's best offense hitless through seven innings. He ended up giving up just one hit in a career-high eight innings, a grounder up the middle by
Michael Young
. Parker struck out six and walked three in
Oakland
's 12-1 victory.
Seager family:
Mariners
third baseman
Kyle Seager
hit his seventh home run of the season in Seattle's 8-4 victory over the Agnels, while younger brother Corey was drafted by the
Dodgers
with the 18th pick in the first round.
Mike Trout, Angels:
The Angels' rookie recorded his first-ever four-hit game and with his only plate appearance without a hit, he drove in a run with a sacrifice fly in the eighth inning. Trout is now hitting .338/.388/.559.
3 DOWNStarlin Castro, Cubs:
Cubs manager Dale Sveum called Castro's fifth-inning mental error the "last straw" with his talented shortstop, noting he could bench Castro if the mental errors continue to pile up. With the Cubs holding a 2-1 lead in the fifth with one out and bases loaded, Cubs starter
Jeff Samardzija
got the double play ball he wanted on
Brandon Crawford
's grounder to second baseman
Darwin Barney
. Castro got the out at second, but started running toward the dugout as if it were the third out of the inning, not the second, as the tying run came in to score. Castro apologized afterward -- and it's doubtful he could have doubled up Crawford -- but his lapses have become a trend that haven't helped the struggling team.
Scott Feldman, Rangers:
Roy Oswalt can't get to Arlington soon enough. Feldman replaced the injured Neftali Feliz in the Rangers' rotation and has lost all four of his starts. Facing the American League's worst offense on Monday, Feldman didn't make it out of the second inning in Oakland. He allowed eight runs on seven hits in just 1 2/3 innings. All seven hits came in the eight-run Oakland second. After walking
Yoenis Cespedes
to start the inning, Feldman gave up six consecutive hits, including
Brandon Inge
's two-run homer.
Jonathan Papelbon, Phillies:
Papelbon is 15 for 15 in save opportunities this season and hasn't given up a run when a save is on the line. When there's no save possibility, it's been a different story. In his eight non-save appaerances, Papelbon has a 6.48 ERA, including a run in Monday's loss to the Dodgers after a leadoff triple to the Dodgers'
Dee Gordon
, who then scored on
Elian Herrera
's single. In fairness, Papelbon's 2-2 pitch to Gordon should have been called a strike, as Pitch F/X showed the pitch was right on the corner, but also give Gordon credit for driving a ball out of the strike zone for a triple that set up the game-winning run.
• Young returns:
Right-hander
Chris Young
will make his 2012 debut for the
Mets
after undergoing shoulder surgery to repair a torn anterior capsule in his pitching shoulder last May. Young, 33, underwent the same surgery that teammate
Johan Santana
had eight months before. Young had a 1.88 ERA in his first four starts with the Mets last season before going down with injury. He'll face off against
Nationals
right-hander
Jordan Zimmermann
.
7:05 p.m. ET• Rematch:
Last week
A.J. Burnett
baffled
Reds
hitters, while Cincinnati starter
Homer Bailey
did the same to the
Pirates
. Those two performances were in different games, but the two face off in Cincinnati on Tuesday. Burnett held the Reds to two hits and an unearned run in seven innings last Wednesday, while Bailey gave up a run on four hits in a complete-game performance the day before. Bailey is 6-0 with a 1.79 ERA in eight career starts against Pittsburgh.
7:10 p.m ET• Cubs struggling:
Futility is one constant through Cubs history, so when a Cubs team is close to matching a team record in a dubious category, you know it's not a good season. With the team's loss in
San Francisco
on Monday, the Cubs have lost 11 straight on the road, but also dropped their 10th consecutive decision in a one-run game, one shy of the team's longest such streak. Three times before -- once in 1915 and twice in 1921 -- the Cubs have lost 11 consecutive one-run games. Starter
Ryan Dempster
has a shot at keeping
Chicago
close in Tuesday's game at
Milwaukee
, because he's done that all season, even though his team has yet to reward him with a victory. Dempster is 0-3 with a 2.90 ERA this season.
8:10 p.m. ET
Monday's probable pitchers
• 10-cent beer anniversary:
Monday was the 38th anniverasy of 10-cent Beer Night at Cleveland's Municipal Stadium, when drunk fans constantly interrupted a game between the Rangers and
Indians
.
The Cleveland Plain Dealer remembers the incident
.
• Yankee killer:
There have been plenty of critics of Major League Baseball's Luxury Tax, but it appears the tax is achieving its goal -- holding back the
Yankees
. [
Biz of Baseball
]
• Ping!
Just in case you don't have enough baseball in your life (and who does?), don't forget the NCAA Baseball tournament is going on right now and Monday all eight Super Regional matchups were finalized, with games beginning on Friday. [
NCAA.com
]
• Looking back at the 2005 draft:
With the first round of the draft under our belts, it's only natural to look back at some of the more recent drafts. Of those, 2005 could go down in history. That draft saw the likes of
Justin Upton
,
Alex Gordon
,
Ryan Zimmerman
,
Ricky Romero
,
Ryan Braun
, Troy Tulowitzki,
Andrew McCutchen
,
Jay Bruce
, Jacoby Ellsbury,
Matt Garza
and
Clay Buchholz
. A total of nine players from the first round of that draft have been named to an All-Star team. [
Baseball-Reference.com
]
• Animal style:
George "The Animal" Steele on the mound at a minor-league game.
• No spin zone:
Nothing fascinates me quite like the knuckleball, so this video is right up my alley -- what a knuckler looks likes from a catcher's perspective.
For more baseball news, rumors and analysis, follow @EyeOnBaseball on Twitter, subscribe to the RSS feed and "like" us on Facebook.
Arrieta is the top starting pitcher left on the market

The Angels are lowering the fence from 18 feet to 8 feet, so we should see a jump in home...

Mathis is one of the best at something that cannot be measured but is valued
J.D. Martinez is reportedly headed to Boston on a free-agent contract

Keep tabs on the top 50 free agents on the market right here

Arizona didn't waste much time turning to its fallback option following Martinez's deal with...