The pitch that changed everything for Jose Fernandez
Let's look back at the one pitch that told us all was not well with Marlins phenom Jose Fernandez.
More MLB: Power Rankings | Expert Picks | Latest news & notes | Fantasy news
He'll probably resume his precocious brilliance. He'll probably once again command that mid/high-90s fastball and snap off hammer curve upon hammer curve. While roughly 15 percent of pitchers who undergo Tommy John surgery aren't the same ever again, Marlins ace and phenom Jose Fernandez, if we and he are lucky, will number among the wide majority who get back to doing what they did so impossibly well.
If, though, Jose Fernandez isn't Jose Fernandez again, then maybe we should think of the pitch that follows as the moment he ceased to be what he had been.
There's one out in the fifth inning on May 9 of this year -- the last start Fernandez made before undergoing reconstructive surgery on his right elbow -- and Fernandez is about to throw a four-seamer to Tyson Ross: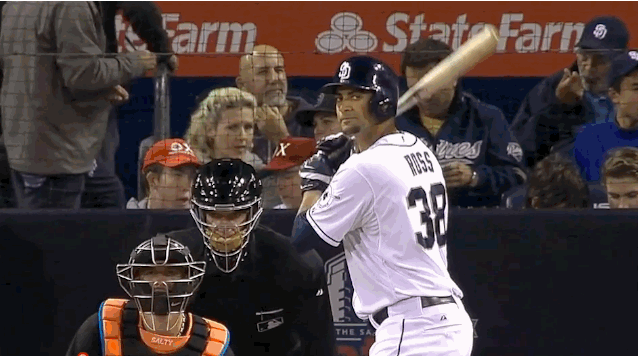 That languishing, effortful heave looks so unlike something authored by Fernandez that he might as well be wearing a different uniform, a different face even. The gun at Petco Park registered 89 miles per hour. MLB.com's Gameday concurred. Brooks Baseball said it was 90.1 mph. All agreed, though, that it was far below Fernandez's usual fastball standards.
Here's his velocity chart from that game, courtesy of Brooks ... 
There are fatigue-related declines as a start deepens, and then there's what you see above. You could know nothing else about the pitcher in question, survey this chart and assume that something's not right. This, after all, is a moundsman who's averaged almost 97 mph with his fastball over the course of his young career. When you see him lose almost 10 mph on it over the course of just a few pitches, it's a concern. As it turns out, it was a very grave concern. 
To be sure, it's never a single pitch that reduces a pitcher's UCL to ribbons. It's likely a cascading effect -- part usage, part mechanics, part (mostly?) genetics, part unknown. But sometimes, as with the pitch you see above, we see those cumulative and collaborative effects rise up and diminish the hurler in an instant.
I don't present this to in any way criticize the handling of Fernandez (the Marlins were entirely prudent and reasonable with his usage at every juncture). Rather, it's just to reflect upon how quickly all those things -- some of which we can't even put a name to -- can take the energy out of an arm. 
Let's hope the pitch you see above isn't one we ever see again out of Jose Fernandez.