Yoenis Cespedes wins second straight Home Run Derby title
For the second consecutive year, Athletics outfielder Yoenis Cespedes is the Home Run Derby champion.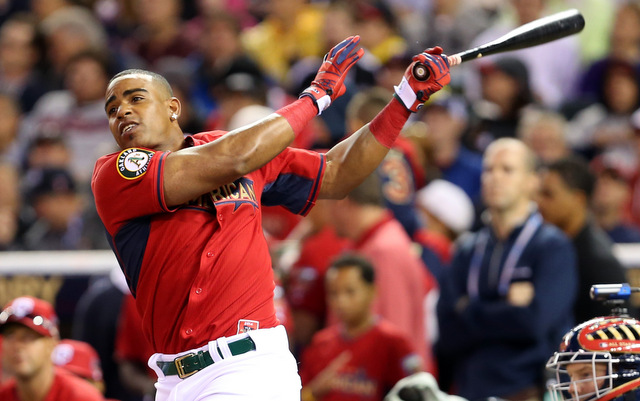 More Home Run Derby: Staff Predictions | By The Numbers | 2014's Longest Homers
After an hour-long rain delay and four hours worth of long balls, Athletics outfielder Yoenis Cespedes has won his second consecutive Home Run Derby crown. He beat Reds slugger Todd Frazier 9-1 in the final round.
Cespedes is the first to win back-to-back Home Run Derby titles since Ken Griffey Jr. in 1998-99. Giancarlo Stanton of the Marlins and Jose Bautista of the Blue Jays made it to the league finals before losing to Frazier and Cespedes, respectively. Cespedes had to beat Adam Jones of the Orioles in a tiebreaker to advance to the second round.
Our full 2014 Home Run Derby Live Blog can be seen below, with the latest updates at the top. Cespedes will likely get a chance to defend his back-to-back titles next summer at the 2015 Home Run Derby in Cincinnati's Great American Ball Park.
---

Cespedes is the champ, again. Frazier only hit one homer in the final round.
2014 Home Run Derby: Final Round Results
American League
National League
Cespedes - 9 (champ)
Frazier - 1

Cespedes hit nine home runs in the final round as some light rain started to fall. The longest went 452 feet. He's well-positioned to win his second straight Home Run Derby crown.

Only four homers for Bautista in the third round. He sat for almost two full hours between turns. Way, way too long. It'll be Cespedes vs. Frazier in the finals.
2014 Home Run Derby: Round Three Results
American League
National League
Cespedes - 7 (advances)
Frazier - 1 (advances)
Bautista - 4
Stanton - 0
Cespedes, meanwhile, took in Bautista's turn in comfort:
Cespedes rocking chair. #Athletics #HRDerby pic.twitter.com/S5FkWb7GfS

— Casey Pratt (@CaseyPrattCSN) July 15, 2014

Seven homers in round three for Cespedes, including one 447 foot blast. We've officially hit "this is taking way too long" territory. Four hours for a Home Run Derby is about one and a half too many.

You think Twins right-hander and the notoriously homer-prone Phil Hughes is happy to be out of New York?
Home Run Derby night and only 5 tweets saying I should pitch to every participant #BabySteps

— Phil Hughes (@PJHughes45) July 15, 2014

Holy smokes. Stanton was shut out in round three. No homers at all. Frazier advances to the finals with the one dinger. Surprise of the Derby, hands down.

Once again, Frazier is the first to hit in the new round. He slugged only one homer. Hard to believe that will be enough to advance. Meanwhile, today in real talk:
This may be the only competition on the planet that gets more boring as it progresses. Zzzzzzzzz.

— gabe kapler (@gabekapler) July 15, 2014
At least Stanton is hitting next.

Three homers for Jones in round two. While admirable, that won't be enough to advance. Bautista vs. Cespedes and Stanton vs. Frazier will be the matchups in round three. Here are the round two final standings:
2014 Home Run Derby: Round Two Results
American League
National League
Bautista - N/A (bye)
Stanton - N/A (bye)
Cespedes - 9 (advances)
Frazier - 6 (advances)
Jones - 3
Tulowitzki - 2

As the first batter of the second round on the American League side, Cespedes hit nine homers. His long went 416 feet. Going to be tough to Adam Jones to top that.

Only two homers for Tulowitzki in round two. It'll be Frazier vs. Stanton in round three.
One the bright side, it appears Tulo has gotten the trade he kinda sorta requested. We just don't know which AL team has acquired him yet:
AL?!? #ESPNGraphic #FAIL --> pic.twitter.com/7p60Fa5s2K

— Maury Brown (@BizballMaury) July 15, 2014
My money is on the Yankees. It's always the Yankees.

The first batter of round two was also the first batter of round one. Frazier went deep six times with a long of 415 feet. Remember, they start with clean slates this round. Last round's totals do not carry over.

Donaldson hit one dinger and Cespedes hit two in the tiebreaker. Bautista earned a bye into the third round, and Cespedes will now face Jones head-to-head in round two. Here are the standings after round one:
2014 Home Run Derby: Round One Results
American League
National League
Bautista - 10 (bye)
Stanton - 6 (bye)
Cespedes - 5 (advances)
Tulowitzki - 4 (advances)
Jones - 4 (advances)
Frazier - 3 (advances)
Donaldson - 3
Morneau - 2
Dozier - 2
Puig - 0

In the three-swing tiebreaker, Frazier hit one homer and Morneau hit zero. Stanton gets a bye into the third round while Tulowitzki and Frazier meet head-to-head in the second round.

Cespedes, the defending Home Run Derby champ and final batter of the first round, went deep three times. He'll have a swing-off with Donaldson to determine who advances in the second round. Bautista and Jones are in the second round.

The Twins fans at Target Field gave Morneau a huge standing ovation. It was awesome. He hit two homers (longest: 406 feet), including one off a flag in right field. Morneau and Frazier will have tiebreaker to see who advances. Stanton and Tulo are already in the second round.
Also, here is Stanton's longest blast. Look at this monster:
GiancarlOOOOOOOOOHHH https://t.co/Gth3B7aLEo

— SB Nation GIF (@SBNationGIF) July 15, 2014

It's always fun to watch the other All-Stars react to the Home Run Derby moonshots. Here's Andrew McCutchen and Dee Gordon following a Stanton blast: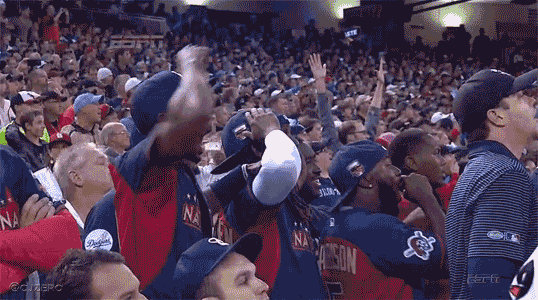 (GIF via @cjzero)

Donaldson clubbed three dingers in round one. His longest went ... I don't know. ESPN never bothered to give a distance. He did hit one into the third deck though.

It took entirely too long, but Giancarlo Stanton has finally taken his hacks in his first career Home Run Derby. The damage: six homers with a long of 430 feet. Two went into the third deck and another went over the batter's eye in center field. Yes. Yes yes yes.

Last year it was Jacob Gatewood, this year it's Luken Baker. Remember that name for next summer's draft.
They're having a high school home run derby during commercial breaks and this kid Luken Baker is just crushing balls out with a metal bat.

— Ryan Divish (@RyanDivish) July 15, 2014

Adam Jones, my sleeper, hit four home runs. His longest went 426 feet.

They called an audible and batted Puig before Stanton. Not sure what happened there. Anyway, Puig was shut out. No homers at all. Lame. All those overthrown cutoff men finally get their revenge.

Baustista set the tone as the AL captain. He slugged 10 dingers overall, with his longest going 428 feet. Wowza. Also, it appears Joey Bats was traded to the Yankees mid-Derby:
I am happy to see that the #Yankees made a move to get a bat in their lineup. Cashman is stealth. #HRDerby pic.twitter.com/DanWFUmiJs

— Brian Murphy (@Spokes_Murphy) July 15, 2014

The third batter was Tulowitzki, the NL captain. He mashed four taters, though looked like it might have gone foul. They ruled it fair and that's all that matters. Tulo's longest traveled 402 feet.

The second batter was Dozier, the hometown Twin. He went deep two times and topped out at 372 feet. Meanwhile, here's a Home Run Derby rainbow:
Ho hum a home run derby...check out this rainbow! (Carroll) pic.twitter.com/mDy2Jc8FgU

— David O'Brien (@ajcbraves) July 15, 2014

Frazier, the first hitter of the night, hit two home runs in round one. His longest went 427 feet. He's the leader! (by default)

The weather in Minneapolis is starting to improve and the field is being prepared, so the Home Run Derby should be starting in a few minutes. Here's the batting order:
#HRDerby rain delay. But hey, if there's one thing #Reds know this year, it's rain delays. Advantage Frazier. pic.twitter.com/miJGGS1UZq

— Cincinnati Reds (@Reds) July 15, 2014

Brandon Moss' son had some ice cream in the dugout and he made a nice big mess:
Brandon Moss' son made a mess in the dugout. #HRDerby pic.twitter.com/VCAFP0tSyR

— #ASG (@MLB) July 15, 2014

Still confused by the new Home Run Derby format? Here's a helpful visual:
The @Gillette #HRDerby bracket. pic.twitter.com/llu1PonaUU

— MLB Fan Cave (@MLBFanCave) July 15, 2014

The start of the Home Run Derby will be delayed approximately 30 minutes to weather, it has been announced. It is now scheduled to begin at 8:30pm ET or so.

Here is a must watch video. It's the first career home run for each of this year's Home Run Derby participants:
I had totally forgotten Giancarlo once went by Mike.

Bad news for batting practice:
And that's it for HR Derby BP as heavy rains falling in Minneapolis.

— Erik Boland (@eboland11) July 14, 2014
According to CBS Minnesota, the rain is expected to clear out of the area shortly. The weather shouldn't be a problem for the Home Run Derby tonight.

The 2014 Home Run Derby will take place in spacious Target Field on Monday night (8pm ET on ESPN), but don't worry, the hitters will make the ballpark look small. They do every summer, without fail.
This year's Home Run Derby has new and more fun format. There are five players per league, and the three with the most homers in the first round advance. The leader gets a bye to third round while the players with the second and third most homers meet head-to-head in the second round. The winner of the third round advances to the AL vs. NL final. Got it? Good. Here are the 10 participants:
2014 Home Run Derby
American League
National League
Jose Bautista, Blue Jays (captain)
Troy Tulowitzki, Rockies (captain)
Yoenis Cespedes, Athletics
Todd Frazier, Reds
Josh Donaldson, Athletics
Justin Morneau, Rockies
Brian Dozier, Twins
Yasiel Puig, Dodgers
Adam Jones, Orioles
Giancarlo Stanton, Marlins
The Home Run Derby does not exactly lend itself to commentary, but we'll keep you updated on the round-by-round scores plus add any video, witty comments, or anything else we can come up with right here through the night, so make sure you check back often.
Boston wants to add two big bats to their lineup, not just one

Even more relievers signed on the final day of the Winter Meetings

Keep tabs on the top 50 free agents right here
The league is not happy Ohtani's medical information leaked

Kansas City and Baltimore were quite busy at the Rule 5 Draft

Piscotty's mother was diagnosed with ALS earlier this year