2013-14 EOB NBA Division Previews: Southwest Division
Can Dwight Howard push the Rockets to the top? Can the Pelicans surprise with a run? Are the Mavericks ready for Monta Ball? Will the Spurs *ever* die?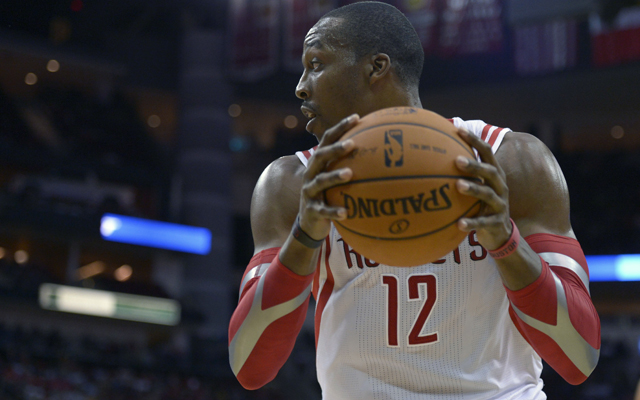 Our team-by-team win predictions | Podcast: East over/unders | West over/unders
East previews: Atlantic | Central | Southeast
West Previews: Southwest | Northwest | Pacific

Cream of the Crop: The Spurs now, the Spurs forever. The San Antonio Spurs remain the best team in the division. They saw the sun rise and set on Dirk's Cuban Empire. They were there when the Grizzlies rose to relevance and they kicked them back to non-contender status last May. The Pelicans aren't sure what they are yet and the Rockets aren't ready.
So yet again, for what feels like the 700th time in a row, the Spurs will win the division. Some will fall into the trap we all do, to be "brave" enough to say "this is the year they get old, they fall apart, they waste away." And they too will understand that they aren't falling apart until Tim Duncan turns off the lights on the way out.
Like it, love, hate it, whatever. I don't mind if you find it boring because I find reruns of procedurals boring. And in much the same way, while you can appreciate the design that makes the mystery so compelling, after you've seen it, you understand it, and the episode can be summarized in a sentence.
In this case: The San Antonio Spurs are just a great basketball team.
Sitting Pretty: The Houston Rockets signed Dwight Howard.
Even now, with Howard having gone through a full preseaon in the red and white, it seems weird. He actually left the Lakers and a phenomenally star-studded team... again, the Lakers, and joined James Harden in Houston. This is a thing that happened.
All superstar teams are most compelling in their first year together. They're not seamless in their execution yet. They're still figuring things out. The roster is still flawed. But Houston as so much talent, so much power, that they'll be a very good team. They're going to be a fringe contender most likely. They'll be a hot ticket, the darlings of the advanced metrics community, and will sell a lot of merchandise.
Maybe it'll be a trainwreck like the Lakers were, but we doubt it.
(Note: We also doubted the Lakers would be. Sports, man.)
On The Cliff: The Memphis Grizzlies should be a 50-plus-win team. But there's instability and vulnerability here, two things which in combination can create serious problems even for a team with this kind of talent and success.
What will the change of coaches from Lionel Hollins to Dave Joerger do to the chemistry of the team? Will Zach Randolph be able to stay healthy, as the increased usage load has resulted in consistently diminishing durability for the All-Star? Can Mike Miller provide enough in the regular or post season to boost their woeful shooting percentages and stretch the floor?
Will Jerryd Bayless continue looking like a miniature Carlos Boozer?
So many questions!
Waiting in the Tall Grass: The Pelicans are incredibly dangerous. Jrue Holiday is still really underrated, especially on the defensive end. Ryan Anderson is a Sixth Man of the Year candidate. Anthony Davis is being talked about as a sleeper for the All-Star Game and also a dragon.
They'll be flawed and have hard times, but if Monty Williams can get this roster to gel (and more importantly, defend), then they can make a run at a playoff spot. They're going to be a team that keeps biting the good teams in the ass and attracts a following on League Pass for being fun.
Or Eric Gordon is still hurt and then not so much. But still! The hope of the future.
Dead Meat: Dallas, by process of elimination? Look, Dallas could be sneaky dangerous like the Pelicans. If everything comes together, and the Monta Ellis-Dirk Nowitzki combo is special, then this team could be a solid sixth or seventh seed.
But Jose Calderon is a big part of this plan and as poor as Ellis' shot selection is, Calderon's defense is just as bad. Samuel Dalembert isn't a spring chicken, Dirk hasn't been healthy since early November of 2011, and Rick Carlisle eventually destroys the will of everyone under the age of 28. (He's still a top-five coach in this league.)
Maybe there is no dead meat in this division. But the Mavericks seem the most likely candidate by process of elimination.
Division MVP: Dwight Howard.
Tony Parker is a fine choice here. So is Tim Duncan. But if we assume Dwight Howard is healthy, and there is every indication he is, he'll do more for the Rockets than Parker or Duncan will for San Antonio. Parker is the engine that makes the Spurs' car go so fast, but without the car, he's just a sleek piece of metal. Duncan was great on defense and really good on offense last year but also can't play more than 35 a night.
Howard, on the other hand, for all his warts (on-court and off) is still the most dominating player in the paint, and a huge handful to deal with offensively. He'll anchor the Rockets and be most responsible for their improvement in record. The Spurs meanwhile will continue to compete when Duncan or Parker is out, because that's how good their system is.
It's not a knock on Parker or Duncan, it's a credit to the whole they make greater than their own sum.
Division ROY: Pass.
I like Shane Larkin for Dallas here, but he has a broken ankle he's still recovering from. I like Ricky Ledo but there's just no guarantee he'll get minutes. Jeff Withey is an option for the Pelicans, but he's behind two really good centers in a loaded overall frontcourt for a coach that isn't going to want rookies out there, even ones as old as Withey.
Jamaal Franklin may be the best option, which is great, since he's behind Tony Allen, Tayshaun Prince, Jerryd Bayless, Quincy Pondexter and Mike Miller on the wings.
This is a division who could send four teams to the playoffs and five wouldn't shock me. There's not a whole lot of room for rookies to shine here.
Projected finish:
1. San Antonio Spurs 56-26
2. Houston Rockets 53-29
3. Memphis Grizzlies 49-33
4. New Orleans Pelicans 41-41
5. Dallas Mavericks 41-41
We've got all the scores, top plays and news from a busy NBA Friday

Butler didn't put any pressure on his right leg as he was helped to the locker room on Fri...

Our advanced computer model simulated Saturday's Magic vs. 76ers game 10,000 times
Several playoff contenders could use the services of Ilyasova, who's nearing a buyout agre...

Durant says he probably wouldn't have gone to college because he 'needed the money'

Ball, who has missed the last 15 games with a sprained MCL, will be on a minutes restricti...