Division Previews: Southeast | Atlantic | Central | Southwest | Northwest | Pacific
It's that time, as the 2013-2014 NBA season tips off Tuesday night. We've taken a look at the over/unders and what the oddsmakers say about MVP. Now it's time to look at our own picks for the awards, as well as our predictions for the playoffs. Why? So you can argue in the comments and tell us how wrong we are later, that's why. 
But first, after Friday's trade of Marcin Gortat to the Wizards for Emeka Okafor, who could be out nearly half the season or more, we wanted to revise our season win total predictions.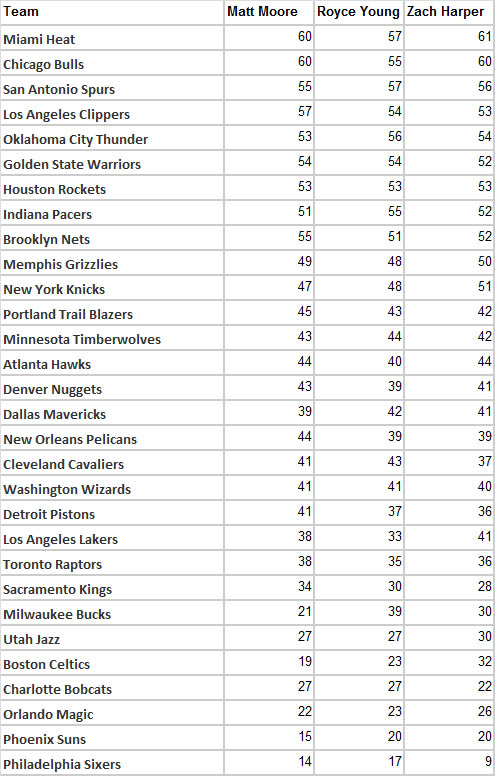 Here's who we think take down the major awards this season: 
NBA Expert Picks
 

Ken Berger

Matt Moore

Royce Young

Zach Harper
Awards
MVP

Chris Paul,
Clippers

LeBron James,
Heat

Kevin Durant,
Thunder

Kevin Durant,
Thunder
Rookie of the Year

Ben McLemore,
Kings

Ben McLemore,
Kings

Victor Oladipo,
Magic

Ben McLemore,
Kings
Defensive Player of the Year

Dwight Howard,
Rockets

Dwight Howard,
Rockets

LeBron James,
Heat

LeBron James,
Heat
Sixth Man of the Year

Harrison Barnes,
Warriors

Ryan Anderson,
Pelicans

Reggie Jackson,
Thunder

Luis Scola,
Pacers
Most Improved

Derrick Favors,
Jazz

JaVale McGee,
Nuggets

Anthony Davis,
Pelicans

Gordon Hayward,
Jazz
Coach of the Year

Monty Williams,
Pelicans

Tom Thibodeau,
Bulls

Doc Rivers,
Clippers

Erik Spoelstra,
Heat
Executive of the Year

Billy King,
Nets

Dell Demps,
Pelicans

Daryl Morey,
Rockets

Daryl Morey,
Rockets
 

Ken Berger

Matt Moore

Royce Young

Zach Harper
And here are our playoff predictions (click to enlarge):