2013 Offseason Report: Miami Heat
The champs repeated, but did the Heat get better or worse in the offseason? Does it matter, with LeBron James, Dwyane Wade, and Chris Bosh?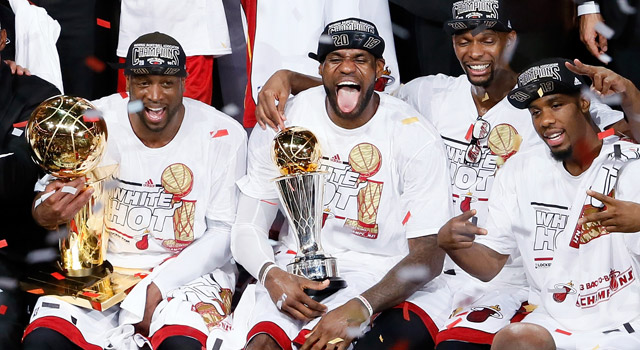 Over the next month, CBSSports.com's Eye On Basketball will take a team-by-team look at the 2012-13 NBA offseason. We continue with the defending NBA champion Miami Heat.
How they finished 2013
Well...
So, yeah, that worked out OK.
Needs entering the offseason
Nothing.
I mean, look. We can point to the troubles they had vs. Indiana's size, or the Spurs' versatility. We can consider the slow decline of Dwyane Wade or how they needed to re-sign Chris Andersen as enforcer, but really. ...
They didn't need to do anything, didn't have to do anything. They have LeBron James, whatever Wade has left, Chris Bosh and shooters. Throw in Erik Spoelstra and that's what they needed. They proved it, over and over again. Struggles? Sure. Every mini-dynasty has moments of difficulty.
But at least for one more season, they bring back the best player in basketball, two other All-Stars and veteran players who always seem to come up in the biggest moments (see: Allen, Ray; Battier, Shane). They're good, thanks.
The Draft
Oh, hey, a nice pickup of James Ennis at No. 50! That could work out and give them an athletic ... yeah, he went to Europe Australia. Thanks for your interest, James.
Free Agency and Trades
They have no cap room, no glaring needs and an owner willing to shell out. So what did they do?
First they said they had no plans to use the amnesty clause on veteran wing Mike Miller. Nope, not going to do it. Ridiculous to claim so.
Yeah, they used the amnesty on him.
Miller played a big part in the past two titles, but in reality, Shane Battier does what Miller does, for cheaper and with fewer injury issues. Mickey Arison has shown he's willing to spend for a champion, but everyone has a limit, and his was what their tax bill would have been this season. So they lose Miller and will need bigger perimeter contributions from James Jones and Battier. They have to feel pretty OK with that scenario.
They re-signed Andersen, who made a huge impact down low and was the kind of enforcer many said they needed. But he was absent in the Finals as the Heat had to continually play smaller and smaller in order to match up the way they wanted. Still, getting Andersen back on a cheap deal means they have another tough guy alongside Udonis Haslem down low to give fouls and make plays. He works on this team, and hasn't been a problem in the locker room.
There's no downside there.
Then, the big news of the summer, the Heat signed Greg Oden. The former No. 1 pick comes cheap, the Heat give him a place where the attention will be lower, and there will be no expectations or pressure on him should he never make it to the court. And that's a very real possibility. It's possible Oden becomes the monster they need to match up with 7-footers. It's possible he never plays a second for Miami as his body doesn't allow him to contribute.
It doesn't really matter. The Heat are good enough without Oden. He's not even the cherry on the sundae. He's the sprinkles. He's not necessary under any circumstances but could be a nice bonus in some situations.
Overall grade and accomplishments: C
Miami just needed to not get worse. That was the big key this offseason. They needed to pass, that's all. You can say that Wade's increasing age and injuries combined with the loss of Miller means they got worse, but there's no way to know if Wade won't bounce back, and there is ample evidence that Battier and Ray Allen provide enough to compensate, along with Norris Cole and Mario Chalmers.
Andersen, sure, great. Oden, sure, why not. That was their offseason. "Sure. Why not?" Because the reality is that this team is still living off what it pulled in the summer of 2010 and no matter how disappointing 2011 was, they have two titles and are the odds-on favorite to threepeat.
Need not, want not. Win lots. That's the Heat.
Kevin Durant says he doesn't agree with what President Donald Trump agrees with

Evaluating where the future Hall of Famer might land up if he is freed from Chicago's rebuilding...

Adam Silver said his piece with the schedule out; we address that and what the slate looks...
The Hawks and Sharecare reportedly agreed to terms on a five-year deal

A look at the context of the schedule and who plays who when, and how far they travel during...

Durant took on rapper Lil Dicky and actually might have lost