2013 Offseason Report: Oklahoma City Thunder
Over the next month, CBSSports.com's Eye On Basketball will take a team-by-team look at the 2012-13 NBA offseason. We continue with the Oklahoma City Thunder.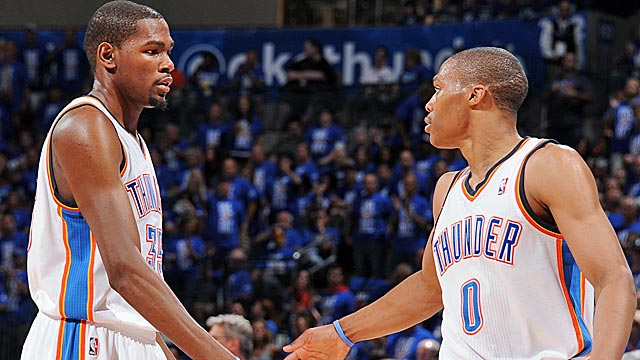 Over the next month, CBSSports.com's Eye On Basketball will take a team-by-team look at the 2012-13 NBA offseason. We continue with the Oklahoma City Thunder. You can read all of our Offseason Reports here. 
How they finished 2013
We all know how it crumbled for the Thunder. Russell Westbrook hurt his knee and Oklahoma City's season died with it. As the Thunder struggled through a five-game series loss to the Grizzlies -- losing excruciatingly close games, mind you -- the talk of James Harden and the trade made by the Thunder four days before the season started loomed over everything like Harden's beard over a breakfast buffet. 
But here's what got lost, and continues to get lost in remembering the Thunder's 2012-13 campaign: They were good. With a healthy Westbrook, the Thunder piled up 60 wins, the top seed in the Western Conference, a near historical margin of victory, a top five offense, a top five defense and by all appearances, had the best roster in the West entering the postseason. 
The Harden trade will never have the answer it so desperately needs. Because of Westbrook's injury there will never be a resolution whether the Thunder made a good decision in dealing Harden before the season rather than playing it out with him and then watching him walk in free agency. The Thunder were a tremendous team last season, poised to make another run to the Finals. But in one swift swipe, it was taken from them. And because of that, the 2012-13 Thunder season immediately turned into one big what-if. 
Needs entering the offseason
When it comes to the Thunder and needs, most talk about the need for a low post threat. Three things about that:
1) Everyone would love a low-post scoring threat. It's kind of a great thing to have.
2) The Thunder already have one of the best post players in the league in terms of points per play in Durant. The problem is that opposing teams figured that out too and started doubling him on every touch. There's also Serge Ibaka, who has added to his offensive arsenal every offseason and has the potential to be a very good back-to-the-basket player.
3) The Thunder rely heavily on isolation and while having a low post player would be nice, it also is something that could hinder the rest of their offensive structure. Keep in mind, we're talking about an offensive juggarnaut here. The question for the Thunder is how to make sure that dominant offense translates into the postseason. The first step to that is making sure Russell Westbrook is on the floor, but after that, it's about building offensive versatility. Just making the statement "the Thunder need a post scorer" isn't it. It's about being able to expose defensive tactics teams throw at them, most notably small-ball lineups. The Rockets went small against OKC and hid Harden on Ibaka for long stretches, and the Thunder were never able to expose that.
So in terms of addressing that need, it's not really as much about signing someone. It's probably more about figuring out how to fix it from within.
The Thunder certainly had needs for a perimeter knock-down shooter, and more bench weaponry, especially since they lost Kevin Martin in free agency. But the plan there is very Thunder-y: They're just going to rely on internal growth, with Reggie Jackson -- who looked the part in the postseason -- and second-year player Jeremy Lamb.
The draft
The last big piece to the Harden trade was a lottery pick acquired via Houston, via Toronto. The pick initially appeared to be an extremely valuable one, likely to land in the top eight (it was top-three protected). But with a late season surge by the Raptors, the pick eventually fell to No. 12, meaning one of the biggest parts of the Harden deal suddenly looked much, much worse.
The Thunder attempted to move up to as high as No. 1 overall, but with the asking price far too high, they settled in and just used the 12th pick taking seven-footer Steven Adams. Somewhat of a disappointing selection, considering the buzz around moving up, but with future needs arising at center, Adams might be an extremely useful pick. He has serious defensive potential with impressive size, strength and athleticism. And with Westbrook and Durant already handling offense, Adams doesn't have to do a lot more than screen, defend, rebound and throw outlet passes.
The Thunder also moved up from No. 29 to No. 26 to take Andre Roberson, a lengthy swingman out of Colorado. Roberson is a high-energy, highly athletic player that's mostly a project player. But with Thabo Sefolosha about to turn 30 and be on an expiring contract, the Thunder are hunting for their next defensive stopper. Roberson has an incredible motor and the potential to be a special defender. His skills are extremely raw and his offensive game doesn't consist of much more than just jumping, but the Thunder are patient and don't mind letting him take his time with that.
Free agency and trades
With Kevin Martin an unrestricted free agent, the Thunder didn't have much of a chance to retain their sixth man. They were up against the luxury tax and unless Martin took a substantial paycut to stay, he was going to move on. And he did, taking a four-year, $30 million deal with the Timberwolves.
For a second straight season, the Thunder are looking at replacing their third-leading scorer. With the mid-level exception in their pocket, the Thunder looked at players like Dorell Wright, Carlos Delfino, Francisco Garcia and Mike Miller, but struck out on all of them. 
So they went to Plan F: They brought back Derek Fisher for a third time. The Thunder did have a need for a third point guard, so it does make sense, but knowing Scott Brooks' odd fascination with playing the 39-year-old heavy minutes, it could be a backfire, especially if Fisher's addition stunts the growth of Jeremy Lamb or Reggie Jackson.
They also added veteran forward Ryan Gomes on a partially guaranteed contract, which really could just be a training camp invite. The Thunder now have 16 players under contract, so someone will have to be waived. It could be Gomes, but if not, the Thunder have a solid defender who can knockdown a few shots and score a bit in transition. Certainly not an impactful signing, though.
Overall grade and accomplishments: C
Sometimes, doing nothing is doing something. On the surface, while other teams around them improved and transacted and made moves, the Thunder seemed to have slipped back. By losing Martin and not adding to the bench, the Thunder appear to have regressed. 
But let's not forget: Durant is 24. Westbrook is 23. Ibaka is 23. One offseason moves the Thunder will make is the same one they've made the last four offseasons -- their young players will come back improved. And while the bench lost pieces, that also has carved more room for Jackson, who showed signs of being a potentially dominant bench scorer, and Lamb, who while unproven, has significant offensive talent. If we know one thing about the Thunder, it's that relying on young players to develop often works out. Banking on Lamb and Jackson is a roll of the dice, but the Thunder have a solid track record of developing youth and making stars out of them.
For the Thunder, the success of this offseason will probably have to be measured two or three offseasons from now. They avoided breaking into the luxury tax, meaning that's another year skipped in possibly becoming a dreaded repeat tax offender. With Durant, Westbrook and Ibaka all under 25, there's a chance the Thunder are holding their cards until 2014 or 2015, so by not splurging with their mid-level exception now and breaking into the tax, it means they can do it later. And who knows, they may end up needing that money to re-sign Lamb or Jackson anyway. 
The selection of Adams is not something likely to impact them right away, but with Perkins set to be a free agent in two seasons, and obviously not the player he was once, the Thunder are about to have a very significant need at center, if they don't already have one. Adams is raw and unproven, but the Thunder have a luxury most lottery teams don't -- they're already really good. They can play it slow with Adams and wait. 
The offseason for Oklahoma City was boring. It didn't accomplish much. But the Thunder put in their work years ago which has set up bland summers. With a core in place and a contender built, the Thunder are about managing money and taking the long-view. It can be puzzling at times, especially with a team that seems to just be a player or two away, but that's the culture, that's the philosophy that built this roster, and it's not changing any time soon.
SportsLine's Mike McClure, a DFS pro with more than $1M in winnings, gives optimal lineup...

Leonard was recently shut down again to rehab the nagging quad injury

Ellington is averaging a career high 11.2 points, and shooting 41 percent from 3-point lan...
Multiple players said the meeting did not go well

The Cavaliers, you might have heard, are slipping

Here's how to watch Jimmy Butler and the Wolves take on Blake Griffin and the Clippers