2014 Offseason Report: Boston Celtics
A solid draft and a shrewd trade improved the Celtics, but that wasn't hard to do after last year's struggle. Where are the Celtics going?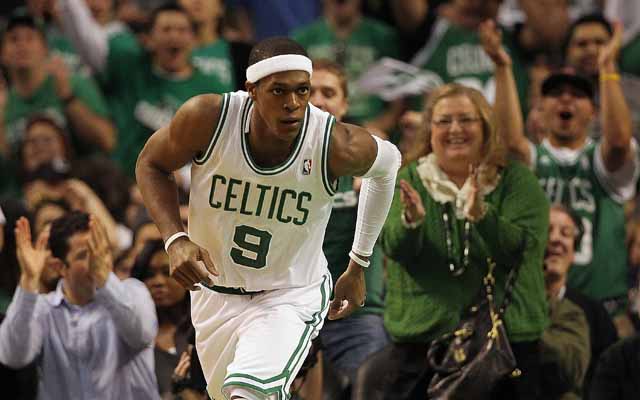 Offseason: Free Agency | Latest from Ken Berger | Rumors
CBSSports.com's Eye On Basketball is taking a team-by-team look at the 2014 NBA offseason. We continue with the fallen empire, the Boston Celtics. Check out the rest of the offseason reports here.
How they finished 2014: The Celtics did actually have some hopes of being good last season. They were misguided, but they did have that hope. Rookie Kelly Olynyk was considered a significant contender for Rookie of the Year in preseason by coaches and his fellow rookies. Jared Sullinger was expected to anchor the offense. Avery Bradley and Jeff Green had the opportunity to thrive with bigger roles.
None of that really happened. Olynyk struggled on both ends, and while there is a foundation of promise there, it was far from an instant success. Sullinger shot 43 percent from the floor but did show real promise as a rebounder and stretch four. Bradley finally learned how to shoot, but his defense slipped and he once again had injury issues. Green slipped in and out of impact.
The Celtics were 13-18 through Jan. 1. Then the wheels fell off. They went 2-15 in January, and that was it. Rajon Rondo's return from a torn ACL failed to spark the team and they ran out the clock on the season. They finished a respectable-but-not-great 18th in points allowed per possession, but just 27th on offense. 
Coach Brad Stevens got a deep-dive crash course in NBA rebuilding, having to juggle developing younger players while dealing with veterans playing to get their way into better situations or out of Boston altogether.
The Celtics failed to hit the bright landing spot of optimism, but things could have been worse, all things considered.
Offseason needs: You can argue that Boston needed to set a path ... but did it? General manager Danny Ainge has opted to not really choose between rebuilding with young talent and trading Rondo or finding a star to fit beside him. He has kept his options open. He snagged multiple draft picks and kept Rondo.
Do the Celtics need to resolve their future before Rondo hits free agency next summer? Probably. But there's also the chance that they simply keep going as they have, adding good players through the draft while keeping their flexibility open to acquire a star. There's a good chance they can re-sign Rondo even without being a contender.
So their offseason needs were simpler. They needed help on the wings to provide shooting and versatility. Plus, they needed to be able to trade Green. They also faced restricted free agency with Bradley.
The draft: Ainge talked down the draft for most of the year, going beyond the usual "it doesn't have superstars" talk and going as far as hinting it wasn't that good overall. But the Celtics kept both of their first-round picks.
First they selected Marcus Smart, and that was a pretty interesting move. If you believe Smart is a point guard, why do you draft him if you have and plan to retain Rondo? If you believe he's a shooting guard, why do you then turn around and re-sign Bradley? Can Rondo and Smart play together? And is Smart a star who could lead the team going forward?
Smart, independent of any of those questions, was a smart selection. His decision-making can be compromised by bravado, but he's strong as an ox, projects as a great defender and can create off the dribble in an underrated capacity. His ability to translate to a true point guard or a spot-up shooter position will be key in the short-term. His ability to produce beyond those roles could determine much of what the Celtics do from here on out.
James Young was a steal late in the first round. He has shooting ability, can get to the rim and projects as a quality 3-and-D guy. He provides an immediate reserve behind Green and if he works out, gives them a smooth transition to allow for a trade of Green to get his money off the books. There weren't any great bigs at either draft spot; Boston made the absolute most of each spot.
Free agency and trades: The Celtics are rebuilding, so they kept things pretty quiet. They let Jerryd Bayless go. They moved Kris Humphries to get his salary off the books.
The two big moves they made were re-signing Bradley and facilitating the trade that sent Jarrett Jack to Brooklyn and made room for the Cavaliers to sign LeBron James, and in doing so landed Tyler Zeller and Marcus Thornton in Boston.
Bradley came back at four years, $32 million, which prompted him to land on many people's early list for free-agent overpays. But the arguments against Bradley have been that he's a liability offensively, something he convincingly shook off last season, becoming a 40-percent 3-point shooter and shooting respectably from the field. He's still not a dynamic weapon you build your offense around, but that's enough of a sign to justify his price tag, if he can get his defense back to the level it was two years ago.
Injuries are the other concern with Bradley, but bear in mind that typically injury hasn't factored in considerably with players coming off their rookie deals. Stephen Curry's deal looks like a bargain now, but at the time, it was a lot of money for someone who had missed as many games as he had. Typically these contracts are based off of projected production, not necessarily established production.
The move for Zeller and Thornton was sneaky good. Not only did it snag a first-round pick for nothing, but Thornton doesn't hurt in the short term as a scoring presence off the bench, and has some value as a trade chip. Zeller is young, talented and reliable. He's not starting caliber on most teams, but he's immediately better than Vitor Faverani or Olynyk, which helps the overall rotation.
The Celtics were quiet in free agency after that, keeping their options open. They didn't land Kevin Love but they managed to improve their team without compromising their ability to add a star if one comes available.
Overall grade and accomplishments -- B-plus: The Celtics didn't swing for the fences this summer. They're still very much a rebuilding team and are a near-lock for the lottery as constructed. They didn't make signs of choosing between instant contention or rebuilding, but they kept their options open on both sides.
Maybe the biggest takeaway from Boston's summer is what they can do throughout the course of this season. They have expiring contracts (Brandon Bass, Thornton, Keith Bogans, who is fully unguaranteed this season and next according to Sham Sports, Joel Anthony), multiple draft picks, cap room and a star in Rajon Rondo they can trade if the right package comes along. Don't expect this to be the same Celtics team at the start of the season as it is by season's end.
But overall they drafted well, retained a good player at a decent price and added some value, current and future, without losing much of anything. Ainge might have the Celtics still hanging in limbo, but at least they'll have a good foundation whenever they decide where they're going.
Tensions between refs and players have been high this season, so it was time for a sit-dow...

Irving is known for his controversial flat-Earth comments

George will be an unrestricted free agent in the summer
Durant said playing good basketball is more important than ending up with the best record

Follow along with all the news, notes and highlights from All-Star Saturday night

The 13 finalists will find out if they have been selected on March 31