2014 Offseason Report: San Antonio Spurs
San Antonio brought back its championship core and drafted a natural fit.
• 4 min read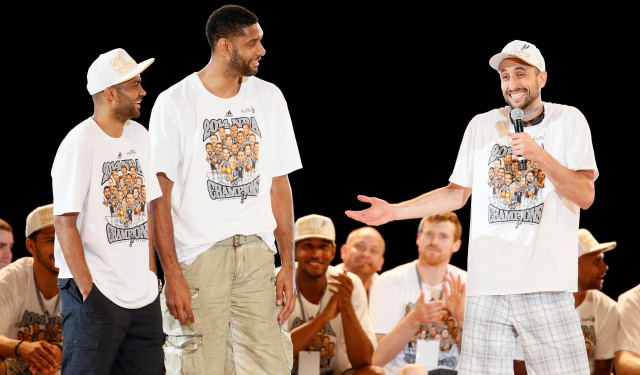 CBSSports.com's Eye On Basketball is taking a team-by-team look at the 2014 NBA offseason. We continue with the champs, the San Antonio Spurs. Check out the rest of the offseason reports here.
How they finished 2014: Gloriously. 
Offseason needs: The Spurs played pretty much perfect basketball in the NBA Finals. It's hard to say they "needed" much, as long as Tim Duncan didn't retire. He didn't -- about a week after the season ended, Duncan exercised his $10.3 player option for 2014-2015.
San Antonio obviously wanted to re-sign free agents Boris Diaw and Patty Mills, and they'd try to find a yet another steal with the last pick of the first round. No need to do anything drastic.
The draft: Kyle Anderson, selected 30th overall, is so hilariously Spursy it seems unimaginable that the rest of the league allowed him to slip to San Antonio. A 6-foot-8 forward out of UCLA, he's played point guard for the vast majority of his basketball-playing life. His nickname is Slow-Mo, and it does not take intense film study to figure out how he earned it. Anderson was compared to Diaw leading up to the draft, and he was pleased with how the French forward performed in the playoffs: 
Boris diaw put on for the slow pokes

— SLOWMO (@KyleAnderson5) June 7, 2013
Anderson, like Diaw in his first couple of years, could be tricky to fit into an NBA team. He's not quick enough to defend guards, and he does not set screens like a big man. He does not set screens at all. If one head coach is to figure out how to use his superb passing ability and basketball IQ, though, it's Gregg Popovich. And if one organization is to help him develop as a professional, it's the Spurs.
"Guys that like to pass, guys that know how to play, guys who are slow and can't jump, they fit pretty good in San Antonio," San Antonio general manager R.C. Buford told the San Antonio Express-News' Jeff McDonald, which is an absolutely perfect thing to say.
The Spurs had the No. 58 and No. 60 picks in the draft, too, and traded them for the rights to No. 54 pick Nemanja Dangubic, a 21-year-old Serbian guard who was MVP of EuroCamp. Dangubic recently signed a three-year contract with Red Star Belgrade, and has an NBA out after each season.
Free agency and trades: The only big-name free agent publicly linked to the Spurs this summer was Pau Gasol, who would have been an unfairly great fit in an admittedly crowded frontcourt. He ended up going to Chicago, where he's probably needed more. 
Buford did a great job securing San Antonio's own free agents on reasonable deals. Mills, who unfortunately suffered a severe shoulder injury that will keep him out of the 2014 FIBA World Cup and the start of the 2014-2015 season, signed a three-year, $11 million deal. With his efficiency numbers and the way that he played in the playoffs, you have to think that number would have been higher if not for the injury. 
Diaw signed a four-year, $28 million deal, and let me stop you if you think that's too much for a 32-year-old. Only $3 million of his $6.5 million salary is guaranteed in Year 3, and the final year is fully unguaranteed. Here he is signing it:
Matt Bonner also returned on a one-year minimum contract. The two-time NBA champion will return for his ninth season with the Spurs. Aron Baynes was tendered a $1.1 million qualifying offer, so he's a restricted free agent. He could just accept that offer, but is reportedly exploring his options in Europe. Gustavo Ayon is a possible replacement, according to ESPN.
With a complete lack of speculation and fanfare, San Antonio announced on Aug. 1 that Tony Parker had agreed to a three-year contract extension. The contract is worth $43.3 million, the most allowable under the CBA. He could have tried to get more money as an unrestricted free agent next summer, but he said that he wants to be a Spur for life.
Bryce Cotton, JaMychal Green and Josh Davis have all been signed to unguaranteed contracts, and they'll be in training camp. 
The biggest news out of San Antonio this offseason wasn't even about the players, though. A year after losing assistant coaches Mike Budenholzer and Brett Brown, the Spurs made two significant additions to their coaching staff. First, legendary European head coach Ettore Messina reached an agreement with the team. Second, six-time WNBA All-Star Becky Hammon joined him. 
Hammon is the first female full-time assistant coach in the NBA, and she only just played her final professional game last Saturday. She's already familiar with the culture because she spent time with Popovich's staff while rehabbing her torn ACL last season. It was something of an internship, and the organization decided Hammon had shown enough promise as a coach to lock her into a contract as soon as possible.
Overall grade and accomplishments -- A: Could anyone possibly have a problem with what San Antonio did? The core is coming back, and there's still not a single bad contract on the payroll. It was all relatively quiet outside of the Hammon hire, but that's how the Spurs like it. They prefer to make headlines in June.
We've got all the scores, highlights and news for Thursday night

The Sixers big man got his first All-Star selection -- and maybe some revenge -- on Thursd...

It appears some players are not entirely taking the All-Star voting process seriously
There were some weird discrepancies between the fan, media and player votes

LeBron and Steph will be the captains for the 2018 NBA All-Star Game

Arron Afflalo was involved in an altercation with Timberwolves big man Nemanja Bjelica on...