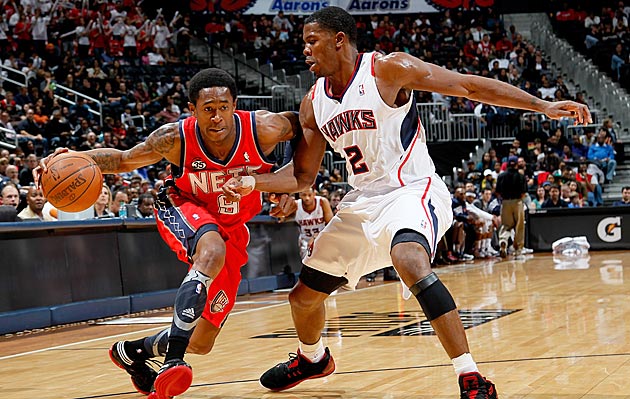 The Nets will try to acquire Joe Johnson (2) without giving up Marshon Brooks (9). (Getty Images)

Sunday was Canada Day, and Steve Nash recognized the occasion by meeting with the Raptors and Knicks in New York to discuss possible free-agent deals. 
Monday could be Brooklyn Day, with the Nets celebrating by courting their own free-agent point guard, Deron Williams, as well as Nash -- not to mention going deep into discussions with the Atlanta Hawks about a trade that would pair Joe Johnson with Williams in an All-Star Brooklyn backcourt.
Williams will meet with the Nets and Dallas Mavericks Monday, and D-Will's resulting decision will be the domino that sends NBA free agency tumbling. The Brooklyn franchise has numerous other balls in the air, none bigger than a possible deal that would bring Johnson and the $90 million left on his contract over the next four years to help christen the Barclays Center next season.
The Nets already have agreed to terms with Gerald Wallace on a four-year, $40 million deal, and have engaged representatives for their own restricted free-agent center, Brook Lopez, in discussions about a long-term deal. League sources believe the Johnson-to-Brooklyn deal has a strong chance of happening in the next 48 hours. If it does, it just goes to show you that you can have any collective bargaining agreement you want -- there's still no substitute for having one of the richest men on the planet own your basketball team.
With the Raptors prepared to bring Nash back home to Canada with a deal starting in the $10-$12 million range, a detour to Brooklyn seems more than unlikely. But the Nets clearly are moving forward with contingency plans in the event they can't land Dwight Howard in a trade with the Orlando Magic. A league source said the Nets are determined "not to wait around" for a Howard deal to materialize, as they did in December and at the March trade deadline. Howard told Yahoo Sports Sunday that he'll only re-sign with one team if traded, and sources continue to say that is the Brooklyn Nets. But the Howard dynamics are so complicated, with a new drama daily for Magic GM Rob Hennigan to navigate, that the Nets are well advised to move forward with alternative plans.
One point worth making, though. While the Magic plan to be patient with the process of trading Howard, think for a moment how Hennigan feels aboit watching the Nets -- Howard's preferred team -- filling their cap space with Johnson, Wallace, Lopez and others instead of Howard and either Hedo Turkoglu or Jason Richardson. In addition to getting young players and draft picks for Howard, a key goal for Orlando is to move bad contracts -- contracts that the Nets are, at the moment, one of the few teams that could absorb them. Once Brooklyn moves forward with Wallace and Johnson and re-signs Lopez, that trade avenue will be closed off to the Magic.
The Rockets, who have pursued Howard in a possible rental deal since last season, also signaled Sunday they were moving on when they agreed to a three-year, $25.1 million offer sheet with Bulls restricted free-agent center Omer Asik. Under the so-called Gilbert Arenas rule, Asik's salary in the third year of the deal would escalate dramatically, from $5.3 million to about $15 million, making it difficult for the Bulls to match, league sources said.
As far as the Nets are concerned, the question isn't so much where are they getting all this money; it's where are they getting all this cap space to court two Hall of Fame point guards (three, if you buy into Williams' future Hall of Fame credentials), pay the soon-to-be 30-year-old Wallace $40 million, retain Lopez and fill out the roster with other free agents -- not to mention absorb the 31-year-old Johnson's contract, the richest in the sport.
As one basketball source commented Sunday, good thing I spent last summer and fall roaming the marble floors of hotel lobbies and well-worn sidewalks of Manhattan during a lockout that was supposed to fix all of this.
Fixing, as it always has been, is in the eye of the beholder.
Assuming the Nets retain Williams and pair him with Johnson -- and the odds Sunday night were promising on both counts -- plus handle all of the aforementioned business, how does it all work? Well, that is a double-edged question. How it works on the court in terms of fielding a competitive team will be up for debate, although I'd argue that Williams, Johnson, Wallace, Lopez and a stretch-four like Bosnian sharpshooter Mirza Teletovic wouldn't be too shabby. But how can the Nets accomplish all of this under these amazing new rules that were supposed to prevent big-market teams from collecting every star, semi-star and massive contract under the sun?
It's pretty simple, actually.
First, the Nets offer Williams a five-year max deal starting at $17.4 million. To get Johnson, they'd presumably unload all of their committed veteran salary for next season except that of MarShon Brooks, who they'd want to try to keep. That means the expiring contracts of Jordan Farmar, Anthony Morrow, Johan Petro and Jordan Williams would be Atlanta-bound. The Hawks might instead want one of the Nets' free agents, such as Kris Humphries or Gerald Green in a sign-and-trade, but the team dumping the most onerous contract in the league wouldn't have much room to protest.
So let's play this out: The Nets would have Williams, Johnson ($19.75 million), Wallace (about $10 million), Lopez (whose cap hold until he's either signed, traded or renounced is $7.6 million) and Brooks ($1.16 million) on the books for a total of $55.9 million. Seven spots would count at $473,604 each -- the rookie minimum -- as cap holds, including a spot for second-round pick Tyshawn Taylor, bringing the total to $59.2 million. The Nets would be over the cap, but nowhere close to the tax apron ($69 million), so they'd have the full mid-level exception of $5 million, the bi-annual exception of $1.96 million and minimum contracts to fill out the roster. They also have two trade exceptions -- one for $3 million and another for $1.4 million -- to toy with.
If Kidd wanted the mid-level to be Williams' backup, the Nets would be in a quandary. But either way, they'd have a surprising level of flexibility to put supporting pieces around their core of Williams, Johnson, Lopez and Wallace. Considering how dire their predicament would be if Williams decided that winning in Brooklyn would be hopeless and bolted to Dallas, this wouldn't be a bad place for the franchise to be.
In the short term, anyway. Check back with me in 2015, when a 34-year-old Johnson is making $24.9 million. But if that's the price to be paid to avoid losing Williams, then Nets owner Mikhail Prokhorov evidently is willing to pay it.
One thing that has quickly become apparent under the new CBA is that teams are thinking now in terms of shorter windows -- three years. In that span, it's arguable that the Nets' "Big Three" of Williams, Johnson and Wallace would be a better strategic fit than the Knicks' Big Three of Carmelo Anthony, Amar'e Stoudemire and Tyson Chandler. If it all works out, the Nets will move into their new building next season as a relevant, competitive and most important of all, interesting team -- a worthy challenger to the Knicks for basketball supremacy in the Big Apple.
At the 2015 trade deadline, Johnson can always be traded to some woebegone, rebuilding franchise along with a first-round pick or two. And in that respect, nothing really will have changed after the lockout. That's what there's always another lockout.
But for the Nets, it's better than the alternative.