Boris Diaw gives Spurs their best look
San Antonio forward Boris Diaw is incredibly impactful, even when only scoring two points in Game 1 of the NBA Finals.
• 2 min read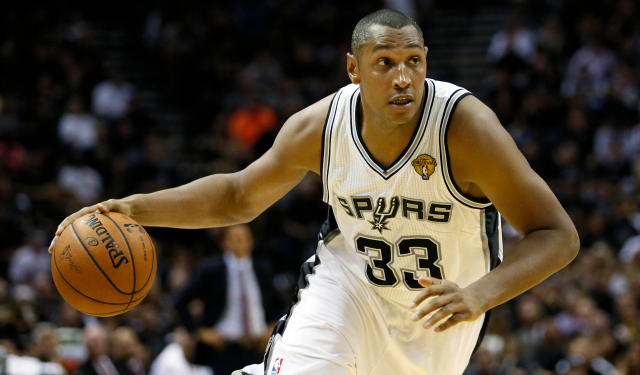 More Game 1: Court Vision | Green goes nuts | Spurs overcome turnover trouble
Boris Diaw checked in for Tiago Splitter with 7:18 left in the first quarter on Thursday. There was speculation leading up to Game 1 of the NBA Finals that the crafty forward would be inserted into the starting lineup, but Spurs coach Gregg Popovich decided against it. The score was tied 9-9 when Diaw entered between a pair of made Tim Duncan free throws. Immediately, the Spurs went on a run and took a six-point lead into the second period.
San Antonio trailed by two when Diaw replaced Marco Belinelli at around the same mark in the second quarter, and the same thing happened. In the fourth quarter, he was on the floor for the Spurs' ridiculous 30-9 run. San Antonio outscored the Heat by 30 points — 30 points! — in his 33 minutes of playing time, making him by far the game's most impactful player in terms of plus-minus. Diaw only finished with two points on 1-for-5 shooting, but added 10 rebounds, six assists and sturdy defense. If it wasn't obvious that San Antonio's best look features Diaw playing next to Duncan in the frontcourt, it should be now. 
This is just a continuation of what we've been seeing. Diaw scored 26 points on 8-for-14 shooting in the Spurs' series-clinching win over the Thunder, and his versatility is a huge reason why they are here with a chance to take down the defending champions. Diaw is far from a traditional power forward, and he's not your average stretch-four, either. His passing instincts are better than those of most point guards, and he can both post up and make threes. He makes up for his lack of great speed or leaping ability with defensive smarts; while he won't be confused for a lockdown defender, he can capably cover both bigs and smalls. Splitter brings better rim protection, but San Antonio looks just about unstoppable when Diaw is out there with its best players.
Popovich played Diaw with Tony Parker, Manu Ginobili, Kawhi Leonard and Duncan together for eight minutes, and in that span they made 11 of their 13 field goal attempts. In the 26 minutes that Diaw played alongside Ginobili, San Antonio had 21 assists on 27 field goals and outscored Miami by 36 points. The two of them combined for 17 assists in the game, and their willingness to keep the ball moving is why the Spurs' offense is so beautiful. Other teams just don't have shooting guards and power forwards who pass like they do. 
Diaw had 71 touches and passed the ball 63 times on Thursday, per SportVU, an absurd figure. Tony Parker is the only one on either team who had a higher total, with 73 passes on 97 touches. Whether he starts or not, that should tell you something about his role in San Antonio's system. He can change games without scoring, and he is essential to the Spurs' success. 
Kyle Kuzma is tired of how his teammate Lonzo Ball is being treated

The Warriors used a huge third quarter to come back from a 23-point deficit to get the win

Three takeaways from Golden State's 24-point rally past the Sixers
Okafor has played only 25 minutes this season

Capela's shoe slipped off, and was sitting near the free throw line

The Magic will instead play in the Las Vegas Summer League