Breakdown: Derrick Rose's first game struggles were awareness
Derrick Rose had a rough return to the Chicago Bulls in the first game of the season, but it was mostly due to impatience and spacing issues.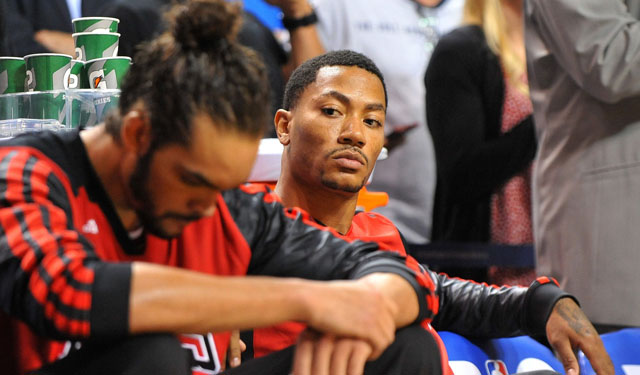 Derrick Rose's return to the Chicago Bulls in the opening game loss to the Miami Heat was a lot more hype than it was substance. While the Bulls eventually made it a decent game, there wasn't a lot to cheer about with Rose's play than what we saw in the first couple minutes of the game. As good as Miami's defense was against Rose, it was perhaps first game jitters or not quite being up to regular season game speed that kept him from having a performance we typically expect.
The two biggest problems we saw with Rose's game Tuesday night were spacial awareness and rushing through plays. He finished with 12 points on 4-of-15 shooting from the field, but a couple of those shots were end of the clock attempts that were desperation heaves. Even if you take away two attempts, 4-of-13 isn't a lot better and having more turnovers than assists makes it hard to sugarcoat his performance.
He seemed to be pressing quite a bit on possessions, either because he was trying to throw haymakers at the Heat early or he was trying to ignite a comeback. What we didn't see a lot of was the measured attack that makes him so great. Take a look at some of the rushed shots he took during his first game back.
The 3-pointer early on in the game was just a bad shot. With 19 seconds on the shot clock, he pulled up to try to extend the early lead to 10-2, except he just didn't have the shot. It almost looked as if he was trying to pull a hesitation move that the defender never bought. He had the room on that shot for a reason and it's because the defense probably believe the four years of evidence with his game over the preseason of good outside shooting.
He would attack early in sets, which is normally a good thing to catch the defense off balance, but he was dribbling into two or three defenders at a time. The floor spacing was an issue for Chicago most of the night. His teammates could have helped him out quite a bit by being in better spots on the floor and moving more strategically without the ball. However, we saw a lot of Rose just putting his head down and rushing into the teeth of a waiting defense.
There were just too many early shots instead of working for a better shot. They didn't get the Miami defense moving consistently, allowing them to set up shop and contest a lot of attempts.
The turnovers for Rose were ones of trying to do too much in his first game back and not recognizing the spacing on the floor (at least that's how it looks when you review the video). Here are four of his five turnovers:
Rose consistently made quick decisions and didn't seem to have assessed where everybody was on the floor. He tried to fit the ball and himself into tight spaces that just didn't allow for him to get where he needed to go. In the first turnover, he's telegraphing a transition pass to Mike Dunleavy without recognizing that Mario Chalmers is playing free safety there. The second turnover is Rose trying to split a double team without the room to split it.
There just wasn't a lot of room for him to roam and he tried to take the defense on by himself far too much. It would have helped to run more stuff off the ball for him or set more high picks to give him the room to operate and see the floor. 
It wasn't all bad for Rose though. There were good moments of recognition which you could see working more often against an average or bad defense. All four of Rose's baskets were good looks and great scoring opportunities that he had room to execute.
His first bucket of the game was utilizing a Joakim Noah screen and attacking quickly before the defense could react to his decision. Rose scored twice in transition by finding room to attack and putting the pressure on a defense that hadn't recovered yet. And his catch-and-shoot 3-point attempt that he knocked down (1-of-7 in the game) was him being perfectly squared up, catching the ball in rhythm, and having the space to get the shot off. 
There's no secret that when Rose is attacking with measured movements and not just wildly dribbling into the middle of a good defense, he's one of the best scorers in the league. We should see that against the New York Knicks Thursday night and more often than not against most teams during the regular season.
Rose just can't try to make up for lost time with one big play after another. That's not what made him great in the first place. What made him great was his ability to recognize where the space in the defense is and to get to that spot before they know they need to rotate. It shouldn't take too much time for him to get back to that; he just has to slow down and observe the floor a bit better in order to blow the hype of his return out of the water.
Isaiah Thomas loves revenge games and he wants one against the Celtics in the playoffs

SportsLine's advanced computer model simulated Pelicans-Nuggets 10,000 times, with surprising...

SportsLine's Mike McClure, a DFS pro with more than $1M in winnings, gives optimal lineup...
This was supposed to be a guaranteed strength for a Thibodeau team

The Grizzlies will be without their star point guard for a bit and that could be trouble

SportsLine's advanced computer simulated Thunder-Spurs 10,000 times with surprising result...