Celtics hire Butler coach Brad Stevens as next head coach
Boston Celtics hire Butler University coach Brad Stevens as their next head coach on Wednesday to succeed Doc Rivers.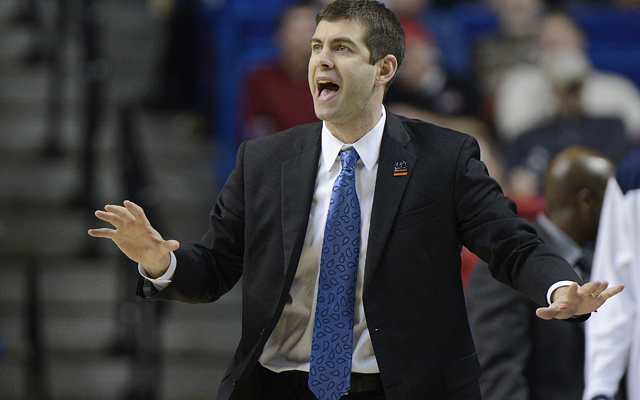 More: Young: Smart, slick move for Celtics | Parrish: Move no surprise, timing is
No leaks, no meetings, no word of interviews. Underneath the madness of information with NBA free agency, the Boston Celtics quietly announced the hiring of Butler University coach Brad Stevens as their next head coach on Wednesday. 
The Boston Herald reports Stevens' new deal is a six-year contract with Boston.
From the Celtics' press release: 
The Boston Celtics announced today that they have come to an agreement with Brad Stevens to be the 17th head coach of the team. Per team policy, terms of the deal were not announced.

Stevens, age 36, has served for the past six years as the head coach of Butler University, never winning fewer than 22 games and leading the Bulldogs to two national championship games against Duke and Connecticut. He was the youngest coach to reach the Final Four since Bob Knight in 1973.

A native of Zionsville, Indiana, Stevens was a three-time academic All-America nominee while earning four varsity letters at DePauw University, before graduating with a degree in economics. He later joined the Butler University program as the coordinator of basketball operations under then-coach Thad Matta, before being named head coach in 2007.

"Brad and I share a lot of the same values," said Celtics President of Basketball Operations Danny Ainge. "Though he is young, I see Brad as a great leader who leads with impeccable character and a strong work ethic. His teams always play hard and execute on both ends of the court. Brad is a coach who has already enjoyed lots of success, and I look forward to working with him towards Banner 18."

Stevens and his wife Tracy, along with their children Brady and Kinsley, will be introduced to the media at 11 a.m. on Friday at the Celtics Training Center at Healthpoint.
via Celtics Hire Brad Stevens as Head Coach | The Official Site of the BOSTON CELTICS.
And from Butler: 
Brad Stevens, head coach of the Butler University men's basketball team, today announced his acceptance of the head coach position of the Boston Celtics.

"Our family is thrilled for the opportunity given to us by the leadership of the Boston Celtics, but it is emotional to leave a place that we have called home for the past 13 years," said Stevens.

"We truly love Butler University and Indianapolis, and are very thankful to have had the opportunity to celebrate so many wonderful things together. What makes Butler truly unique is the people that we have been so blessed to work with. When it comes time for our kids to look at schools, we will start with Butler University." Stevens and his wife, Tracy, have a young son and daughter.

In his six seasons as Butler's head men's basketball coach, Stevens compiled a record of success unmatched in NCAA annals. The 36-year-old Butler coach has led the Bulldogs to a 166-49 record, including a 12-5 record in the NCAA Men's Basketball Championship. Four conference regular season championships, three league tournament titles, and six trips to postseason tournament play. His 166 wins is the most for any NCAA Division I basketball coach over the first six years to start a career.

Stevens owns the top two single season win totals in Butler and Horizon League history, and he's the only coach in school and league history to lead a team to back-to-back NCAA Division I national championship games in 2010 and 2011.

In 2009-2010, Stevens engineered the most remarkable season in Butler basketball history. The Bulldogs posted a 33-5 overall record, the Horizon League's first 18-0 conference mark and fourth overall unbeaten record, a fourth consecutive league regular season championship, a second conference tourney crown. The Bulldogs were nationally-ranked for the fourth straight year, compiled a school-record 25-game win streak, which was the longest in the nation. Stevens was named NABC All-District 12 Coach, and he was a finalist for several additional national coaching awards. Butler ended the season as the No. 2-ranked team in the final ESPN/USA Today national poll.

"In keeping with The Butler Way, Brad has given his talent to our University with exceptional generosity, integrity, and humility," said President James M. Danko. "His record as the winningest coach in NCAA history during his first six years as head coach, his leadership of Butler's dual Final Four® runs, and his work ethic have made him a beloved member of our community."

Danko added, "We have done everything we can to keep Brad here at Butler; however, the Celtics team has offered Brad and his family a unique opportunity with which no university can compete."

Butler has begun the process of hiring a new head coach to lead the men's basketball team in its inaugural year of BIG EAST Conference competition.

"Brad is leaving a great legacy and an excellent foundation for us to build on" said Vice President and Athletic Director Barry Collier. "Our athletics program has an extremely bright future, and we are confident that Butler's first year in the BIG EAST will be an outstanding one."
via Brad Stevens To Take Boston Celtics Coaching Position - Butler.
The questions with Stevens are going to come regarding his ability to make the transition to the professional ranks, something college coaches have a hard time with, and his relative inexperience. At age 36, there are quite a few NBA players, some of whom just left the team in a trade with the Brooklyn Nets, older than him. How will he mesh with Rajon Rondo? Does this further cement the idea, despite Ainge's comments this week that the Celtics are not tanking, that Boston is fully committed to a youth movement? 
It's a bold hire for Boston that, if it works, will be seen as an absolutly brilliant move. If it doesn't ... the Celtics' expectations in the short term are so bleak, it's hard to imagine Stevens actually disappointing outside of a complete disaster. Either way, it's a move out of the clear blue sky that has caught punidts (like, oh, say, us) completely off guard. 
Stevens takes over for Doc Rivers, who left to take the job with the Los Angeles Clippers two weeks ago. 
Trail Blazers guards Damian Lillard and C.J. McCollum have been pushing for Anthony to join...

Anthony reportedly gave the Knicks an expanded list of teams he'd waive his no-trade clause...

The Suns will also receive a second-round pick in the deal
Kerr noted Warriors are deeper than the NBA championship team of last season

The Dubs will make a decision as a team on visiting the White House, but Steph would vote...

Wolves are an up-and-coming NBA squad, but this region knows heartache too well