Decision 2.0: What if LeBron James joined the Rockets?
A look at what Houston would look like if the Kings took his talents to Clutch City.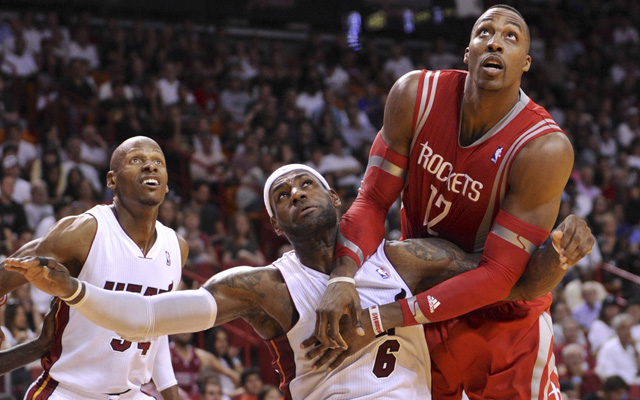 More on LeBron: James' free agency page | Doyel: NBA revolves around LeBron
With LeBron James expected to make his second huge free agency decision in four years this week, we're taking you through his options. Here's a look at what the Rockets would look like if they added the King.
The Rocketsare probably the longest of longshots to land Lebron James. They haven't even been mentioned on the list of possible teams to meet with the King. But they do have the ability to create space for a max offer (by the assumed trad of Jeremy Lin which is reportedly already in place if they need it). And they are pursuing a third star to go with James Harden and Dwight Howard. 
So let's go ahead and include the Rockets and see how they would fit with James. 
The reality is that if James is looking to move to the best team to win now, the Rockets are the best of the serious contenders. They offer two legit stars to take the pressure off and a system that capitalizes on the outside perimeter attack that James has had success in with driving and kicking to shooters. 
The shooters being missing is the issue. The Rockets really just have James Harden and Chandler Parsons as their outside shooters. And while James would definitely rack up the assists in the pick and roll with Dwight Howard, kicking to those two options, the other shooters would limit options whenever one of them would be off the court. 
James helps them most in their biggest area of need: perimeter defense. 
The Rockets were porous last season on the perimeter. Adding James doesn't just add someone who can shut down perimeter penetration, a major problem last seaosn, but it shifts Chandler Parsons, who has some defensive upside, to the second-best perimeter weapon, and then the Rockets can hide James Harden on the worst weapon. That's huge. Adding Patrick Beverley to that combination would be massive. Quicker, smaller players get Beverley until late in the game, when James takes over, like the Heat have done vs. Tony Parker. It's a series of aggressive defensive matchups that would help Houston dictate the pace. 
Offensively, there are immediate benefits. James and Howard in the pick and roll by themselves would be nearly unstoppable, with defenders unable to play up on James for fear of Howard exploding to the rim and unable to play back to defend the lob for fear of James shooting uncontested. You would have to collapse with at least one if not two defenders on every play, and giving open shooters looks in Houston's offense leads is a death wish. 
The most likely lineup to play heavy minutes would see Pat Beverley a point guard, Harden at shooting guard, a re-signed Chandler Parsons at the three, and James at the four, and Howard at the five. For the one-in, four-out disciples in Houston, this is perfect. James would never have to guard the best frontcourt weapon, nor the best perimeter attack, but could take stints on either to wear them down. It speaks to positional and matchup flexibility, a key in the modern NBA. 
And then there's the extreme possibility, no matter how remote, of the ultra-team up. James goes to Houston. The Rockets agree to a sign-and-trade with the Knicks and send James Harden for Carmelo Anthony. And then it's Howard, Anthony, and James. Sounds nuts, I know, but Houston has absolutely no regard for restraint right now. They're building to win now. This gets them there. 
Coaching may be the bigest drawback here. McHale has had some good teams, he's done some good things, and he has a great reputation as a former player. But looking at the options on the table, he's not a great choice. His playoff track record isn't excellent, and while he connects with players on a personal level, James understands the value of tactcal superiority at this point,especially after four years with Spoelstra. 
Do the Rockets offer a better team than Miami? That's debatable. But they offer enough to at least get a meeting with James as he continues his exploration of the Decision 2.0. 
Durant says he probably wouldn't have gone to college because he 'needed the money'

Ball, who has missed the last 15 games with a sprained MCL, will be on a minutes restricti...

Larry Hartstein is in the midst of his best run of the season and released a pick for Mavericks...
Larry Hartstein has nailed 19 of his last 25 NBA picks and just released a play for Cavs vs....

The defending champs made their own plans after being disinvited to the White House

Stephen Oh has his finger on the pulse of the Rockets and locked in a play for Friday