Dick Bavetta retires from refereeing after 39-year career
Longtime NBA ref Dick Bavetta is calling it a career at the age of 74.
• 1 min read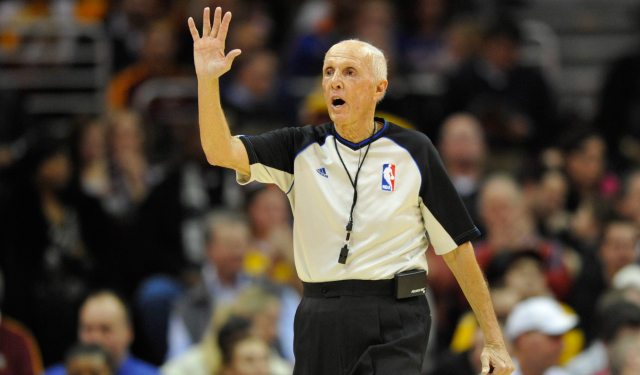 Offseason: Free Agency | Latest from Ken Berger | Rumors
Dick Bavetta has been a staple in the NBA for what seems like forever. He's had what can only be described as a legendary run, spending 39 years refereeing in the best league on the planet. On Tuesday, the NBA officially announced what had been reported a few weeks ago -- Bavetta is stepping away from the game.
Bavetta, who began his NBA career on Dec. 2, 1975, at Madison Square Garden in a game between the New York Knicks and the Boston Celtics finished with a record 2,635 consecutive regular season games officiated, having never missed an assigned game throughout his entire career.  Bavetta also officiated 270 Playoff games including 27 Finals games.  

"Dick's dedication and commitment to his craft has been an inspiration to all NBA officials," said Thorn. "We are grateful for his contributions to our league, and we wish him the best as he enjoys his well-earned retirement."

Bavetta worked three NBA All-Star Games (1989, 1995 and 2006) and was the first NBA referee selected to officiate the 1992 Summer Olympic Games in Barcelona.  Bavetta also refereed the 1997 McDonald's Championship in Paris, 1993 Mexico Challenge and 1990 Japan Games in Tokyo. 

"On behalf of myself and the entire Bavetta family, I would like to thank the NBA family and the National Basketball Referee Association for allowing me the honor and the privilege of representing them for 39 wonderful years," said Bavetta.
 
"I am most proud of never having missed an assigned game, be it exhibition, regular season or playoffs, throughout my entire career.  It really has been a great run."
Never missed an assigned game. In just about four decades. Think about that. Officiating is often a thankless job, and yet the 74-year-old Bavetta is beloved for his personality and his dedication. He always stayed in great shape, and even after working more games than anyone else in history, he always seemed like he was enjoying himself. 
Bavetta's presence will be missed and his absence will be strange. The league can only hope that he'll remain an ambassador for the sport. He and his wife, Paulette, have a ranch in Ocala, Fla., and he's involved with numerous charities, including the Bavetta Scholarships, which he established in 1986 in order to help minority high school students. 
Anthony is reportedly still intent on being traded to the Rockets

Irving has requested a trade away from the Cavaliers

The Lakers made a strong push for Rose, but he would have been a backup in Los Angeles
The small forward spent last season with the Sacramento Kings

Knight still has three years left on his five-year, $70 million contract

The Golden State forward is accused of assault, battery and making misleading statements