Eric Griffin gets his shot with the Mavericks after getting noticed
The Dallas Mavericks signed forward Eric Griffin to a contract based off him being noticeable in summer league.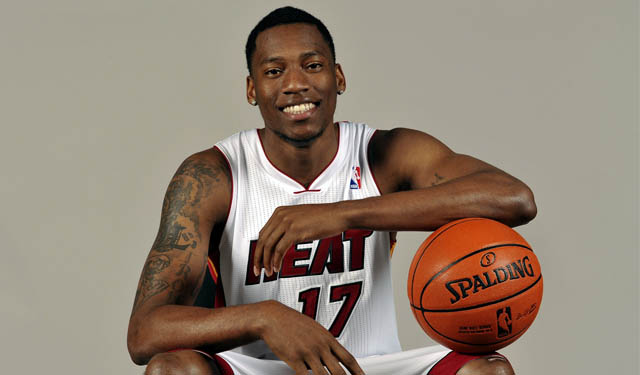 More Offseason Analysis: Coaching changes, news | Free Agency | Draft
LAS VEGAS -- You may not know who Eric Griffin is, but you've certainly noticed him if you've been watching the Las Vegas Summer League.
Griffin has been the human pogo stick on the Dallas Mavericks' roster. He's been the one devouring stretches of the floor with long strides before catapulting himself into the air. He's been the one attempting to rip the rim off the backboard, showing Shane Larkin you shouldn't try to take a charge from him, and stalking attempts around the basket he can't wait to return to sender.
It's rare we see a relative "unknown" make an instant impact in summer league to the point that a team signs him to a contract. The Mavericks signed Griffin to a non-guaranteed deal for next season before their fifth and final game in the 2014 Las Vegas Summer League. While giving the team a shot of energy and activity, the Mavericks saw a potential role player on their team who could help keep them versatile in whichever lineups they throw out there. Of course, that's assuming he can make the team and crack the rotation at some point, but what he brings to the table was too good for the Mavericks to risk letting slip away.
"He was so athletic," Mavericks' summer league coach Kaleb Canales said about Griffin after his team finished 3-2 in Vegas. "His activity is just everywhere on both ends. He makes things happen. You don't have to run a play for him. He just finds the ball and the ball finds him. Sometimes guys have a knack for that and he's definitely got a knack for that."
Griffin celebrated the new contract with a 20-point performance to cap off a successful summer league. Over the five games, he averaged 11.4 points, 2.8 rebounds, 2.6 blocks, and 1.2 steals. He also made 53.6 percent of his shots from the field. Griffin surprised fans, scouts, and writers watching the games, expecting to focus on Gal Mekel and Ricky Ledo for the Mavericks. His play wasn't surprising for the Mavericks, as much as it was a sign of things to come.
"I don't know if surprised is the word," Canales said, "but it's really been encouraging when I see him out there on the floor and his activity on both ends just makes things happen. You know he kind of can swing between the 3 and the 4, just because he can guard multiple positions. Offensively, he can shoot the three, he can spread the floor, and attack off the dribble. He's a one-two dribble player, so it's going to be good for our system and going forward for him."
He's not joining just any team, either. The Mavs are an organization as well run as just about any in the NBA. They don't typically waste roster spots on guys who don't have a real chance of contributing. While they've added Chandler Parsons to the roster at a big contract, they still need forwards to round out the rotation. Griffin's job is to do in training camp what he set out to do in summer league.
"Really get noticed," Griffin said while still beaming for his new contract. "Just get noticed and get on a team. That was goal No. 1, and I accomplished that."
He's been in a similar position before. He spent seven preseason games with the Miami Heat prior to the start of the 2013-14 season, totaling 41 minutes of play on a team without actual room for him to make the team. The Campbell University product spent last season in both Venezuela and Puerto Rico. The previous year, he played 28 games in Italy after going undrafted in 2012. How can he avoid the disappointment he experienced in not making the Heat's team last year and make the Mavericks' team this year? What does he need to keep adding to his game?
"Shooting," Canales explained. "Shooting is the biggest weapon in the NBA now, and with us and our system, being able to stretch the floor with our playmakers and our big club. That's going to be something he's going to work at and we're going to work at with him."
The Mavs teach shooting quite proficiently, so having Rick Carlisle and this coaching staff being able to work with Griffin will help him build confidence in that aspect of his game. It was something they already started prior to the first tip-off of the summer. They told him to shoot when it comes to him and to keep the floor spread.
"I felt better in taking my shots," Griffin said. "The last couple years, I wasn't really comfortable taking them. The Mavs just told me to go out there and shoot. Space the floor and let it come to you. That's what I did."
This will be the process for Griffin. He plays a lot like a young Shawn Marion, in terms of the style of play. You don't run plays for him but he still manages to consistently add to what your team does on offense. If he tries to pattern his progression and development after Marion's career, it will fit in with Marion's most recent team. But that's getting ahead of the situation. Griffin needed to get noticed and he did.
"It's definitely not over," Griffin said. "I have to prove myself to the team and the organization."
The next step is getting noticed once again.
Stephen Curry likes what he sees in this fan

How the Cavs star would fit with the Wolves, Knicks, Clippers, Spurs and other teams linked...

The Pistons put out a long list of details regarding their new uniforms
The Pacers traded the forward to OKC for two former lottery picks who have yet to reach their...

Gilbert said what was expected, but didn't necessarily sound all that confident

Altman addressed the media about Irving during his introductory news conference