Goodman's 2012 NBA Mock Draft: Blazers take rising Lillard
Despite rating Florida's Bradley Beal as the No. 2 overall prospect behind Kentucky's Anthony Davis, Jeff Goodman thinks Thomas Robinson will go to the Bobcats. His latest mock draft includes a sneak peak at all 60 picks.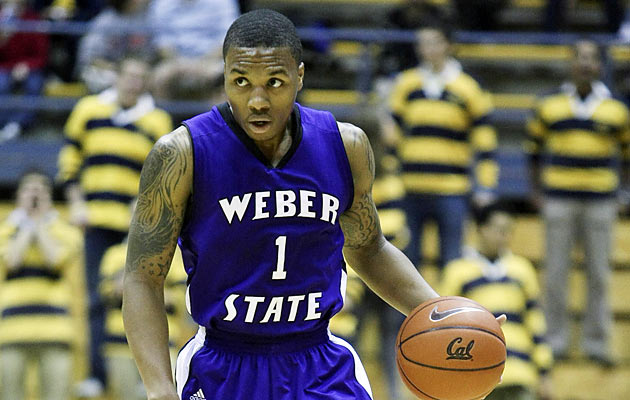 Goodman predicts the Blazers to pick Weber State's Damian Lillard, who has been lights out during workouts. (US Presswire)
UPDATE (6/28/12) -- The NBA Draft is just hours away and no one's stock has soared more than Weber State point guard Damian Lillard. Prior to the season, he was considered a second-round pick. Now Portland appears primed to select him with its first pick -- sixth overall.
But this draft is expected to be unpredictable -- and that may start with Charlotte at No. 2. The Bobcats will likely choose between Thomas Robinson and Michael Kidd-Gilchrist if they keep the pick. If not, well, everything could change.

Here's our latest mock following Houston Rockets general manager Daryl Morey's most recent deal to build draft assets. The Rockets have a trio of first-rounders, but Morey isn't done.


NBA Mock Draft - 6/25/12 (Updated 6/28)
Round 1
1. New Orleans Hornets
Anthony Davis, PF/C, Kentucky: He's the franchise-changing player that the Hornets desperately need. Davis can change the game on the defensive end -- and will also be effective on the offensive end due to his versatility. It won't take long for him to be a perennial NBA All-Star.
2. Charlotte Bobcats
Michael Kidd-Gilchrist, SF, Kentucky: The Bobcats could use a small forward and MKG brings a high motor and relentless intensity. It also doesn't hurt that new coach Mike Dunlap and MKG are both represented by Leon Rose.
3. Washington Wizards
Bradley Beal, SG, Florida: John Wall will be ecstatic adding a backcourt mate such as Beal, who can really stroke it from deep -- and also does far more that just score. Beal rebounds, defends and is a high-character guy who has a high basketball IQ.
4. Cleveland Cavaliers
Dion Waiters, SG, Syracuse: The Cavs are hoping it doesn't unfold this way, but they need a guy who can score from the wing. Waiters gives them a tough, athletic guard who can do just that. However, this is certainly a risk for young GM Chris Grant.
5. Sacramento Kings
Thomas Robinson, PF, Kansas: It'll be interesting to see if the Kings keep the pick, but they'd be ecstatic if T-Rob -- a relentless rebounder who could work well with DeMarcus Cousins up front -- was still on the board.
6. Portland Trail Blazers (from Brooklyn) Updated: 6/26
Damian Lillard, PG, Weber State: Lillard has blown everyone away at the combine and in workouts. He's a big-time shooter who can step in and play the point for Portland. Also, the Blazers can still get a front court guy at No. 11.
7. Golden State Warriors
Andre Drummond, C, Connecticut: He's a physical freak whose love for the game and intensity are questioned, but the Warriors have to roll the dice here.
8. Toronto Raptors Updated: 6/26
Harrison Barnes, SF, North Carolina: Best player available and also an idea fit for a Raptors team that desperately needs a skilled perimeter shooter on the wing.
9. Detroit Pistons Updated: 6/26
John Henson, PF, North Carolina: He's ultra-long and can be a difference-maker due to his ability to block and alter shots. The Pistons desperately need that component to their club.
10. New Orleans Hornets (from Minnesota through L.A. Clippers) Updated: 6/26
Austin Rivers, SG, Duke: Doc Rivers' kid isn't a point guard, but he can score. Eric Gordon, Jarrett Jack and Rivers would give the Hornets a quality perimeter trio.
11. Portland Trail Blazers Updated: 6/26
Meyers Leonard, C, Illinois: He'd fit perfectly up front with LaMarcus Aldridge. He's a legit 7-footer with freak athleticism and an incredible upside.
12. Houston Rockets (from Milwaukee) Updated 6/27
Tyler Zeller, PF/C, North Carolina: Daryl Morey has plenty of bullets, but he needs a big man desperately. Zeller is the safe pick. He's long, runs the court extremely well and can score and rebound.
13. Phoenix Suns
Jeremy Lamb, SG, Connecticut: His stock has dropped a bit because of his inconsistency, but he still boasts a tremendous amount of skill. He's long, can shoot it from the perimeter and is also athletic. The Suns could use a quality two-guard.
14. Milwaukee Bucks (from Houston) Updated: 6/27
Terrence Ross, SG, Washington: With Lamb off the board, John Hammond gets an athletic two-guard who can shoot it from deep and also guard. Similar to Lamb in some respects, but plays with more intensity.
15. Philadelphia 76ers
Arnett Moultrie, PF, Mississippi State: The 76ers need someone who can rebound the ball. That's what Moultrie does best -- and he can also score a little bit as well.
16. Houston Rockets (from New York) Updated: 6/27
Terrence Jones, PF, Kentucky: He's tough to figure because of his inconsistent effort, but he's a talented kid and scan certainly be a starter in the league as long as his head is right.
17. Dallas Mavericks
Perry Jones III, PF, Baylor: Considered soft, PJ3 is ultra-talented. He would be able to learn under Dirk -- and wouldn't have to do too much right way.
18. Houston Rockets (from Minnesota through Utah) Updated: 6/27
Kendall Marshall, PG, North Carolina: The Rockets may deal Kyle Lowry and could use another point guard. Marshall is pure floor leader who just makes everyone else around him better.
19. Orlando Magic
Moe Harkless, SF, St. John's: The Magic can't pass on Harkless, the long and athletic wing who needs to work on his perimeter shot.
20. Denver Nuggets
Jared Sullinger, PF, Ohio State: He's certainly dropped due to his back and physical concerns, but the Nuggets need a guy who can get after it on the glass. Sullinger is skilled and can score both in the paint and on the perimeter.
21. Boston Celtics
Fab Melo, C, Syracuse: The Celtics played Ryan Hollins and Greg Stiemsma at the center spot in the playoffs. Melo is a rim protector and can grow potentially into a starting NBA five-man.
22. Boston Celtics (From L.A. Clippers through Oklahoma City)
Royce White, PF, Iowa State: He's not KG, but White passes extremely well, is tough and is also an effective rebounder.
23. Atlanta Hawks
Andrew Nicholson, PF, St. Bonaventure: The Hawks could use a skilled forward. Nicholson is a Canadian who can score in every way possible and is a deceptive athlete who just needs to add strength.
24. Cleveland Cavaliers
Jeff Taylor, SF, Vanderbilt: The Cavs need wings and defense -- and adding both MKG and Taylor would solve that issue. Taylor is also a much-improved perimeter shooter.
25. Memphis Grizzlies
Doron Lamb, SG, Kentucky: The Grizzlies could use someone that can stretch the defense and also play some backup point. Lamb is also an above-average defender.
26. Indiana Pacers
Will Barton, SG, Memphis: The Pacers could use a backup wing -- and Barton could learn and take the time to develop physically in Indiana.
27. Miami Heat
John Jenkins, SG, Vanderbilt: Doesn't do a ton else, but Jenkins can shoot the ball. I mean, really shoot the ball. Could be an ideal replacement for Mike Miller if his body doesn't hold up.
28. Oklahoma City Thunder
Draymond Green, SF/PF, Michigan State: He doesn't look the part, but he can do a little bit of everything. He's tough, can shoot it, makes his teammates better and also rebounds the ball.
29. Chicago Bulls
Tyshawn Taylor, PG, Kansas: The Bulls could use a backup for Derrick Rose. Taylor is fast, tough and has four years of college experience at Kansas.
30. Golden State Warriors (from San Antonio)
Quincy Miller, SF, Baylor: Miller shouldn't have come out after one season in Waco, but he's worth the risk for the Warriors here.
Round 2
31. Charlotte Bobcats
Tony Wroten, PG, Washington: He's got the size and athleticism and is worth the risk early in the second round.
32. Washington Wizards
Festus Ezeli, C, Vanderbilt: Ezeli will provide a big, strong body who can help on the glass and also as a shot-blocking threat.
33. Cleveland Cavaliers
Marquis Teague, PG, Kentucky: It's Kyrie Irving's team, but Teague could be a terrific backup in Cleveland.
34. Cleveland Cavaliers (from New Orleans)
Miles Plumlee, C, Duke: The Cavs could use a legit backup center -- and Plumlee could be a serviceable 10-year player in the NBA.
35. Golden State Warriors (from Brooklyn)
Jared Cunningham, PG/SG, Oregon State: Cunningham is a combo guard who can be a force on the defensive end.
36. Sacramento Kings
Drew Gordon, PF, New Mexico: He'd give the Kings a live body up front who can help provide depth.
37. Toronto Raptors
Darius Miller, SG/SF, Kentucky: Miller is versatile, can shoot it from deep and also defend -- and will accept his role coming off the bench.
38. Denver Nuggets (from Golden State)
Furkan Aldemir, PF, Turkey: Would give the Nuggets a tough rebounder up front who gets after it.
39. Detroit Pistons
Evan Fournier, SG, France: The Pistons could use a skilled wing -- and Fournier has the ability to score in a variety of ways.
40. Portland Trail Blazers (from Minnesota)
Kim English, SG, Missouri: Has ideal two-guard size and a perimeter shot. Could really help the Blazers as a shooter off the bench.
41. Portland Trail Blazers
Tomas Satoransky, PG/SG, Czech Republic: Combo guard who has good size and questionable athleticism.
42. Milwaukee Bucks
Darius Johnson-Odom, SG, Marquette: He's an undersized two-guard who can score in a variety of ways and could also bring toughness off the bench.
43. Atlanta Hawks (from Phoenix)
William Buford, SG, Ohio State: The Hawks get a smooth two-guard who can come off the bench and provide scoring.
44. Detroit Pistons (from Houston)
Kevin Murphy, SF, Tennessee Tech: Has a knack for being able to score.
45. Philadelphia 76ers
Kris Joseph, SF, Syracuse: Would provide a scoring weapon for the 76ers. Has size, can shoot it and also put it on the floor.
46. New Orleans Hornets (from Washington)
J'Covan Brown, PG, Texas: The Hornets could use someone in the backcourt who can score. That's exactly what Brown does best.
47. Utah Jazz
Robbie Hummel, SF, Purdue: The perfect guy off the bench, Hummel can make shots and also fill a role.
48. New York Knicks
Bernard James, PF, Florida State: The Knicks need a rebounder -- and that's what James does best.
49. Orlando Magic
Hollis Thompson, SF, Georgetown: Has size and the ability to shoot the ball from long distance.
50. Denver Nuggets
Scott Machado, PG, Iona: The Nuggets need a backup point guard. Machado is solid in just about every area.
51. Boston Celtics
Renardo Sidney, C, Mississippi State: Worth the risk here. He's so talented, but has underachieved. Maybe KG and Doc Rivers can help turn him around.
52. Golden State Warriors (From Atlanta)
Tornike Shengalia, SF, Republic of Georgia: Good size and above-average athlete who is worth a second-rounder for the Warriors.
53. Los Angeles Clippers
Henry Sims: The Clips get a well-rounded big man whose biggest asset may be his passing ability.
54. Philadelphia 76ers (from Memphis)
Jae Crowder, SF, Marquette: Doesn't look the part, but he brings it -- and is versatile.
55. Minnesota Timberwolves (from L.A. Lakers)
JaMychal Green, PF, Alabama: The T'Wolves get an athlete up front who can rebound and run the floor.
56. Toronto Raptors (from Indiana)
Kevin Jones, PF, West Virginia: The Raptors get a guy who competes and should find a way to make an NBA team.
57. Brooklyn Nets (from Miami)
Alex Young, SG, IUPUI: He's not George Hill, but this IUPUI product can make a team.
58. Minnesota Timberwolves
Khris Middleton, SF, Texas A&M: Battled through an injury-plagued year, but is worth the risk in the second round.
59. San Antonio
Orlando Johnson, SG, UC Santa Barbara: Has good length and can score. Could be one of those late draftees that sticks.
60. Los Angeles Lakers (from Chicago)
Mike Scott, PF, Virginia: Versatile offensive player who carried the Cavs last season.
Right before Wiggins hit his shot, Carmelo Anthony hit a 3 to put the Thunder in front

The Suns firing Earl Watson three games into season is second-quickest firing in NBA histo...

Bledsoe tweeted, "I Dont wanna be here"
Giannis had his hand on McCollum's hip when he poked the ball away

Teodosic had to leave the Clippers' game Saturday night against the Suns

Irving said recently that he does not regret the profane outburst