Kyle Korver's 3-point streak ends at 127 games
Kyle Korver went 0-fer for the first time in 127 games, as he 3-point streak finally came to an end.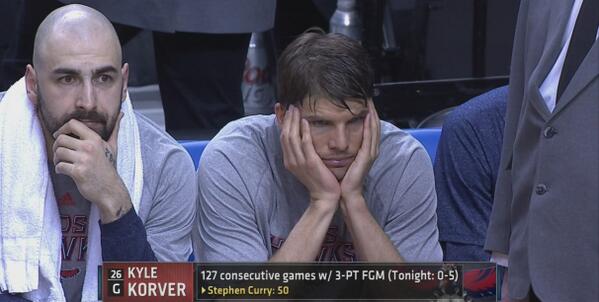 More NBA: Power Rankings | Expert Picks | Latest news, notes
The last time Kyle Korver failed to make a 3 in a game was his first in uniform for the Atlanta Hawks. That was on Nov. 2, 2012. 
After that, he made at least one in 127 consecutive games, establishing an NBA record, breaking the old mark of 89 games held by Dana Barros. 
Korver shattered Barros' mark by 38 games, but couldn't extend it on Wednesday against the Trail Blazers, going 0 for 5 from downtown and 1 for 9 overall in 28 minutes. 
The Blazers were up on the Hawks by 30 late into the fourth, which had Korver placed firmly on the bench in garbage time. Surely the temptation had to be there for coach Mike Budenholzer to put him back in, but Korver sat helplessly, watching his streak end. 
So if you're scoring at home, Korver's streak lasted the duration of an entire NBA season, and then 75 percent of another one. That's ridiculous. One 3 made in 127 straight games? Insane.
The current longest active 3-point streak going in the NBA now? Stephen Curry with 50.
Beverley handcuffed Lonzo on the court, and the emotion carried into the locker room

Ball's eagerly awaited first NBA game didn't go the way Laker fans hoped

Griffin can still hand out posters with the best of them
The Knicks forward is a bucket-getter in the truest sense of the term

On the TNT broadcast, even Shaq finally admitted that he likes Joel Embiid's game

The Warriors new Nike classic uniforms will be revealed Thursday