LeBron James joins rarefied air with 20,000 points, 5,000 assists
LeBron James crossed a significant statistical threshold Wednesday night, reaching 20,000 points and 5,000 assists.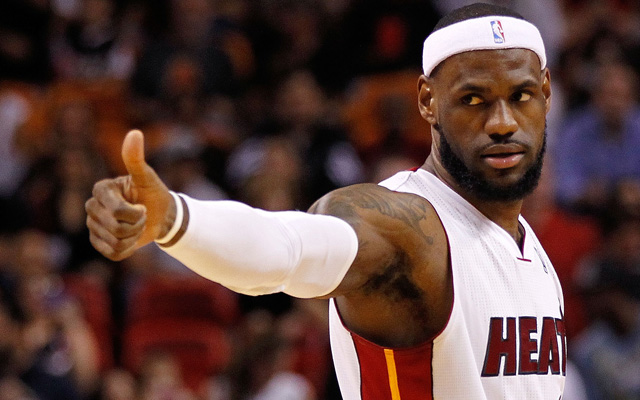 20,000 points, 5,000 assists is within range Wednesday night.
(Getty Images)
ESPN spoke to LeBron James on the subject of joining the 20,000 point club, which he joined Wednesday night vs. the Warriors. Funny story, that's not the only milestone he crossed

James added two more assists in the first quarter to cross the 5,000 mark for assists.

In doing so, James became just the 13th player in NBA history to have crossed both thresholds, joining:

Michael Jordan
Kareem Abdul-Jabbar
Karl Malone
Larry Bird
Kobe Bryant
Kevin Garnett
Oscar Robertson
Jerry West
Clyde Drexler
Allen Iverson
Gary Payton
John Havlicek

So that's eight Hall-of-Famers and four likely Hall of Famers. (Payton is nominated for induction this year.) In other words, that's pretty good company. If you throw in his 5,000 assists, the list is the same, but without Iverson.

Basically, if you reach this point, you're the best of the best. This is notable for a few reasons.
1. Often times these are based on longevity, but to reach this threshold you have to have consistent high-level production. There simply have only been 12 players to score at the rate necessary and assist at the rate necessary.
2. James is the youngest to pass the points mark, and by extension the 20k points-5k assists mark.
3. James currently has the second-highest PER of any of those 12 legends, behind only Jordan. He's behind him by .6 points. He has the second-highest points career average of any of those players (behind Jordan again), and the second-highest assist average of any player behind Oscar Robertson. (He has the sixth-highest rebound average.)

Granted, those numbers will dip as he gets older and production wanes.
James credited the accomplishment primarily with staying healthy, and not to jinx the living crap out of him, but it really is amazing how James has avoided major injury throughout his career. Jordan even broke his foot, for crying out loud.

Typically, these kinds of thresholds seem kind of arbitrary. The ranking of players is more interesting, especially in the case of points, than reaching a mark. But when you consider that there are no exceptions on this list, no outliers that make you question it, that all of the players are legends in their own right, it really makes you realize what James has accomplished in his nine-and-a-half seasons in the NBA.
Three MVPs, one Finals MVP, two Olympic gold medals, one scoring title, three conference championships, 20,000 points, 5,000 assists, 5,000 rebounds, 1,000 steals, 500 blocks. The production is staggering. He's maybe the best defender in the league on any given night when engaged. So yeah, he's pretty good. 
It's also indicative of our culture that his mission cannot be considered accomplished. Any other player reaching this kind of plateau would be revered, honored, considered noble. But James has more championships to win, more teams to conquer, before he can reach what we've set as his bar. Yes, the 20k-5k are just numbers, arbitrary ones at that. But when you think about what it takes to produce at that level, game after game, season after season, for a decade, it's astonishing. 
But he'll go on, and as ESPN notes, with his body and conditioning, is it out of reach to think he could play for another decade, challenge Kareem Abdul-Jabbar's scoring record? He could. He won't, most likely, but he could. At some point, James will either run out of challenges, run out of athleticism, or run out of patience for the stress of dealing with titles he's failed to accomplish. Whether he wins them or not, the path likely stops short of that. 
James is also as much of a hoopshead as any NBA player you'll find. He's not the gym rat Kobe Bryant is, but he's known to talk about, and think about, basketball constantly. And every objective he's aimed for, he's reached. Converting to power forward, winning titles, being stronger, faster, more of a leader, he's done it. We've demanded from him the next step, always before he was there, and he's simply reached up and accomplished it. 

Oh, and James turned 28 only a month ago. He's just now entering his true prime. Witness, indeed.
Our advanced computer model simulated Saturday's Thunder-Cavs game 10,000 times

The Jazz are reportedly looking into trading Rodney Hood before the Feb. 8 NBA Trade Deadl...

The Cavaliers are ready to reset everything if they have to. Their interest in Lou Williams...
It sounds like the Cavaliers are going to be active before the NBA trade deadline on Feb....

We've got all the scores, highlights and news for Friday night

George Hill, who is unhappy in Sacramento, could be a solution to Cleveland's backcourt si...