Michael Jordan takes Kobe Bryant over LeBron James
In an interview that will air on NBATV Monday, Jordan, who turns 50 this week, was asked about Kobe and LeBron and sided with the Lakers star.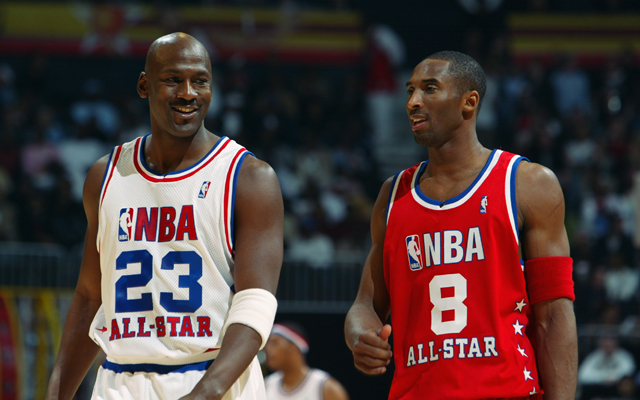 Jordan picked Kobe over LeBron.
(Getty Images)
As a talent evaluater, Michael Jordan doesn't exactly have the same sterling reputation he earned as a player. He famously selected Kwame Brown No. 1 overall with the Wizards and, as the owner of the Bobcats, he fielded a roster that put up the worst winning percentage in NBA history.
More on Michael Jordan
Related links
All Star Weekend 2013 updates
More NBA coverage
So keep that in mind when you read his answer to who he'd take between Kobe Bryant and LeBron James.
In an interview that will air on NBATV on Monday, Jordan, who turns 50 this week, was asked about Kobe and LeBron, and he sided with the Lakers star.
"If you had to pick between the two, that would be a tough choice," Jordan told program host Ahmad Rashad via the Sun-Sentinel, "but five beats one every time I look at it."
Of course, that's in reference to Kobe having five championships to LeBron's one. Jordan would be a "rings trump all" guy. Figures.
"And not that he won't get five," Jordan said of LeBron. "He may get more than that, but five is bigger than one."
LeBron was told Thursday of Jordan's answer and in typically smart LeBron fashion, took the high road.
"That doesn't matter to me," he said. "If you take Kobe one and then I go second ... it doesn't matter. I don't really get too involved about what guys say about me, or if you take Kobe or if you take LeBron.
"As long as I'm on the floor and I try to make plays for my teammates; I don't do what I do for other people's approval."
LeBron has also spent the past few days answering questions about comparisons to His Airness as well because of LeBron's recent incredible stretch of games.
"It's no comparison to him," LeBron said Thursday. "I think people always try to figure out ways or want to compare someone to someone. But, you know, Mike is Mike, and I'm LeBron and I'm trying to make my own name, make my own statement."
That echoes a tweet LeBron sent out recently that simply said, "I'm not MJ, I'm LJ."
As for Jordan's choice of Kobe over LeBron, it's not necessarily wrong, but it's more about the context. If you're asking which player you'd rather have right now for this season, Kobe might as well be Kwame Brown -- you'd better pick LeBron. But if you're speaking in historical tones, about where each player falls in terms of the league's history, Kobe certainly has the deeper current resume.
Like Jordan said, LeBron very likely could reach the five (or more) rings plateau. But for now, that's the trump card Kobe has on him.
Though if rings are the end-all-be-all, that means Bill Russell is the greatest ever and Robert Horry is better than MJ. So maybe rethink that argument a bit.
Jonah Keri talks with NFL and NBA broadcaster Ian Eagle

SportsLine simulated Wednesday's Nuggets-Clippers game 10,000 times

Galin Dragiev has his finger on the pulse of the Lakers and just locked in a play for Wedn...
No more McNuggets allowed in the Barnes household

Leonard has played in only nine games this season for San Antonio

Pierce is set to have his jersey retired on Feb. 11, but there's been a lot of controversy...