Monta having it all to Baron Davis: Journey down the rabbit hole
Kill some time on your Friday by journeying down the rabbit hole with Monta Ellis and Baron Davis highlights.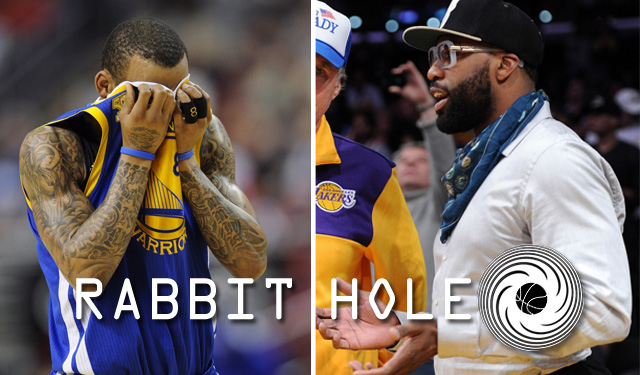 More NBA: Power Rankings | Expert Picks | Latest news & notes
We're almost at the end of a long regular season, and it's around this time that the lethargy of your team not being in the final playoff hunt or the stress of hoping your squad makes it to the postseason increases by leaps and bounds. To escape some of those distressing sports thoughts, we can easily get lost on the Internet to kill some time. It's not like you're going to go outside and kill time, right?
Let's see where this week's journey down the rabbit hole takes us:
First Stop: Monta Ellis' quick first step
I've really enjoyed the reboot of Inside Stuff with Kristen Ledlow and Grant Hill so far. It feels like we're still getting really cool features with them talking to different players and the Rewind section is always enjoyable. In Saturday's upcoming episode, Ledlow talks to Dallas Mavericks' shooting guard Monta Ellis about attacking off the dribble. While Monta interviews can always be quite different (we'll get to that in a bit), I found this snippet from the piece pretty fascinating.
Not to be overly cruel here but Ellis isn't exactly thought of as an intelligent basketball player. His shot selection and overall impact on a team has been often scrutinized in his career (by myself for example) and he's looked at as a very talented individual who doesn't know how to translate that to a team concept -- or worse, doesn't care if he does or not. That makes people question basketball IQ, which may or may not be fair in most cases.
However, this little glimpse into Ellis' mindset when attacking is brilliant. How many casual fans would be able to pick out that he's attacking the front/high leg of a defender as often as possible? How many basketball pundits and nerds would be able to notice that? We forget that so much of this game is cerebral because you're often dealing with the best athletes in the world and also Hedo Turkoglu.
There is a scorer's mindset but it has so many more layers than what we notice with the naked eye. At a certain point, the spacial recognition Monta has is a lightning quick reflex. It's so quick, it allows for his split-second first step to be executed before the defender knows they have to recover and make a play on the ball while trying to figure out if they need help on the play or not. These kind of things become instinct to an offensive player, especially a talented one like Ellis. 
It doesn't absolve him of years of not helping his team while pumping up his own individual numbers, but it's refreshing to learn more about his game in a way that makes you appreciate there is a thought process there that we're not capable of really knowing on our own. 
Monta Ellis has some pretty impressive highlights in his career
He's quite the scorer. You don't put up a scoring average of 19.4 over an eight-year career without being such a good scorer that your coach gives you the freedom to do what he does. That doesn't mean it's often a good decision, but when Ellis has been a secondary or lower scoring option on a team, they've generally been pretty successful (that also has happened like twice in his career). He can seemingly get any shot he wants.
In this video below (which looks a little like we're commemorating a life than offering up highlights), you can see just how absurd some of his scoring can be. His hang time, body control, and touch with the ball are pretty special.
That video was made after Ellis was traded from the Warriors to the Bucks, after 6.5 seasons in the Bay Area. A lot of Warriors fans loved Ellis and defended him against all criticism because he was pure entertainment for them when he was on the court. Tribute videos started popping up everywhere.
Years prior to the trade, the Warriors' video team made its own tribute to Monta. It was after he signed a big deal with the Warriors in 2008. He had won the Most Improved Player award in his first three years and just became a 20-point per game scorer. Needless to say, he electrified the organization.
In that video, Monta pulled off a move that doesn't look entirely legal and the fact that it ended up in a team-made highlight video of him kind of sums up his career with the Warriors pretty perfectly.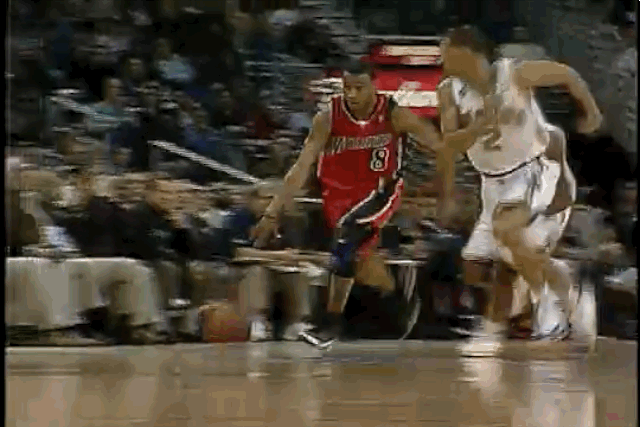 That's not where the Monta ends though. There's so much more off the court to get to.
There's almost too much Monta
The person that Monta is can capture your attention pretty easily. There isn't really even a need to give a long setup to these interviews and videos. Let's just let Monta do the talking.
Great interview with Rick Fox about the mindset of Monta Ellis, him as a father, and how Don Nelson helped him as a player:
Here's a look into where Monta came from with some high school highlights sprinkled in:
Monta Ellis didn't need to dunk as a freshman because he was setting them up for the next year:
How Monta Ellis gets the hot hand:
Don't forget that Monta Ellis have it all:
This last one will take a bit of a setup. A few years back, there were rumors about Ellis being traded or wanting out of Oakland after his moped accident. The team fined him for the moped accident, instead of voiding his contract, and there were murmurs that there was a huge rift between him and management/ownership. Ellis decided to let the media know what the deal was after practice one day.
He told the reporters on hand the following:
As some people who were there will tell it, Kelenna Azubuike was standing nearby and shaking his head in disbelief that Monta pluralized "Warrior" when he spoke. "I'm a Warriors; I'm always gonna be a Warriors" became a thing often repeated around Oracle Arena because it was such a hilarious and yet amazing quote from a guy who had just almost had his contract voided because he crashed his moped.
The final Monta video I have for you is a legendary handshake he had with Corey Maggette, which you should always do when you greet your friends or family members:
Monta Ellis wasn't the only electrifying guard from Warriors' past
Baron Davis was there before Monta, and while he only played there for about 3.5 seasons, he was one of the most memorable Warriors' players of the past 20 years. Davis provided the exact toughness and attitude the Bay Area and its fans loved in their players. He had flare to his game and it yielded some incredible moments and highlights. 
It also yielded yet another tribute video that would make you assume Davis passed away when he moved on to a new team:
Davis was electricity trapped in a 210-lbs point guard and the main thing we'll probably remember him for was the dunk he had on Andrei Kirilenko in the 2007 playoffs. The team had just upset the number one team in the NBA when they beat the Dallas Mavericks and they were inexplicably on to the second round to face the Utah Jazz. 
During a blowout victory over the Jazz in Game 3, the Warriors looked poised to take control of the series or at least even it out after losing the first two in Utah. That didn't end up happening but one of the best dunks in playoffs history ressurected the ghost of Kevin Johnson's dunk over Hakeem Olajuwon.
It's even better when you catch the Warriors' call of the insane play.
There are so many amazing reactions:
1. Davis immediately untucks his jersey for some reason.
2. I'm pretty sure he's showing Stephen Jackson that he just did that dunk while wearing a girdle. 
3. Matt Barnes has his hands on his head like he just saw a horrific car accident.
4. Al Harrington is shouting obscenities at Baron.
5. Mickael Pietrus looks like the kids who fainted when they saw the Beatles for the first time.
6. Dick Bavetta gave Baron a technical foul for exposing himself with the jersey untuck.
Just keep watching this forever:
KCP can't leave California for 25 days due to the terms of his pleading guilty to a misdemeanor...

Keep it right here for all of the news, notes, scores and highlights from around the leagu...

LeBron tried to keep what he said a secret, but one mic on the court picked it up
SportsLine's Mike McClure, a DFS pro with more than $1M in winnings, gives optimal lineup...

'It's not just about me, it's for the next crew as well,' LeBron said

Kobe the rookie had no fear facing off against Michael Jordan the legend. Then he gave up a...