NBA Finals: Mario Chalmers, championship sub-superstar
Mario Chalmers knocks down huge shots in the Heat's Game 7 win over the San Antonio Spurs.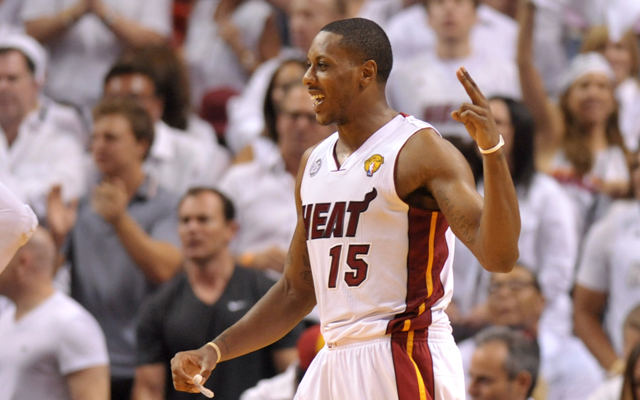 MIAMI -- At the end of the third quarter of Game 7 of the NBA Finals, Mario Chalmers ran the length of the court, pulled up and drained a 3-pointer off the glass to put the Heat up one headed into the fourth. Miami would hold on and win its second NBA title of the Triad Era and the third in franchise history, in part behind Chalmers' 14 points. 
To make the shot, Chalmers had to have the athleticism to get up the court, the awareness to anticipate the clock, the ability to take and make the shot and the luck to use the backboard to bank the shot in. 
Standing drenched in sweat and champagne against a wall outside the Heat locker room, Chalmers said, with no doubt or confusion:
"I thought it was nothing but net when it left my hand."
That's Mario Chalmers. 
The little brother who now at age 27 is one of the longest-tenured Heat, who has come of age as the starting point guard for this superstar team, the guy who thinks the Big 3 is the Big 4, now has his second NBA championship to go with his 2008 national championship at Kansas. Mario Chalmers has three rings now. Think about that. 
"I'm a winner," Chalmers said. "I've been blessed to be in a position to win, and I want to keep winning."
In truth, Chalmers was truly a huge part of these Finals. He had games in which he vanished, most notably in San Antonio. In wins, Chalmers averaged 15 points on 50-percent shooting, in the three losses, just five points on 20 percent. 
Chalmers is considered the little brother of the Heat, the player whom guys yell at constantly. But in truth, he has become a reliable shooter, a pick-and-roll ball-handler and most notably an excellent defender. He's a worthy starter on a championship team and has earned the trust that Erik Spoelstra has granted him. 
"Spo always tells me he'll go to war with me. I'll always go to war with Spo or anyone on this team. And that's what we did tonight. We went to war and we won."
The little brother, the three-time champion, the most confident player on the Heat. Mario Chalmers, the sub-superstar. 
We've got all the scores, highlights and news for Thursday night

The Sixers big man got his first All-Star selection -- and maybe some revenge -- on Thursd...

It appears some players are not entirely taking the All-Star voting process seriously
There were some weird discrepancies between the fan, media and player votes

LeBron and Steph will be the captains for the 2018 NBA All-Star Game

Arron Afflalo was involved in an altercation with Timberwolves big man Nemanja Bjelica on...