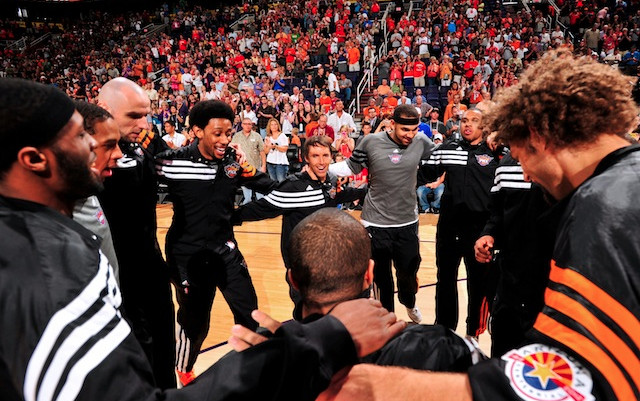 The Suns are in a new kind of transition.
(Getty Images)
Over the next month, CBSSports.com's Eye On Basketball will take a team-by-team look at the 2012 NBA offseason. Next up: the Phoenix Suns. You can find our offseason reports here.
I. How they finished 2012: For a second there, the Suns amazingly were in a playoff position. Despite a fairly mediocre roster and a lot of issues, the Suns had a playoff shot with a week to go.
They finished 33-33, which really was quite an accomplishment. They fought, scrapped and clawed their way to a decent season, which unfortunately for them might've backfired. Because facing an offseason of major uncertainty, the Suns put themselves in NBA purgatory: not good enough for the playoffs, but not bad enough for a high lottery pick. Not a good place to be when you're facing a substantial roster rebuild.

II. Needs entering the offseason: Well ... everything. Except for a big man, the Suns were facing a massive roster overhaul. New point guard, new small forward, new power forward, revamped bench, new owners -- I mean, I'm saying they needed a lot.

III. The Draft: The Suns were sitting in the unenviable position of the back end of the lottery. Pretty much the consensus with the draft was that it was good but not especially deep. With the Suns facing multiple needs, they had a major decision to make in direction.
Go for a player who might be able to help, or go for the potential future home run? The Suns don't exactly have a sterling draft history and, with most of the profile prospect gone by the time they picked 13th, the Suns made the decision to go for Steve Nash's potential successor.
Kendall Marshall was probably the most pure point guard in the draft and someone who certainly could fit beautifully into the Phoenix system. But in terms of him being a Nash replacement? Hmmm.
The ticks on Marshall are he might not be able to defend his position consistently, doesn't shoot that well and doesn't have overwhelming athleticism. Other than that, he could be really good! He is a very gifted passer, a terrific floor leader and manages an offense wonderfully. Was he a reach? Not too much is reaching at 13th. It's about filling what they thought was their biggest need. And with a legend departing town, the Suns decided to try to fill that spot.

IV. Free Agency: The Suns faced the choice of going with the plan of a total rebuild while letting their young players play or to try to piece together a competitive roster.
With Nash and Grant Hill departing, the Suns had options. They had some cap room to work with, and they had some youth to develop. The first target the Suns zeroed in on was Eric Gordon, signing the shooting guard to a max offer sheet.
It was a major move, an effort at bringing in a potential cornerstone piece to build around. But the Hornets matched the offer, and the Suns were left with their hat in their hand. They were forced to scramble, to try to put together some pieces to come out with a decent offseason.
They won a bidding war on Goran Dragic, who makes a return to the Suns after they dealt him to Houston two years ago. Dragic was a hot player in free agency with multiple teams targeting him and, while a nice addition, he immediately pushes their top pick down the depth chart.
The Suns signed Michael Beasley, a feast-or-famine kind of move. Beasley has always had crazy NBA talent but lacked the mental toughness and motivation to really take the leap that he should be making.
A big piece fell into their lap with Luis Scola, who was amnestied by the Rockets. And it becomes a pretty providential signing as just recently the Suns lost Channing Frye indefinitely. Scola was going to help already. But with their depth at that position taking a major hit, Scola could be one of the more underrated signings of the season.
Phoenix traded Robin Lopez to New Orleans in a three-way deal that brought former top-five pick Wesley Johnson in as their probable starting shooting guard. And they topped it off by signing veteran big man Jermaine O'Neal.
V. Overall grade and accomplishments: C+

The Suns' culture during the last decade has been transition -- a high-paced transition offense, an up-and-down, back-and-forth kind of play. Now, it's a different kind of transition for them.
Moving from the Nash era, one of the peaks of the franchise, to a whole new landscape is something unfamiliar. It wasn't unexpected. It was in the cards for a while that the Suns were going to have to start over. The writing was on the wall for Nash. For both parties, it was time to move on.
Again, the Suns had the option to go for the total detonation, to save their cap space, to tank a season and hope to add a future star in the lottery next year.
Instead, they maintained some of that flexibility while adding enough pieces to try to remain competitive. Phoenix has become the land of second (or third) chances. Johnson had enough talent to get picked in the top five but never found a rhythm in Minnesota. Beasley -- well, you know Beasley's history. Dragic is making a second trip to the desert. And Scola is finding his place after getting cut.
Evaluating the Suns' offseason is more of a question of what direction you prefer. The blow-up and rebuild, or the attempt to maintain and restore? Scola could end up being the steal of the offseason. And if you want to assume a few things like Dragic continues his upward climb, Beasley finally realizes his talent and Johnson comes into his own, the Suns could be decent.
If those things don't happen? Then they might get their detonation, anyway.