Nuggets-Warriors: Is Stephen Curry on fire or just aware?
Golden State Warriors guard Stephen Curry is burying the Denver Nuggets with his shooting. Is it him getting hot or is he aware of the defense?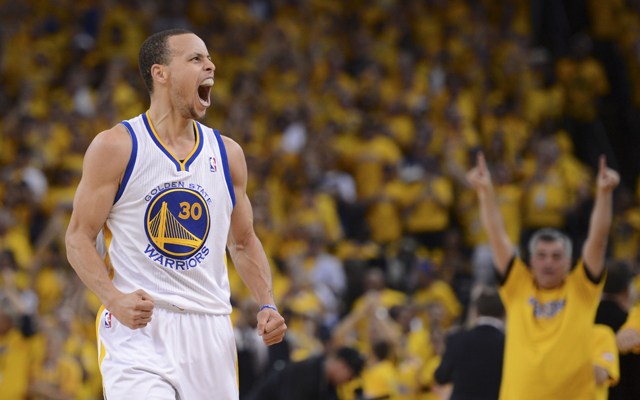 People are going crazy over the shooting display that Golden State Warriors guard Stephen Curry has been putting on during his series against the Denver Nuggets. 
And why wouldn't you? He has been hitting 3-point shots, pull-up jumpers and floaters from all angles and distances as Golden State has grabbed a 3-1 series lead. It's not just that he's scoring and leading his team's offense; it's that it appears all of his points are coming in big runs that demoralize the defense and put his team over the top. The question becomes can he sustain this level of shooting?
Well, if he gets to continue playing the Nuggets, I think he can. 
For the series, Curry is averaging 27.3 points, 10 assists, 4.5 rebounds, 2.8 turnovers, and 2.8 steals. His shooting percentages of 50.0 percent from the field, 47.4 percent from 3-point range (on 9.5 3-point attempts per game) and 100.0 percent from the free throw line are just staggering. But are they outliers in his game? Is the shooting display that's giving him a true shooting percentage of 66.0 and an effective field goal percentage of 61.8 just him being hot, or has he changed his game against Denver?
First, let's take a look at his shooting percentages against Denver in the regular season. In the four games against Denver this season, Curry pretty much shot the lights out. He made 47.4 percent of his shots, with 66.7 percent from 3-point range and 100.0 percent from the free throw line. He had a true shooting percentage of 63.0 and an effective field goal percentage of 61.4. Does that sound familiar?
Secondly, let's take a look at his shot chart against all teams during the regular season and compare it to these four games against the Nuggets in the playoffs:
The biggest thing that I take away from studying those charts is that Curry is staying away from the basket and maximizing his greatest asset/skill -- his shooting. If you combined the four zones closest to the basket on the chart, Curry took 30.2 percent of his shots this season in those four zones. He made 45.9 percent of those shots. He doesn't exactly destroy the opposition from inside the perimeter. 
Against the Nuggets in this series, Curry is only taking 23.6 percent of his shots in those four close zones on the chart. He has made 44.4 percent of those "close" shots. Where he's really taking advantage of the Nuggets' defense is on the perimeter, where he's making an outstanding 51.7 percent of his jumpers.
So, why does Curry shoot so well against the Nuggets? I would wager to say it's because they're so bad at defending him.
When the Warriors are playing Curry off the ball and letting Jarrett Jack run point guard duties, Curry immediately starts running through screens and assessing the amount of room that he has to shoot. As I wrote during All-Star Weekend, Curry is very aware of his feet when he's setting up to shoot. This is the biggest key for his shooting, especially when he's playing off the ball. As long as he has his feet set and he's balanced to take the shot, he knows that a defender who is not all over him can't affect Curry's goal of getting his shot off.
Let's take a look at some of the 3-pointers in this series in which Curry has been playing off the ball:
I dropped a freeze frame in each of these shots to show just how poorly contested and defended these shots are. A lot of people seem to think if you get a hand up near the guy, it's a solid contest of the shot attempt. That kind of thinking has to go away when we're analyzing the shots that Curry is taking because he's a much different breed of shooter. 
We don't have to go through all of these 3-pointers, but let's take a look at four specific situations. 
This is not how you challenge Curry on a 3-point shot, and it's what Warriors coach Mark Jackson was preaching for years at the broadcast table. With Curry, if your hands are down by the time he's in his shooting motion, you need go-go gadget arms to actually bother his shot. As WarriorsWorld writer Ethan Sherwood Strauss coined, he's treating Denver defenders like they're a ball rack.
This 3-point shot came after a gamble by Corey Brewer to steal the ball from Carl Landry. Once Brewer missed the steal, Curry was wide open in the corner and Wilson Chandler had to close out. His closeout was sloppy, allowing Curry to side-step into a better 3-point shot. Getting someone like Curry to put the ball on the floor to create space doesn't make him more likely to miss the shot. All it does is give him a timing mechanism on the shot, which he probably doesn't need, anyway.
And having your hand a couple of feet away from Curry as he already has the ball near its release point is like putting your glove on to play catch as a baseball is three inches from hitting your face. 
This is an example of how the Warriors have been using screens and the Nuggets' players have been making them more effective. On this play that you saw above, the Warriors run Curry through the elevator screens but use them to get him to the side of the floor. Andre Iguodala is chasing the Warriors' sharpshooter on this play and can't get through the doors before they close.
Neither Corey Brewer nor Anthony Randolph try to jump the screens and switch onto Curry, which is pretty much the only thing that you can do here. It might cause your defense to rotate quickly if one of the screeners slips to the basket, but it's better than having Randolph realize he should have switched to Curry as Curry is getting his shot up.
This play was pointed out to me by Strauss. There is one person in the city of Denver who isn't on the Warriors that knows Curry is racing down the baseline to get to the other corner. It isn't Wilson Chandler. It isn't Ty Lawson, and it isn't any of the other Nuggets players on the court. It's simply the fan in the orange shirt in the front row. And his pointing at Curry is some of the best defense that Denver played in that game.
That's how Curry has hurt the Nuggets when he's playing off the ball. But what about when he's initiating the offense? Here is a video of three 3-point shots that Curry knocked down against Denver:
The first 3-pointer that he makes is while running the pick-and-roll. He's arguably the most deadly pick-and-roll shooter in the NBA because he's arguably the best perimeter shooter in NBA history (or at least headed that way). Kenneth Faried is playing back on the PnR because that's where the world of defense has taught him to be. You have to cut off the driving lane to keep the offense out of the middle of the paint. The problem with this is Curry doesn't want to drive. He's not a strong finisher around the basket.
What Curry does is take advantage of the space and launch a 3-pointer that he knocks down. It's an adjustment the Nuggets haven't seemed to be able to consistently make. They have to remember at all times that trapping Curry when he has the ball on a PnR is probably the only way to go. Then you have to trust your defensive rotations. 
The second 3-pointer is kind of a ridiculous shot, but again there isn't anybody contesting it. Andre Miller is just standing by his side. Curry gets a sidestep to assure himself that he has the room to get the shot off, sets his feet and flicks the wrist. The third 3-pointer is pretty similar to the second. He leans into this shot while in transition, but he knows that his motion is going to be unaffected by the defense and that Lawson isn't a threat to stop his shot. 
When you have a shooter like Curry (and I'm not sure we ever have seen a shooter like him), you can't afford to have all of these defensive lapses. He's too good of a shooter to give him even more advantages on the court. He's aware of where the defense is and how they're playing him. As long as he has a decent pass that allows him to keep his shooting motion compact and quick, you can't bother his shot unless you actively defend his shot. 
Although, sometimes, he's just not fair. 
If the Nuggets want to live to play another day in the playoffs, they're going to have to make him aware that he doesn't have room to light the building on fire. 
Durant says he probably wouldn't have gone to college because he 'needed the money'

Ball, who has missed the last 15 games with a sprained MCL, will be on a minutes restricti...

Larry Hartstein is in the midst of his best run of the season and released a pick for Mavericks...
Larry Hartstein has nailed 19 of his last 25 NBA picks and just released a play for Cavs vs....

The defending champs made their own plans after being disinvited to the White House

Stephen Oh has his finger on the pulse of the Rockets and locked in a play for Friday