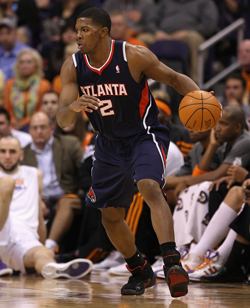 Joe Johnson is reportedly on the trade block.
(Getty Images)
Could one of the NBA's biggest albatrosses be headed for the Big Apple?
The Atlanta Hawks and Brooklyn Nets are engaged in contract talks concerning guard Joe Johnson, according to Yahoo Sports.
Brooklyn and Atlanta are engaged in talks on a possible Joe Johnson trade, sources tell Y! Nets plan would be to pair with Deron Williams. Both Hawks and Nets are engaged in talks on several fronts. No deal close on Johnson, but sides have gone back and forth on possibility.
The Atlanta Journal-Constitution confirms that moving Johnson is one of "several trade possibilities" for the Hawks with the July free agency period set to open on Sunday.
Johnson, 31, is a 6-time All-Star who posted averages of 18.8 points, 3.9 assists and 3.7 rebounds in 35.5 minutes per game last season. Perhaps more importantly, he has four years and more than $88 million remaining on his monster contract and is set to make $19.8 million in 2012-13.
The Nets, obviously, face a make-or-break moment in their franchise's history with Williams' free agency decision. Brooklyn is reportedly one of two finalists for his services, but he's made it clear that he wants to play for a winner. The Nets have just $13 million committed in salary right now, however they face a decision on Williams, restricted free agent center Brook Lopez is in for a major pay day, and Brooklyn has expressed a desire to re-sign forward Gerald Wallace, which could be pricey too. Still, depending on the timing of the move, Brooklyn could use its cap space to facilitate a trade, taking on Johnson's deal without necessarily needing to fully match salaries.
The Hawks just installed Danny Ferry as their new GM. It's not clear whether or not his mandate is to blow things up, but the general sentiment is that the team's current core has gone as far as it will go in making five consecutive playoff trips without advancing to the Eastern Conference finals. Johnson, a talented wing scorer, is by far the team's biggest contract. Shipping him to a team with significant cap space, like the Nets, could potentially get Atlanta under the salary cap, although the Hawks would then face the challenge of replacing his offensive production.
When Johnson signed a reported 6-year contract for $123 million in 2010, everyone assumed that his ridiculous contract would be dumped at some point. But not many thought it could happen after just two seasons. The question for Brooklyn: How far, realistically, can a team led by Williams, Johnson and Wallace advance in the postseason and is rolling the dice with that trio as your Big 3 really worth taking on Johnson's deal?