Report: Earl Watson wants to be Jazz head coach
Earl Watson played for the Utah Jazz from 2010 to 2013, and would reportedly like to return as a head coach.
• 2 min read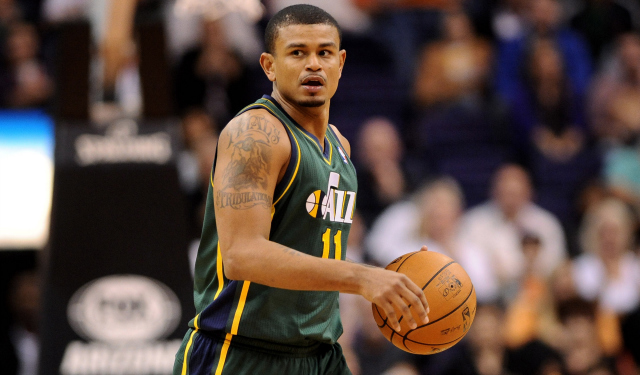 More Offseason Analysis: Coaching changes, news | Free Agency | Draft
Portland Trail Blazers point guard Earl Watson wants to be the next coach of the Utah Jazz, according to Chris Haynes of CSNNW. He served as something of a player-coach this season in Portland.
Watson would reportedly like to bring Hubie Brown, who coached him with the Memphis Grizzlies, along as an assistant. Brown might be amenable to an unconventional arrangement:
Brown, who loves Watson as if he were his own son, said if things materialized in that fashion, he would have to entertain Watson's proposal, but said it would have to include little, to no traveling due to him getting up there in years.

"I'm 80 years old and I'll be 81 in September, but I wouldn't mine doing the practices at home," Brown told CSNNW.com. "You never know what could happen. He is a top professional. He has a high IQ, very coachable and very bright. He doesn't miss a thing. He's very inquisitive. He sees things, but picks his spots. I always say that he was one of the toughest kids to ever play for me. He'll make an excellent NBA head coach."
Brown also said that Watson would have been an assistant coach under Steve Lavin at St. Johns this season, but turned down the opportunity in order to play for the Blazers. At his end-of-season media session on Friday, Watson said he was undecided about his future as a player.
Earl Watson on adjusting to twilight of career: "The telling point is when I'm in the locker room and I don't even know the music."

— Joe Freeman (@BlazerFreeman) May 16, 2014
.@Earl_Watson says he will consult with his real agent, his daughter, to see if he'll play or coach next season pic.twitter.com/1HX6kaPigq

— Trail Blazers (@trailblazers) May 16, 2014
CSNNW reported that, while the 34-year-old hasn't ruled out a return to the court, "he will not pass up an offer from the Jazz."
Utah swingman Gordon Hayward, who played with Watson for four seasons, gave him a hearty endorsement.
"I'm definitely pulling for Earl to get the job," Jazz forward Gordon Hayward told CSNNW.com via phone Friday morning. "He's a great guy and has a great basketball mind. If he did become our coach and I got to play under him, it would be great because I know how hard he'll work and prepare us. He's a true professional and I think no matter where he ends up, he'll be a great head coach in the NBA."
Before Jason Kidd made his quick jump to the sidelines with the Brooklyn Nets, it was assumed that players needed a bit of time away from the court before transitioning to a head coaching role, whether that meant serving as an assistant coach, executive or broadcaster. Now it seems things might be changing, with Derek Fisher reportedly the leading candidate in New York and this from Watson. If the Jazz do end up considering him right out of retirement, perhaps the NBA is really a copycat league.
We've got all the scores, top plays and news from a busy NBA Friday

Butler didn't put any pressure on his right leg as he was helped to the locker room on Fri...

Our advanced computer model simulated Saturday's Magic vs. 76ers game 10,000 times
Several playoff contenders could use the services of Ilyasova, who's nearing a buyout agre...

Durant says he probably wouldn't have gone to college because he 'needed the money'

Ball, who has missed the last 15 games with a sprained MCL, will be on a minutes restricti...