Report: Extension deal unlikely for Thunder's Reggie Jackson
OKC wants to keep the firebug point guard, but money and situation may prevent that.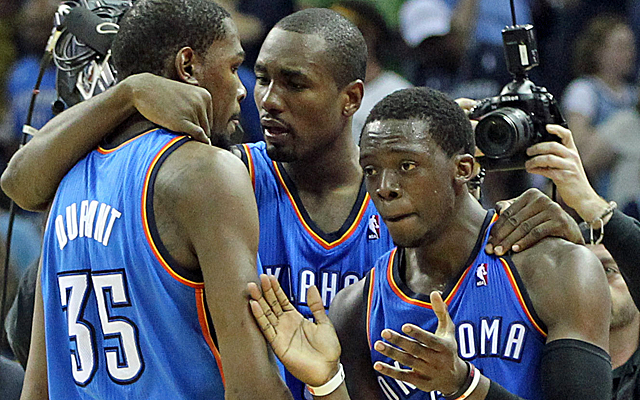 NewsOK.com reports that the Thunder are "unlikely" to reach a deal with point guard Reggie Jackson on an extension before the October 31st deadline. 
The Thunder would prefer to lock up Jackson this offseason, but that's not likely. It's possible that Jackson plays for a contract in each of the next two seasons in Oklahoma City, which generally motivates a guy rather well, although if Jackson already wasn't given his full focus and energy, Presti misread that DNA.
via OKC Thunder: Keeping Reggie Jackson is a priority, but it won't be easy | News OK.
Jackson averaged 13.1 points per game last season for the Thunder along with 3.9 rebounds and 4.1 assists. He was vital in filling in for Russell Westbrook when he was injured and his ability to stretch the floor (34 percent from 3-point land last season) eventually convinced coach Scott Brooks to put him next to Westbrook at two-guard. 
But that move also was more out of a lack of better options than anything. The Thunder need a legitimate two-guard to spread the floor and help out defensively; free-agent signee Anthony Morrow is unlikely to be that guy as he's traditionally been a bench shooter. 
Jackson honestly might have more value on the trade market, which might provide the Thunder an opportunity to bring in some quality depth along with a viable two-guard. Jackson's proven he can be a legitimate starting point guard, and if a team believes in his long-term development, they might be willing to give up short-term assets for him. 
The Thunder have been exceptionally patient with their approach to team-building, but looking to extend Jackson long-term, at a position they already have a top-ten player at, might be too far. The Thunder have some time, though. Jackson's set to be a restricted free agent next summer, at which point if the Thunder need to, they can match any offer for him, or hope that threat drowns the offers for him, as it has with Eric Bledsoe and the Suns. 
Boston will try to close the series out on the road, while Milwaukee will attempt to force...

Curry, who hasn't played since March 23, missed the entire first-round series against the...

Keeping track of all the injury updates for every NBA playoff series
LeBron's block on Oladipo should have been called goaltending, according to the Last Two Minute...

Arizona's DeAndre Ayton goes No. 1 over Duke's Marvin Bagley in Reid Forgrave's latest mock...

The order of the NBA Draft is pretty much set, with only the lottery left to decide how it...