Report: Kings and Pistons discussed Josh Smith trade
The Sacramento Kings reportedly discussed a trade with the Detroit Pistons that would have exchanged Josh Smith for Jason Thompson and Derrick Williams.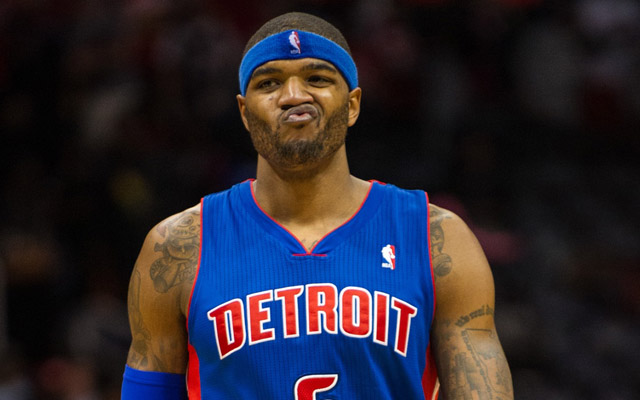 More Offseason Analysis: Coaching changes, news | Free Agency | Draft
UPDATE: According to Jonathan Givony of DraftExpress, the the discussions have fallen apart.
Rumored Sacramento-Detroit trade is "dead" according to a team source. Talks were ongoing for a few days, but Detroit nixed it this morning.

— Jonathan Givony (@DraftExpress) June 24, 2014
---
Well, that didn't last long. After Joe Dumars signed Josh Smith to a four-year, $56 million contract last summer, the Detroit Pistons could already be looking to move on from that signing. Stan Van Gundy took over as the coach and president of basketball operations following the 2013-14 season, and he could be trying to get rid of bad contracts and players who don't fit his vision for the team. 
Marc Stein of ESPN.com is reporting the Pistons and Sacramento Kings may be trade partners in a deal centered around Smith. It would send back Jason Thompson and Derrick Williams, possibly including Jason Terry as well. It's a potentially bold move by an aggressive Kings' front office that has been looking to reshape this roster.
One source insists nothing imminent, but I'm told Pistons and Kings have discussed a trade that would send Josh Smith to Sacramento

— Marc Stein (@ESPNSteinLine) June 24, 2014
One potential scenario, I'm told, would send Smith to Kings for Jason Thompson and Derrick Williams. Jason Terry might be another option

— Marc Stein (@ESPNSteinLine) June 24, 2014
If you're getting a good offensive version of Smith, it's a good move for the Kings. Unfortunately, we haven't seen that version of Smith in a few seasons. He's one of the worst 3-point shooters in NBA history, and he's fallen in love with a jumper he can't consistently hit over being an great all-around player like we used to watch. However, the Kings did a great job turning Rudy Gay into an efficient offensive weapon last season and could be hoping to do the same with Smith.
A trio of DeMarcus Cousins, Gay, and Smith coupled with a backcourt of Ben McLemore and a re-signed Isaiah Thomas would put pressure on the Kings to be either accurate from the outside or aggressive and successful on the offensive boards. 
For the Pistons, it breaks a big deal that was potentially an albatross on their salary cap to more manageable deals they can move. Williams wouldn't be much of a commitment for them as he expires next summer unless they want to make him a restricted free agent, and Thompson can either be a good third big man for them, insurance for whatever happens with Greg Monroe's restricted free agency this summer, or trade bait to a contender for another asset.
Trump rescinded Curry's invitation to the White House after Curry said he wasn't interested...

Silver said he was hoping Warriors would get chance to share their views directly with the...

Along with the Thunder, those were the three teams most involved in the Anthony trade talk...
LeBron said he was frustrated by the President's recent actions

A look at the various actors and elements in the latest sensational blockbuster trade in the...

Blockbuster deal doesn't change the Thunder's projected finish in the West