Report: Lance Stephenson and Evan Turner fight in Pacers practice
Pacers guards Lance Stephenson and Evan Turner had to be separated the day before the Pacers opened the playoffs in a Game 1 loss to Atlanta.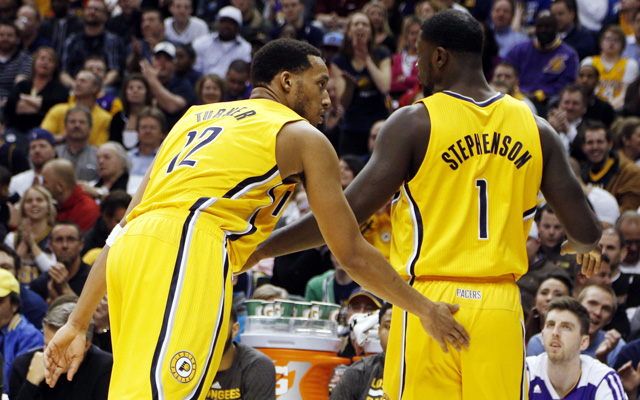 More postseason coverage: Playoff schedule, results | Court Vision
Yahoo Sports reports that Indiana Pacers guards Lance Stephenson and Evan Turner we involved in a fight during practice the day before the Pacers' first-round series against the Hawks began.
On the eve of this Eastern Conference series, the wobbling No. 1 seed punctuated its final playoff preparations in a most self-destructive way: Two Indiana Pacers dragged a cursing, cut Evan Turner out of the Bankers Life Fieldhouse court, untangling him from a practice-floor fistfight with teammate Lance Stephenson.

Turner hadn't been the first Pacer to lose his temper with Stephenson these tumultuous several weeks, and Stephenson's relentlessly irritable nature suggests Turner won't be the last. These scrapes aren't uncommon in the NBA, but this confrontation had been weeks in the making and that reflected in the ferocity of the encounter, sources told Yahoo Sports.

"This stuff happens, but the timing wasn't ideal," one witness told Yahoo Sports.

If acrimony naturally lingered into Saturday, make no mistake: Stephenson and Turner weren't the reason the Atlanta Hawks embarrassed the Pacers in Game 1. Maybe it tilted the mood of locker room, but no one dared suggest that it held responsibility for deadening the Pacers into defeat.
via Pacers fight each other on eve of playoffs, finally take swing at Hawks in Game 2 - Yahoo Sports.
Lance Stephenson got on someone's nerves? You must be joking! Say it isn't so!
This is about a "2" on the surprising meter. Guys fight in practice. There's nothing that says that you have to like one another in an NBA environment. There are lots of teams that have disliked each other that have been successful and plenty of teams that love one another and get along that can't win.
But it's more of a sign that the decision to trade Danny Granger for Turner was a mistake. Not for basketball reasons. Granger was doing nothing for Indiana and has done only slightly more than nothing for the Clippers. But trading Granger did change the dynamics of the locker room. This fight with Stephenson maybe wouldn't have happened with Granger, he's a vet that has the respect of the locker room. But then, there's no way to know with Stephenson.
Either way, it's more drama for a Pacers team that thought it might have a chance to put the drama behind it Tuesday with a win to even the series vs. Atlanta. But you can bet more questions about this fight will be waiting for the Pacers this week.
Side question: You'd have to think Stevenson would win, right? Wait, no, the answer to the question "Who would win a fight between Lance Stephenson and Evan Turner?" is David West.
CBS Sports HQ Daily Newsletter
Get the best highlights and stories - yeah, just the good stuff handpicked by our team to start your day.
Please check the opt-in box to acknowledge that you would like to subscribe.
Thanks for signing up!
Keep an eye on your inbox for the latest sports news.
Sorry!
There was an error processing your subscription.
How every NBA team graded out on draft night

Scal talked to CBS Sports about his NBA career and much more

Anthony has a player option for next season worth $27.9 million
Doncic recently finished a lengthy season in Europe with Real Madrid

Vegas' list of potential landing spots has changed since the initial odds came out

Josh Nagel went 17-6 on NBA postseason picks and locked in the landing spot for LeBron Jam...