Rockets 'pushing hard' for Dwight Howard, using Marcus Camby as bait
The Houston Rockets continue to push hard to acquire draft picks and cap space in an effort to provide a package of assets that will entice the Orlando Magic to trade Dwight Howard, league sources told CBSSports.com Saturday. The Nets remain in the mix for Howard and also are pursuing Rockets center Marcus Camby as a backup to either Howard or Brook Lopez in Brooklyn.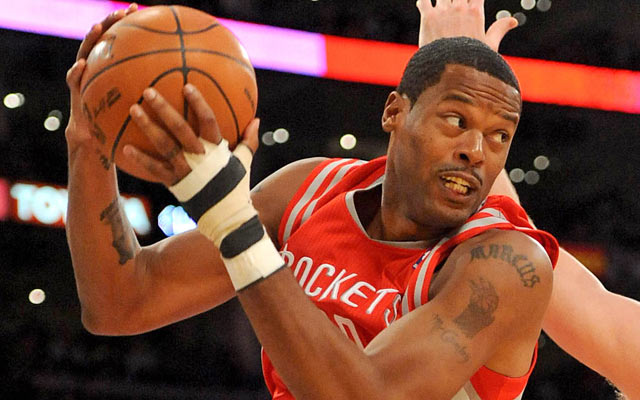 Marcus Camby could turn out to be a key chess piece in this continuing Dwight Howard trade saga.
(US Presswire)
The Houston Houston Rockets continue to push hard to acquire draft picks and cap space in an effort to provide a package of assets that will entice the Orlando Orlando Magic to trade Dwight Howard , league sources told CBSSports.com Saturday. 
One of the reasons Houston traded point guard Kyle Lowry to Toronto Raptors for what essentially is a guaranteed lottery pick was to sweeten the pot in a potential Howard trade, sources said. In discussions with the New York Knicks , Miami Heat and now Brooklyn Nets about a sign-and-trade for Marcus Camby, the Rockets are hoping to accumulate more picks to make their trade package for Howard more attractive.
"The Rockets are definitely trying to make some sort of huge trade," said a person briefed on Houston's plans. "That's why they're trading all these things to get a bunch of picks. That's what they're up to."
Camby canceled his visit with the Heat Saturday after Miami used its taxpayer mid-level exception to sign Ray Allen away from the Boston Celtics . The Heat and Rockets are continuing dialogue about a possible sign-and-trade that would allow Camby to make more than the veteran's minimum of $1.4 million, but the Heat lack future draft picks and non-guaranteed contracts to consummate the deal. Camby is likely to circle back with Miami after meeting with the Knicks Sunday and possibly the Nets in the coming days, sources said.
The Knicks have the non-guaranteed contracts of Dan Gadzuric , Jerome Jordan and Josh Harrelson, giving them the edge in a Camby sign-and-trade with pieces that could become cap-clearing chips allowing Houston to take on more salary in an eventual trade for Howard or other deals.
The Nets also have entered the Camby chase, with GM Billy King pursuing the 38-year-old center "pretty hard," according to a source. It is not clear whether this is an indication that the Nets believe their chances of landing Howard are diminishing; sources say Camby is being targeted as a backup in Brooklyn to either Howard or Brook Lopez . Depending on the timing of possible sign-and-trades for their own free agents -- chiefly Lopez and Kris Humphries -- the Nets have the ability to take on significant salary in a trade with Houston or Orlando.
Brooklyn's ability to take on money -- one of the chief goals for Orlando in a Howard trade -- is enhanced with sign-and-trade possibilities for Sundiata Gaines (up to $5 million), Armon Johnson (up to $1 million), Damion James (up to $1.3 million) and Shelden Williams (up to $1.3 million). Also eligible to be traded is MarShon Brooks , who is under contract next season at $1.2 million. That's a lot of flexibility. In addition to acquiring young players and picks, Orlando wants to unload the contracts of Hedo Turkoglu , Jason Richardson or both in a Howard deal.
According to a person familiar with Orlando's plans, the same teams remain in the mix for a possible Howard deal: the Los Angeles Lakers , Nets, Rockets, Atlanta Hawks and Dallas Mavericks . There has been no indication, however, from Howard or his agent, Dan Fegan, that the All-Star center is willing to relax his insistence on signing a long-term deal only with the Nets if traded. Similarly, the Magic would need assurances that Andrew Bynum -- the key piece in any deal with Los Angeles Clippers -- would sign a long-term deal as part of such a trade.
Adam Silver said his piece with the schedule out; we address that and what the slate looks...

The Hawks and Sharecare reportedly agreed to terms on a five-year deal

A look at the context of the schedule and who plays who when, and how far they travel during...
Durant took on rapper Lil Dicky and actually might have lost

A report that James would once again be leaving Cleveland made the rounds on Wednesday

Known for his 'take that for data' rant, the Grizzlies coach touched on a number of important...