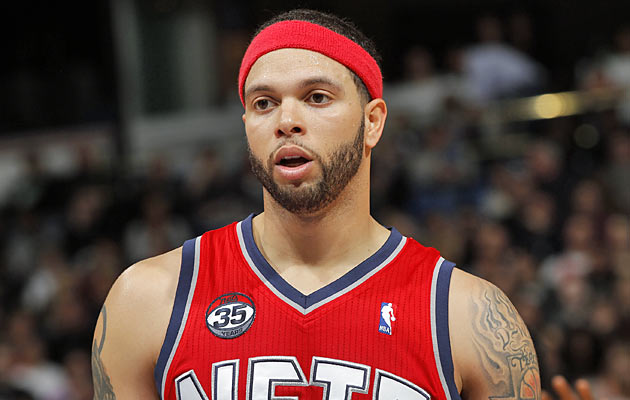 The Nets can offer Williams five years, $100M -- one year and about $26M more than what the Mavs can offer. (Getty)
As executives make their final preparations for the draft and engage in serious trade talk over the next 48 hours, Deron Williams' impending free agency looms large. Four rival executives and a fifth person familiar with Williams' thinking told CBSSports.com Tuesday that the Mavericks are becoming increasingly worried that the All-Star point guard will stay with the Nets when the free-agent floodgates open Sunday.
While optimists in the Mavs' camp are holding out hope that they still have a "50-50" chance of landing Williams, who grew up in Dallas, executives working the phones Tuesday have detected a real concern from the Mavs that Williams will opt to join the Nets in Brooklyn next season. Free agency opens at 12:01 a.m. ET Sunday, and Williams will have a very clear financial decision in front of him.
Under new CBA rules, the Nets can offer Williams a five-year deal worth approximately $100 million -- one year and about $26 million more than the Mavs, the only other team the All-Star is believed to be considering. 
More on Deron Williams
Related links
The recent vibe executives are getting from Dallas contradicts the word in the sneaker industry only last week. A high-ranking person in that field told CBSSports.com that the feeling among sneaker execs was that Williams would prefer to join his hometown team at a discount rather than stay with the Nets. Such a decision, the person said, would be based on the understanding that Mavs owner Mark Cuban would be able to sway Williams that any lost earnings could be made up via endorsements and by the Mavs being better positioned to reload their roster around Williams and Dirk Nowitzki and compete for a championship.
For young stars like Williams and Dwight Howard, the year of earnings lost by changing teams is somewhat underrated; barring serious injury, they'd simply get the money back when they extend their contracts or sign new ones. This is perhaps more true for Howard, 26, than for Williams, who turned 28 Tuesday.
Williams' birthday was not overlooked by the Nets, who sent a truck to Williams' New York City apartment with a "Happy Birthday Deron" sign and the new Brooklyn logo emblazoned on the side. The gesture has been met with cynical jokes on Twitter and our beloved internet, but it was a nice touch for an organization that has so much invested in persuading Williams to stay.
The then-New Jersey Nets surrendered Devin Harris, Derrick Favors and two first-round picks in the trade with Utah that landed Williams in February 2011. The deal came only days after CBSSports.com reported that Williams was angling to team up with Amar'e Stoudemire in New York when he became a free agent in 2012. In their final weeks in New Jersey, the Nets doubled down on the D-Will plan by sending a first-round pick (No. 6 overall) to Portland for Gerald Wallace, who also will become a free agent Sunday.
The Nets continue to hold out hope they can work out a trade for Howard in the coming days or even months, with restricted free agent Brook Lopez the presumed centerpiece of such a deal. But while Orlando will have many prime assets to tempt them in the coming days -- including a draft pick-rich offer Houston is preparing to make, even without a long-term commitment from Howard -- new GM Rob Hennigan might prefer to avoid making a hasty decision.
If Hennigan, 30, exerts the kind of patience his mentor, Sam Presti, did in building a championship contender in Oklahoma City, waiting will give him the benefit of trading Howard for actual players instead of draft picks with potential. Such an approach, however, would come at a price, as high-ranking members of the Magic organization have no more appetite for the Howard histrionics that played out last season all the way to the trade deadline and beyond.
If the Nets don't land Howard now, they could do much worse than retaining Williams and pairing him with a front line of Lopez, Wallace and a free-agent swingman such as Andrei Kirilenko or Mirzan Telotovic, a 26-year-old, floor-spacing forward from Bosnia who the Nets are eyeing. (Scouts compare him to Ryan Anderson, for what it's worth.) Jason Kidd also has expressed a desire to join one of the New York teams as a free agent and has endorsed the notion of serving as Williams' backup next season, when he turns 40. Kidd and Williams are represented by the same powerful agent, Jeff Schwartz.
But as Howard taught us, it's foolish to draw conclusions about what a player is going to do with such a decision until it comes time for the player to make it himself. All signs pointed to Howard being dealt to the Nets at the March 15 trade deadline, but he got cold feet and opted in with Orlando for the 2012-13 season at the 11th hour.
What will Williams do when he's on the clock at 12:01 a.m. ET Sunday? Only Williams knows. But it's clear that the Mavs now view themselves as a dark horse as opposed to the favorite. Maybe the next time the Nets back up a truck to Williams' apartment, it'll be filled with $100 million.