Vogel says Pacers starters will play Friday vs. Heat
The Indiana Pacers won't rest starters a second game as they look to secure the No. 1 seed in the East vs. Miami.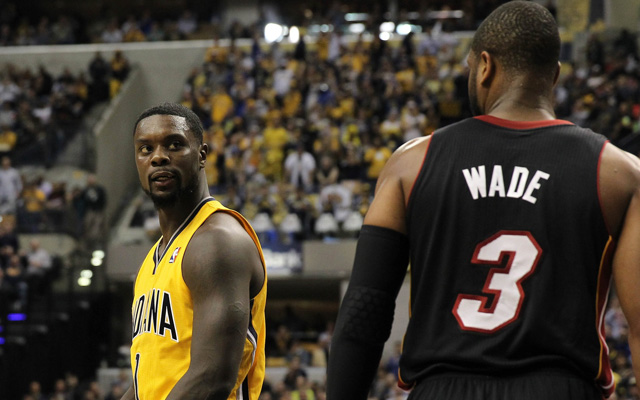 More NBA: Power Rankings | Expert Picks | Seasons in Review | Playoff Picture
The Pacers may have taken a night off to get themselves right vs. the Bucks (and wound up with a buzzer-beater win to pull back into first place in the East), but they're not pulling any punches Friday when they meet the Heat. Vogel said Wednesday the starters will play vs. the Heat. 
"Look, we spent all year with one goal (but at) some point you've got to shift your focus when things aren't going your way," Vogel said. "You (can't) pay attention to what everybody else is doing. Fixing your team (is) the only thing that's on our minds right now. We'll do this tonight. The plan for the starters was two days off (Monday an

d Tuesday), shooting and conditioning today.

"They'll practice tomorrow and they'll all play in Miami. We may rest some bench guys against Miami. The thought process behind all five guys is, if you sit one or two guys per game then nobody ever finds a rhythm. Finding a rhythm is just as important as getting our guys rest, (that's) part of the solution. So they'll rest this game and they'll all play together and look to find the rhythm Friday night."
via Pacers sit starters, but they'll be back for Miami.
The Heat's loss to the Grizzlies Wednesday and the Pacers' win put Indiana back into the driver's seat for hom court throughout the East playoffs. A win Friday essentially ends it, giving Indiana tiebreaker advantage and a 1.5 game lead. 
The question is who will play for the Heat. Dwyane Wade has missed the past seven games with a sore hamstring,and Greg Oden has been out with a bad back. Will the Heat get everyone to go and make this an important game? Or hold out players and concede the top spot while depriving the Pacers the chance to build momentum to get out of their slump? 
Or worse yet, what if the Heat rest some of their starters and still win? The psychological games are at play, and that means the playoffs are back. 
Irving has requested a trade away from the Cavaliers

The Lakers made a strong push for Rose, but he would have been a backup in Los Angeles

The small forward spent last season with the Sacramento Kings
Knight still has three years left on his five-year, $70 million contract

The Golden State forward is accused of assault, battery and making misleading statements

The Nets get their shooter a year later, and the Blazers reportedly will waive Nicholson