Where do the Heat go from here?
After losing the NBA Finals 4-1 to the San Antonio Spurs, where do the Miami Heat go from here? That's the biggest question of the summer.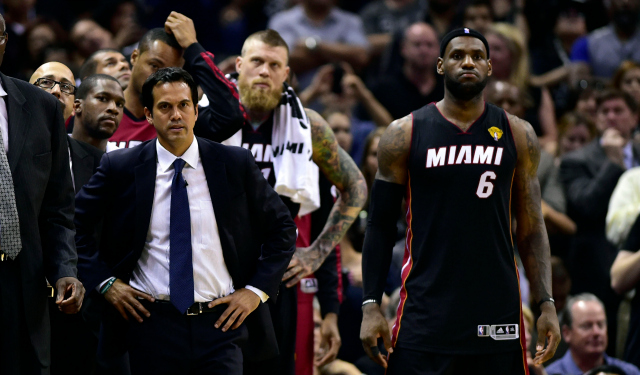 More NBA Finals: San Antonio wins title, beats Miami 104-87 | Court Vision
SAN ANTONIO -- So it ends, this first run of the Big 3 in Miami. Four years after The Decision, when LeBron James announced he was taking his talents to South Beach, the Triad have hit their first opt-out summers after four Finals, and two titles. Not three, not four, not five, not six, not seven, not eight.
And after a year in which it seemed certain that this summer's result would be the same as 2010's, there are suddenly a lot more questions in the face of the Heat's 4-1 defeat by the San Antonio Spurs in the NBA Finals, getting blown out in Game 5 107-84.
So the question now is: "Where do the Heat go from here?" If 2010 was the most important summer in franchise history, 2014 may actually be more important. LeBron James, Dwyane Wade, and Chris Bosh all have player options for this summer. Will they execute them? And will they use them to keep together this team that won two titles, but lost so feebly against San Antonio?
The Heat know that the model with the Big 3 works ... when the Big 3 play like it. But in the Finals, after a year where he sat for nearly 20 games to save him, Dwyane Wade was a shell of himself. Wade knows this is his last major contract. This is a deal that needs, financially.
Bosh had a poor series against the Spurs, but that was primarily on account of not being able to find touches within the Heat's system. The spacing wasn't there to force any room for him, and the Heat's system never gave him the ball to create on his own. But he's made clear he loves the lifestyle in Miami and wants to return, but avoided the question on Sunday after Game 5.
"I'm going to play with my kids, get away from things for a little bit, reflect on the game. There will be plenty of time for those decisions. Everybody wants answers now, but I don't even know what I'm going to have for breakfast."
And of course there's James. James has every option he wants. Re-sign with Miami who gave him the stable, disciplined organization he needs to keep his focus on the court, the teammates to produce championships as well as friendships, and go for another run with continuity? Or try to blaze a new trail?
"I haven't really thought about that just yet" James said at the podium, while seated alongside Dwyane Wade. "Not disappointed in any of my teammates, just wish we could have came through, played a better series, but obviously we just ran up against a better team this year."
But beyond the Big 3 there, are questions.
"I'm going to spend the next couple of days and see where my true heart lies," Ray Allen said of his future, which could include retirement. The NBA's all-time leader in three-pointers found himself having to create offense off the dribble and while he said he was still "having fun" playing the game, it may be time for him to move on.
Shane Battier has already hit that point, deciding to retire after this season. Battier talked about walking away from the Game Sunday to CBSSports.com.
The Heat, if every player opts out or retires, would have just $2.8 million from Norris Cole on the books for next season. They have every option, but every danger as well. There is talk of the Big 3 returning at a discount, even possibly adding Carmelo Anthony. But those four don't make a team. Miami will have to find ways to fill out the roster.
Mario Chalmers said Sunday that he wants to return "if that's an option." Despite starting for the Heat before and after The Decision, including during the two championship runs, Chalmers was benched for Game 5 and could end up somewhere else.
The Heat need a point guard who can run the offense and create shots when the Big 3 aren't on the floor. While all the talk of Carmelo Anthony has been the rage, a player like Kyle Lowry might honestly help them more. Meanwhile, the Heat desperately need outside shooters to replenish their stock, and athletic defenders. The Heat were dominant from 2012 to 2013 with their ability to force turnovers, get out in transition, and hit threes. Having to rely on Rashard Lewis, Allen, Battier, and Birdman Andersen made for tough going.
James mentioned "high basketball-IQ" guys as one of the keys for the Spurs. That may be a target for Miami as well. The Heat will go after veterans, who are usually willing to take the minimum to compete for a title. Guys like Al Harrington, Richard Jefferson, and Charlie Villanueva would fill those roles, but don't bring crack shooting or athleticism. The Heat do have their first-round draft pick, and are likely to get a rotation player in this year's star-studded, deep draft.
The Heat have the cap room to build another contender, probably even to improve and reload on the core that won two titles but came up short against the Spurs. But everything begins and ends where it has so often in the NBA over the past decade, even with another team in possession of the title ... with LeBron James.
Westbrook's late layup gave the Thunder a 109-108 victory

LeBron became the seventh player in league history to reach the milestone

There were a few things that stood out from Tuesday's All-Star selections
Here are three players from each conference who had legitimate claims to make the game

LeBron achieved the milestone in the first quarter Tuesday

Here are the full lineups for the 2018 NBA All-Star Game