Wolves' Ricky Rubio: Injuries no excuse for poor play
The Minnesota Timberwolves have been ravaged and continue to be ravaged by injuries, but Ricky Rubio is tired of it being an excuse for poor play.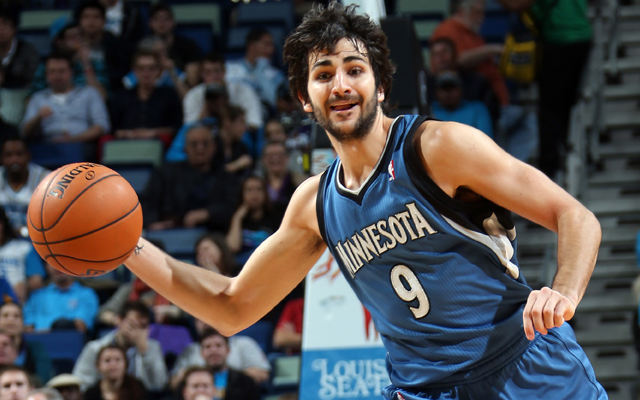 Ricky Rubio says the Timberwolves need to find a way to play through injuries and win.
(Getty Images)
The Minnesota Timberwolves lost again Thursday night, this time 90-77 to the Los Angeles Clippers. They were playing without several of their regular rotation players and called on reserves to be starters and third-unit guys to be in the second unit. Role players have to play starters minutes yet again for Minnesota, and it seems to have finally taken its toll on the team.
Their poor play is evident. They're exhausted extending their minutes, filling roles they weren't intended to fill. A lot of jumpers are coming up short and hitting the front of the rim, a sure sign of weary legs.
Not only did the Wolves lose the game but they also watched Nikola Pekovic leave the game with a thigh contusion and Alexey Shved went down with a rolled ankle. He limped around in the locker room after the game and will be re-evaluated before Saturday's home game against the Houston Rockets.
The injuries have hit the Wolves more than any other team, causing them to fall below preseason expectations of being a playoff team. But don't tell Ricky Rubio that the injuries are an acceptable excuse for the poor play and the mounting losses. From the Pioneer Press:
Wolves point guard Ricky Rubio made his first start of the season, but the lineup shift had no impact on the team's performance. In fact, the results of Thursday's game left the second-year guard "very frustrated" with his own performance and generated some of his strongest comments since joining the Wolves.

Rubio dismissed his season-high 27 minutes, preferring to challenge his healthy teammates and pledge that "we're going to change it."

"The players that are healthy have to step up and do a better job," Rubio said. "We can't say we're playing bad because of the injuries. I don't think that's the way. In a way, be a man. Everybody has to step up and know his new role. We are here to win games and have fun, but I don't think we're having fun, and we're going to change it."
These are strong words from a point guard who usually comes off more like a Disney character than a guy who is fed up. Rubio's fun-loving nature often gives us quotes we smile at because you expect more clichés and lip service from athletes. But this is the first time that I remember since he joined the Wolves last season in which he has challenged his teammates to stop using injuries as a crutch and to "man up" to play better.
The Wolves could certainly use something to light a fire under them right now. They're 2-7 since the new year began and have played atrocious defense for most of those nine games. They were the sixth-best defensive team in the league before the month began and have dropped significantly over the past two weeks. They're currently 13th in the NBA in defensive rating and have lowered their defensive rating by three full points per one hundred possessions during these nine games.
With the Houston Rockets coming to town and the depth of guards probably even thinner if Shved can't play, Rubio and his teammates will have to try to rally against a team with smothering tempo and offense. As Rubio gets more comfortable in the rotation and with his conditioning, he should be able to impact the game at a higher level. When he does that, he certainly makes plays that bring out the fun in the team. 
It's really the only boost they can possibly get right now as they continue to deal with injuries to their beat-up core.
OKC fans welcomed the 10-time All-Star at the airport with chants of 'Melo!'

Jordan joined LeBron James to show support of those who wish to exercise their freedom of...

Wade opted in to his $24 million player option earlier this summer
Barkley spoke to the NFL Today crew about the response the president received in his home...

The restricted free agent has a deal in place that will keep him with the Bulls after a st...

James' support continues his trend of social activism on social media