2014 NFL Mock Draft: Blake Bortles still on top after Pro Day
The latest 2014 NFL Mock Draft from Will Brinson has Blake Bortles sticking up top after his pro day.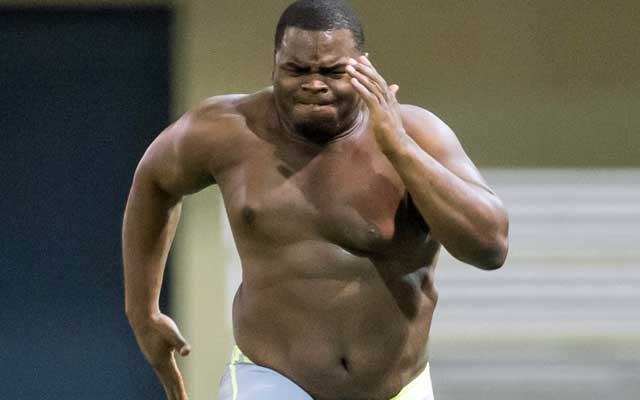 More NFL offseason: Mock Drafts | Prospect Rankings | Pro Days | Top free agents
Another week, another mock.
Once again free agency reminds us that while we might see holes in February, those holes are much less evident a month later.
The one consistent thing is Blake Bortles sitting up top. He's been there for a while and I'm not moving him out of the top spot thanks to UCF's pro day, which wasn't perfect but was certainly good enough. I don't think I'm moving him out of the top spot between now and the draft barring a major change. 
Bortles just fits what Bill O'Brien wants to do too well. 
1. Houston Texans -- Blake Bortles, QB, UCF -- Bortles wasn't perfect at his pro day (not that it really matters) but he showed improved footwork and didn't under throw any deep balls. Despite the talent at the other positions, Bill O'Brien is too intrigued by the upside Bortles offers. 
2. St. Louis Rams (via Washington Redskins) -- Sammy Watkins, WR, Clemson — One of the two best players in the draft and one of the two biggest positions of need for the Rams. Sam Bradford will have an arsenal at his disposal if the Rams snag Watkins. 
3. Jacksonville Jaguars -- Jadeveon Clowney, DE, South Carolina — The other best player and someone who the Jaguars can't pass on despite the need at quarterback. They've loaded up on defensive players in free agency but that doesn't mean they should pass on Clowney here. 
4. Cleveland Browns -- Teddy Bridgewater, QB, Louisville — The most pro-ready quarterback for a team that needs to win some games out of the gate — and a team that's desperately needed a quarterback for a long time — makes a lot of sense. 
5. Oakland Raiders -- Johnny Manziel, QB, Texas A&M — With Donald Penn and Austin Howard now in the fold, the Raiders could go quarterback or wide receiver here. Manziel might not fit the prototypical mold of a quarterback but he could rejuvenate this franchise.
6. Atlanta Falcons -- Khalil Mack, OLB, Buffalo — The Falcons appear to be shifting to a 3-4 defense and Mack's a perfect 3-4 outside linebacker for Mike Nolan's scheme. He can step in right away and make an impact on their ability to get the quarterback. 
7. Tampa Bay Buccaneers -- Greg Robinson, OT, Auburn — The Bucs nabbed Anthony Collins off of free agency but they also lost their top tackle. Picking up Robinson gives them a pair of bookend tackles for the long haul. Robinson will maul for Doug Martin in the run game. 
8. St. Louis Rams (MOCK TRADE WITH MINNESOTA VIKINGS) — Jake Matthews, OT, Texas A&M — Running back this trade scenario with Matthews falling to eight and none of the top three best quarterbacks left on the board. Minnesota can move down and Jeff Fisher can jump up and nab the piece he needs, plus bring his friend's kid into the fold. 
9. Buffalo Bills -- Taylor Lewan, OT, Michigan — The Bills need another tackle to protect EJ Manuel. Lewan's one of the three top tackles in this draft and might be pushed higher were it not for Robinson and Matthews on the board. 
10. Detroit Lions -- Justin Gilbert, CB, Oklahoma State — A lot of people can make the case that a wide receiver works here and I wouldn't fault the Lions for taking one. But they've got to beef up the secondary and Gilbert does just that. 
11. Tennessee Titans -- Anthony Barr, OLB, UCLA — Moving to Ray Horton's 3-4 scheme means the Titans need the personnel that fits that scheme. Barr's a potential beast of a pass rusher and makes for a perfect fit here. 
12. New York Giants -- Aaron Donald, DT, Pittsburgh — After losing Linval Joseph to free agency the Giants are pretty thin at defensive tackle on the depth chart. Pairing the underrated Donald with Cullen Jenkins in the middle of the line would be a nice start to fixing that problem. 
13. Minnesota Vikings (MOCK TRADE WITH ST. LOUIS RAMS) -- C.J. Mosley, LB, Alabama — The Vikings are quietly fashioning a potentially interesting defense after adding Linval Joseph and Captain Munnerlyn in free agency. The secondary could use work but so could the linebacking corps and Mosley's going to be good out of the gates. 
14. Chicago Bears -- Timmy Jernigan, DT, Florida State — With Donald off the board and defensive tackle looking like an issue while the Bears try and re-tool their defensive line, snagging a big, athletic body like Jernigan to sit in the middle of the defensive line.
15. Pittsburgh Steelers -- Darqueze Dennard, CB, Michigan State — Despite the return of Ike Taylor to Pittsburgh, this is a unit that needs to get better. Dennard took an unexpected dip in the draft here and could be a steal for Kevin Colbert here. 
16. Dallas Cowboys -- Louis Nix, DT, Notre Dame — The Cowboys need big bodies on their defensive line after losing DeMarcus Ware and Jason Hatcher to free agency. Few are as big bodied as Nix and he can step in and fill space for Rod Marinelli's line. 
17. Baltimore Ravens -- Eric Ebron, TE, UNC — Not sure how Ebron fell this far this time. And neither is Ozzie Newsome. And even though he's already got Dennis Pitta lined up at tight end, he's going to add a versatile weapon like Ebron to really let Joe Flacco spread the field with some weapons. 
18. New York Jets -- Mike Evans, WR, Texas A&M — Dream scenario for the Jets? Maybe an impossible scenario too — I had to double check I didn't already have Evans off the board. But think about if their offense was suddenly Geno Smith/Michael Vick throwing to Eric Decker and Evans. They need a corner too but that seems kind of acceptable in terms of potential production in the pass game.
19. Miami Dolphins -- Ha-Ha Clinton Dix, S, Alabama — The obvious choice here is a lineman, regardless of how many Miami acquired this offseason. But they need help on the back end and Clinton-Dix has the potential to shore up that defense from the start with his impressive safety play. 
20. Arizona Cardinals -- Kony Ealy, DE, Missouri — Signing Antonio Cromartie beefs up their cornerback position in a big way and makes that secondary seriously scary. Adding a piece to the front seven like Ealy, who's crazy athletic, only makes this top-10 defense more versatile. 
21. Green Bay Packers -- Calvin Pryor, S, Louisville — Ted Thompson prefers going best player available but there's a nice convergence of need and value here in the hard-hitting Pryor, who will improve the back end of the Packers defense.
22. Philadelphia Eagles -- Jason Verrett, CB, TCU — Philly keeps building a sneaky-good defense, and adding a cover corner like Verrett, even if he lacks a little in size, will only serve them better for the future. 
23. Kansas City Chiefs -- Odell Beckham, Jr., WR, LSU — After missing on Emmanuel Sanders in free agency, the Chiefs need to land another piece across from Dwayne Bowe. Beckham is a wonderful complement to their current weapons and a potentially explosive playmaker that Alex Smith needs. 
24. Cincinnati Bengals -- Bradley Roby, CB, Ohio State — There are some red flags with Roby but he's as talented as they come in this draft class for corners. The Bengals gamble a little bit that they can keep getting the best out of some questionable corners. 
25. San Diego Chargers -- Kyle Fuller, CB, Virginia Tech — Cornerback run! Actually it's been happening for a while now. And it's because the teams at the bottom of the draft need corners and aren't scared of taking advantage of the depth at the position to improve their secondaries. That's exactly what San Diego is doing here. 
26. Cleveland Browns (from Indianapolis Colts) -- Marqise Lee, WR, USC — With their quarterback acquired, the Browns can use this pick to grab him some more weapons. Lee's an impressive route runner with good hands who can start opposite Josh Gordon right away. 
27. New Orleans Saints -- Dee Ford, DE, Auburn — The Saints are just fine on offense, thanks for asking. Instead they keep giving Rob Ryan new toys to play with. The latest is an athletic pass rusher who can move all over the place. 
28. Carolina Panthers -- Zack Martin, OT, Notre Dame — Most will have wide receiver here, but the Panthers need help on offensive line just as badly. Martin falling is a pleasant surprise for GM Dave Gettleman. 
29. New England Patriots -- RaShede Hageman, DT, Minnesota — With the Vince Wilfork situation potentially coming to an ugly head, the Patriots need to plug someone in the middle of the defensive line for the future, so they nab this meaty Minnesota defensive tackle. 
30. San Francisco 49ers -- Kelvin Benjamin, WR, FSU — Keep coming back to this pick as the 49ers want to diversify their red zone weapons for Colin Kaepernick. 
31. Denver Broncos -- Xavier Su'a Filo, OG, UCLA — Zane Beadles is headed to Jacksonville and if the Broncos learned anything from their last game of 2013 it's that protecting Peyton Manning up the middle is extremely important. 
32. Seattle Seahawks -- Brandin Cooks, WR, Oregon State — The Seahawks already have plenty of speed in their wide receiver corps with Percy Harvin, but he missed a lot of time last year. Nothing wrong with adding more speed at the bottom of the draft. 
The Chargers are hoping that Philip Rivers can play on Sunday

This is the biggest showdown of the week in the NFL

The battle between the Rams' offense and Vikings' defense will be waged in the middle of the...
An 'inappropriate' comment by the Cowboys' owner was caught on video in 2013

Here's every official injury designation for each NFL team for Week 11

The Chargers can't seem to avoid controversy this year