Agent's Take: The 3 NFL teams facing the worst salary cap situations
The Bills, Saints and Dolphins have some serious work to do to get under the NFL cap for 2016. Here's some of the tough choices each team faces.
There are different ways for NFL teams to manage the salary cap. Some teams place more importance on the long-term implications of player signings and roster moves than others. Teams believing they are close to winning the Super Bowl are sometimes more willing to push the envelope with the salary cap. This is how long-range salary cap planning can get sacrificed for short-term gain.
Contract restructurings, pay cuts and salary cap casualties can become a way of life for those teams with a more aggressive approach to the salary cap. In a typical restructuring, a player will convert some portion of his base salary or roster bonus (without reducing salary) into signing bonus because it can be prorated or spread out evenly over the life of a contract (most other salary components usually can't be prorated) for a maximum of five years. The team gets a lower cap number in the current season while the player gains more short-term security.
Take J.J. Watt for example: the Houston Texans created $8 million of 2015 cap room by converting the three-time NFL Defensive Player of the Year's $10 million fully guaranteed roster bonus into signing bonus. The bonus was payable on the 15th day of the league year (March 24). As signing bonus, the Texans were able to prorate this $10 million over the first five remaining years on Watt's contract. His 2015 cap number went from $21.969 million to $13.969 million in this maneuver. Watt's 2016, 2017, 2018 and 2019 cap numbers each increased by $2 million with the restructuring.
A relatively new phenomenon is for teams to take away the player's option of restructuring a contract. Cap flexibility has started being built into contracts, especially the most lucrative ones, with teams having the ability to automatically create cap room at any time during a deal with a discretionary right to convert a portion of a player's base salary or roster bonus into signing bonus.
When a player is released or traded, the remaining proration of the salary components treated like signing bonus immediately accelerate into his team's current salary cap. There are two major exceptions to this general rule of bonus proration accelerating. Only the current year's proration counts toward the cap with players released or traded after June 1. The bonus proration in future contract years is delayed until the following season. A team can also release two players each year prior to June 1 (known as a Post-June 1 designation) that will be treated under the cap as if they were released after June 1. With a post-June 1 designation, a team is required to carry the player's full cap number until June 2 even though he is no longer a part of the roster. The player's salary comes off the books at that time unless it is guaranteed.
NFL teams were informed at a December league meeting that the 2016 salary cap is preliminarily projected to be between $150 million and $153.4 million. When the 2016 salary cap is set in late February or early March, the expectation is for it to be at the high end of projections if not over the preliminary numbers like it has been in the last two years.
Below are some options for the three teams with the worst salary cap situations to become compliant with the salary cap when the new league year begins on March 9, assuming it is set at $153.4 million. Other potential key offseason developments have also been identified with the teams.
Here are some things included in each team's calculations to give a more complete cap picture:
•Fourth-year proven performance escalators earned by third through seventh round picks under the 2011 Collective Bargaining Agreement's rookie wage scale
•Tenders for restricted free agents and exclusive rights players with expiring contracts
•Voidable contract years
•Unused cap room
In the offseason, only the top 51 cap numbers count on the cap. These projections include 51 players unless noted otherwise.
Salary cap overage: $11.049 Million (before start of waiver period)
Comparatively speaking the Saints are in good shape with the cap. There was a $23 million overage this time last year.
The Saints didn't waste any time by releasing five-time All-Pro guard Jahri Evans, linebackers David Hawthorne and Ramon Humber and wide receiver Seantavius Jones once the waiver period began the day after Super Bowl 50 (February 8). $3.1 million of cap room was gained from Evans, whose $1 million third-day-of-the-league-year roster bonus (March 11) and $2 million of his $3.8 million base salary were set to become fully guaranteed on February 10, the third day of the waiver period. Releasing Hawthorne freed up $2.25 million of cap space.
The departure of the four players created $6.851 million cap room collectively to bring the overage down to $4.198 million. $7.527 million of dead money (salary cap charges for players no longer on a team's roster) was generated in the process. The Saints already have $22.32 million of 2016 dead money, which includes $12.1 million from Junior Galette's release last July.
The elephant in the room is Drew Brees' league-high $30 million 2016 cap number as he enters the final year of the five-year, $100 million deal he signed in 2012 to become the NFL's first $20 million per-year player and reset the league's pay scale. $10.85 million of his $19.75 million base salary becomes fully guaranteed without an offset on Feb. 10.
This means the Saints wouldn't be able to reduce the guaranteed money owed to Brees in the extremely unlikely event he is released, which would leave the Saints with a $20.85 million cap charge, by the amount of his new deal with another team. In essence, Brees would receive the $10.85 million from the Saints as well as the full salary from his new contract with another club.
The 37-year-old may not be willing to do the Saints any favors with a massive pay cut in an contract extension, like Tom Brady has done with the New England Patriots. Brees had acrimonious negotiations with the Saints as a franchise player in 2012, which led to him filing and winning a grievance against the team clarifying whether franchise tags applied across teams or were specific to teams. Brees is also a former member of the NFLPA's executive committee and was a named plaintiff in an antitrust lawsuit against the NFL during the 2011 lockout. Realistically, $7 million to $10 million of cap space can be gained from an extension depending on the deal's structure, total and length.
An easy salary conversion can be made with Cameron Jordan's contract. $4.8 million of cap room will be created by converting the defensive lineman's fully guaranteed $6 million roster bonus (due March 13) into signing bonus.
There will be other cuts made by Saints. Cornerback Brandon Browner tweeted a couple days before Super Bowl 50 that he won't be with the Saints next season. Apparently, he has been informed of his eventual release. Browner, who signed for $15 million over three years in the offseason, set a single season NFL record in 2015 with 24 penalties.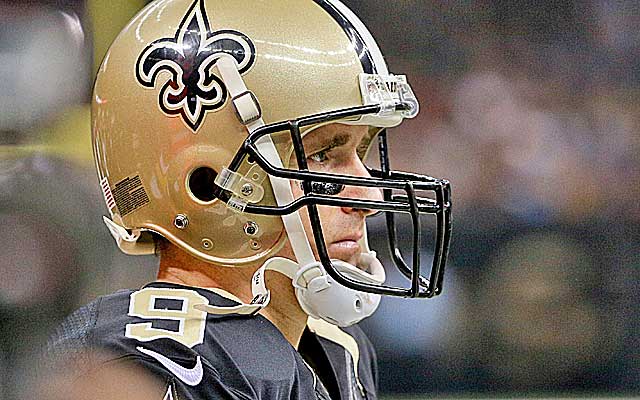 Since his $2.75 million 2016 base salary is already fully guaranteed, he is a good candidate for a post-June 1 designation. The Saints would pick up $2.25 million of cap room this way as opposed to just $950,000 with a conventional release.
Linebacker Dannell Ellerbe could get a reprieve from the chopping block because of Hawthorne and Humber being let go. New Orleans will get $4.5 million of cap space if Ellerbe, who was acquired from the Miami Dolphins in a trade last March, is released before his $4.1 million 2016 base salary is fully guaranteed on February 10.
It may also be time for the Saints to part ways with Marques Colston, who is the franchise's all-time leading receiver. The 32 year old followed up his offseason pay cut with career lows in most major statistical receiving categories. $3.2 million of cap room will be created with his departure.
2015 first-round pick Andrus Peat could push right tackle Zach Strief out the door. He's another a post-June 1 designation option. Releasing him would only net $1,243,750 without its usage and $3,443,750 with it. It may be tempting to get rid of safety Jairus Byrd, who hasn't lived up to the six-year, $52.5 million deal (worth up to $54 million with salary escalators) he signed as a free agent in 2014, before $6 million of his $7.4 million 2016 base salary is fully guaranteed on February 10. That would create another hole to fill on a historically bad defense.
Pulling the plug on Byrd after paying him $20.4 million for two seasons would add $500,000 to the Saints' cap unless a post-June 1 designation is used. $7.5 million of cap room could be gained this way but there would be $8 million in dead money in 2017.
Releasing free agent pickup C.J Spiller, who was a major disappointment, from his four-year, $16 million deal (worth up to $18 million through salary escalators) is also cap-prohibitive. The running back's dead money would be $800,000 more than his $4.5 million cap number without post-June 1 treatment.
Salary cap overage: $6.037 Million
General manager Doug Whaley recently indicated that a major offseason focus will be on retaining key players heading to free agency. The left side of the offensive line, tackle Cordy Glenn and guard Richie Incognito, will be the priorities.
Glenn should be a hot commodity in free agency if he isn't re-signed because left tackles that excel in pass protection are hard to find. His asking price has been driven up by Lane Johnson's recent five-year, $56.25 million extension (worth up to $60 million through salary escalators) with the Philadelphia Eagles containing $35.5 million in guarantees. Johnson is a right tackle, a position paid considerably less than left tackles, that is expected to eventually switch to the other side of the offensive line. Placing a franchise tag on Glenn should be $13.625 million with a $153.4 million salary cap.
Incognito made the most of the opportunity Buffalo gave him after sitting out the 2014 season in the aftermath of the bullying scandal relating to former Miami Dolphins teammate Jonathan Martin. The 32 year old was arguably the NFL's best left guard this season. Incognito should get the richest contract of his career, which has been $4.3 million per year from the Dolphins in 2011. His baggage will likely prevent the deal from approaching the nearly $8 million per year that 31-year-old Marshal Yanda received from the Baltimore Ravens on a four-year extension during the middle of the season.
It's a foregone conclusion that four-time Pro Bowl defensive end Mario Williams will be released. He wasn't a good fit in head coach Rex Ryan's defense and reportedly "checked out" early on according to an unnamed teammate. Getting out from under Williams' $19.9 million cap number will create $12.9 million of cap space for the Bills.
Charles Clay's five-year, $38 million contract containing $24.5 million in guarantees was designed with an extremely large $13.5 million 2016 cap number to discourage the Dolphins from matching Buffalo's offer sheet. $7.5 million of cap room can be gained by converting Clay's fully-guaranteed $10 million first day of the league year roster bonus to signing bonus.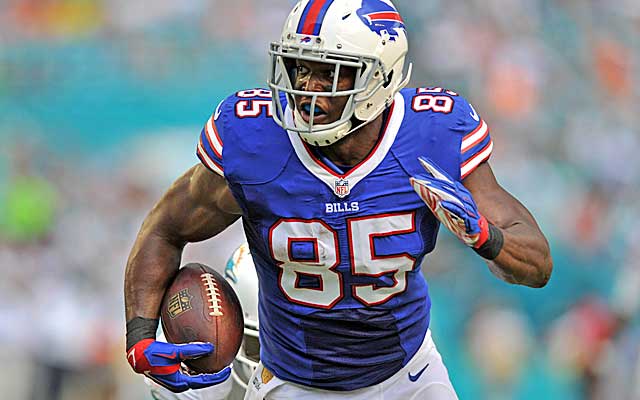 Leodis McKelvin will need to take a pay cut to stick around because $3.9 million is too much for a fourth cornerback. Should he resist efforts to lower his salary, Buffalo will pick up $3.9 million of cap space by releasing him.
Backup offensive lineman Kraig Urbik's six-year tenure with the Bills could come to an end. There will be $1.775 million in cap savings if he is let go. Anthony Dixon could also be expendable because Buffalo is deep at running back. His departure would create another $1.15 million of cap space.
An extension could also be in order for Tyrod Taylor, who is the NFL's lowest-paid starting quarterback that isn't on a rookie contract. He signed a three-year, $3.35 million deal (worth up to $10.35 million through incentives and salary escalators) in last March free agency. Fortunately, his 2017 contract year is voided because of his playing time this season.
Salary cap overage: $1.515 Million
Miami's cap situation will be a little better than suspected once an adjustment for performance bonuses is made. That's because there will be a credit for almost $2.175 million primarily coming from safety Louis Delmas and linebacker Kelvin Sheppard's unearned incentives that were counting against the cap during the season.
Every bit helps, since there is speculation that the Dolphins will be aggressive in free agency once again to fix a suspect defense. The Dolphins had no qualms about releasing or trading several players last offseason that were deemed to be underperforming relative to their salaries.
Restructuring defensive tackle Ndamukong Suh's six-year, $114.375 million contract, which made him the NFL's highest-paid non-quarterback, is being seriously considered because he has the league's second-biggest 2016 cap number at $28.6 million. $18.18 million of cap space can be freed up by converting $22.725 million of Suh's $23.485 million base salary into signing bonus. Miami should be careful about going to such an extreme with a restructure because Suh's 2017 through 2020 cap numbers would each increase by $4.545 million.
Quarterback Ryan Tannehill, who signed a four-year, $77 million extension in the offseason, is another restructure candidate. $6.864 million of cap room can be gained by reducing Tannehill's base salary to $760,000 from $9.34 million in a salary conversion.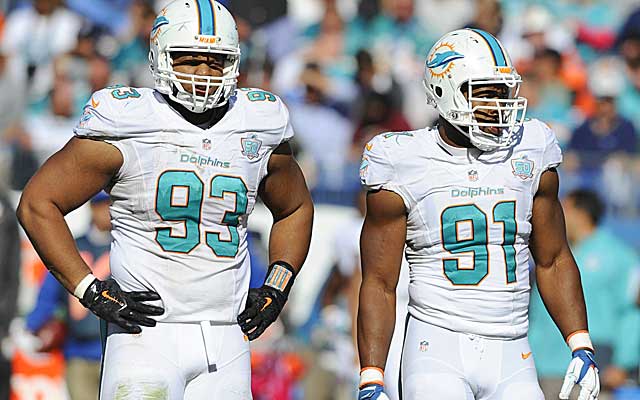 One easy move should be releasing defensive end/outside linebacker Quinton Coples, who the Dolphins took a flier on with a waiver claim when the New York Jets cut him in November. Coples didn't record any tackles in the six games he played with the Dolphins. $7.751 million of cap space will be gained if he's gone before his 2016 salary of the same amount becomes fully guaranteed on March 9.
Miami's toughest roster decisions may come with aging veterans Brent Grimes and Cameron Wake. Grimes, who turns 33 over the summer, isn't the cornerback he was as a second-team All-Pro in 2014. It's a $6.5 million cap savings to let him go.
Retaining defensive end Olivier Vernon could cost Wake his roster spot. Vernon came on like gangbusters during the second half of the year after Wake tore his left Achilles when he had seven sacks in seven games played. Vernon's 81 quarterback pressures (combined sacks, quarterback hurries and quarterback hits) were fifth in the NFL according Pro Football Focus. Miami would pick up $8.4 million of cap space from releasing Wake, who is 34.
Vernon reportedly intended to use the maximum value of Cameron Jordan's five-year extension with the Saints, which averages $12 million per year including incentives and contains $33.469 million in guarantees, as a salary floor for a new deal prior to his stellar finish to the season. It will be $15.434 million to franchise Vernon with a $153.4 million salary cap.
Tight end Jordan Cameron was a disappointment. He made $7.5 million while catching 35 passes for 386 yards with three touchdowns. Miami would get $7.5 million of cap room by parting ways with Cameron before his $7.5 million 2016 salary becomes fully guaranteed on the March 10, the second day of the league year.
Wide receiver Greg Jennings, who was buried deep on the depth chart for most of the season, is a luxury with a $5.5 million 2016 cap number. Letting him go yields $4 million of cap space.
---
Joel Corry is a former sports agent who helped found Premier Sports & Entertainment, a sports management firm that represents professional athletes and coaches. Before his tenure at Premier, Joel worked for Management Plus Enterprises, which represented Shaquille O'Neal, Hakeem Olajuwon and Ronnie Lott.
You can follow him on Twitter: @corryjoel | You can email him at jccorry@gmail.com
Pick Six Newsletter
Get the day's big stories + fun stuff you love like mock drafts, picks and power rankings.
Please check the opt-in box to acknowledge that you would like to subscribe.
Thanks for signing up!
Keep an eye on your inbox for the latest sports news.
Sorry!
There was an error processing your subscription.
It's still not clear how officials will be able to enforce the rule in real time

Manning responds after Ramsey indicated that Manning's success is a product of Odell Beckh...

SportsLine's Mike McClure, a DFS pro with more than $1M in winnings, gives optimal lineup...
Ramsey, the Jaguars' star cornerback, isn't a big fan of the Bills' first-round pick

The fan bought the billboard ahead of a preseason Super Bowl LII rematch on Thursday

Rudolph reiterated that throwing a deflated football is not, in fact, an advantage for a q...