Eleven cases where extension can be best for player and team
They were all drafted in 2010 and have one year left on their contracts. Pat Kirwan says teams should rush to extend Mike Williams, Jimmy Graham, Greg Hardy and eight others.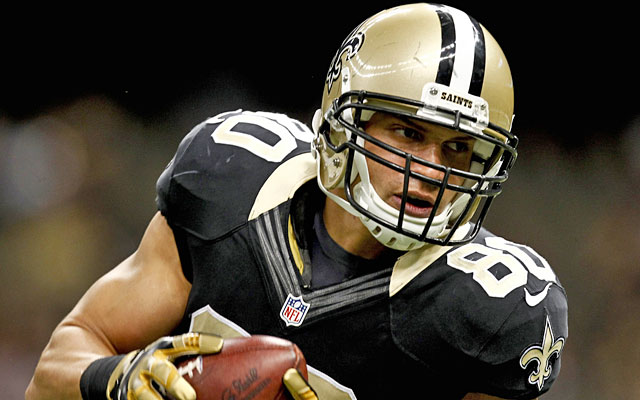 The draft picks are all signed. It's time for clubs to turn their attention to young veterans to extend. The personnel people around the league are looking closely at the Victor Cruz deal the Giants put together and wondering how it may apply to their players in similar situations.
I went through every roster, targeting players I would attempt to extend right now. The risk of injury is always a good reason for certain players to talk with their club. The team shouldn't want to get into a situation next year where they have to fall back on the franchise tag to retain the services of a bright young player who will be on the verge of free agency in 2014. When both sides have something to gain there's a chance a deal can get done.
The 11 players I identify here as priority signings all come from the draft class of 2010 and were not first-round picks. Consequently they all signed four-year deals and are looking at the last year of their contract. There is also enough on- and off-field information to do a deal. Club executives who claim they want to see a little more before they do a deal will usually pay a lot more at the end of this season to retain the services of the player.
Of course there's always the risk of injury and the club would get left holding a bad deal, but that's the case with every player. If clubs go down the road of the franchise tag it will be a significant salary cap hit, restrict the club from tagging another veteran and potentially lose the player in two years. It happened to the Panthers when they tagged Julius Peppers twice and couldn't get a deal done. Most of the players on my list are 25-26 years old and tagging them in 2014 and 2015 would still put them on the open market before they hit 30.
Some players who fit the profile received long-term deals before they could ever reach free agency. The Steelers wrapped up wide receiver Antonio Brown, the 49ers locked up linebacker Navorro Bowman and Seattle inked safety Kam Chancellor, to name a few, but there is more work to be done.
The first two players on my list are in situations that relate directly to the new Cruz contract and Cruz has been a great performer for the Giants with 168 receptions and 19 touchdowns over the past two seasons.
1. WR Mike Williams, Tampa Bay Buccaneers: Williams has started 47 of his 48 NFL games with 193 receptions and 23 touchdowns. He is in the last year of his rookie deal and scheduled to make $1.4 million. I would think the Cruz deal would be appealing to him.
2. WR Eric Decker, Denver Broncos: Decker has been productive with Tim Tebow and Peyton Manning throwing the ball. In the past two seasons he has started 28 of 32 games and caught 129 passes with 21 touchdowns. Last season in the playoffs against the Ravens he caught six balls for 84 yards. He is in the last year of his contract and scheduled to make $1.3 million.
3. TE Jimmy Graham, New Orleans Saints: Graham might be the most dangerous receiving tight end to come along in a decade. In the Saints' offense, there is no stopping him. He is in the last year of his four-year deal at $1.3 million. When you consider he already has 215 receptions and 25 touchdowns in 46 games just get ready to make him the highest-paid tight end. The Patriots' deal with Rob Gronkowski might be low.
4. DT Geno Atkins, Cincinnati Bengals: He's in the last year of his rookie four-year deal and many consider him the best 4-3 defensive tackle in the game. Using a franchise tag next year would start the meter running on losing the player after 2015. He is scheduled to make $1.4 million this season. With 20 sacks and six forced fumbles in the past two years, why wait? The Bengals have the salary-cap space to do a deal now.
5. TE Dennis Pitta, Baltimore Ravens: Pitta is not in the same league as Graham but he's good enough for the Ravens to put a $2.02-million tender on him. In the past two seasons he has 101 receptions and 10 touchdowns. In six postseason games, he has 21 receptions and four touchdowns. With Anquan Boldin no longer in a Ravens uniform, Joe Flacco will count on Pitta even more.
6. DE Greg Hardy, Carolina Panthers: Another 2010 pick in the last year of his contract, which pays $1.35 million. In 2012 Hardy had 11 sacks, 60 tackles and two forced fumbles. In his three years he has 18 sacks and six forced fumbles. If he gets to the market after 2013 and has a similar season to last year he will get paid.
7. CB Alterraun Verner, Tennessee Titans: He didn't really become a 16-game starter this past season but he has played enough in his first three years to accumulate 215 tackles, six interceptions, 28 passes defended and two forced fumbles. He is scheduled to make $1.32 million this year and be a free agent in 2014. Young corners with starting experience are hard to find and he will look like an upgrade in 2014 to a number of teams.
8. LB Perry Riley, Washington Redskins: Like Verner, he is scheduled to make $1.32 million in the final year of his rookie deal. Like Verner he is emerging as a solid starter and he has the numbers to back it up. In the past two seasons, Riley has started 24 games, had 183 tackles, 4½ sacks, 11 passes defended and three fumble recoveries. Check the Redskins' win over the Ravens last year if you aren't familiar with Perry Riley. He had 15 tackles in the game.
9. LB Sean Lee, Dallas Cowboys: Lee missed 10 games last year but he is the leader of the defense. New defensive coordinator Monte Kiffin will rely heavily on Lee to run his defense. In his past 21 starts, Lee has been in on 105 tackles with five interceptions and 10 passes defended. He is only scheduled to make $630,000 this season and he knows about injuries, which should motivate him to sign a deal.
10. OT Rodger Saffold, St. Louis Rams: Saffold has played left and right tackle and he will only make $655,000 this year. He has started all 35 games he has been healthy enough to play and he has given up 15 sacks -- or a sack every other game. He doesn't deserve elite tackle money but the Rams can't afford to lose him.
11. OG Jon Asamoah, Kansas City Chiefs: Guards on bad teams like the Chiefs fly under the radar for fans but not pro personnel directors. In his 31 starts since being drafted in 2010, Asamoah has given up just five sacks and he's a solid power run blocker. When Andy Reid was in Philadelphia he locked up players like this early in their careers. Big Jon has one year left at $1.32 million and the Chiefs have some cap space.
Any of these players who make it to free agency next year will be on the top of most personnel boards because of age and production. The teams that own their rights now need to lock them up and not start over at their position. Signing any of these 11 players is a win-win for the club and the player.
This might be the one guy who actually understands the catch rule

Jackson is 1-29 since becoming the Browns coach in 2016

Also featuring holiday-themed celebrations, a pit crew, the Ickey Shuffle, and some racewa...
The former NFL quarterback sounds like he's ready to move to the front office

Mike Tierney has owned NFL over-unders and just locked in a strong pick for 'Monday Night...

Davante Adams was forced from the game with a concussion after Davis' headshot