Geno Smith still the Jets starting QB ... for now
Although he's committed 11 turnovers through the first four games of his career, don't look for the Jets to bench Geno Smith.
• 2 min read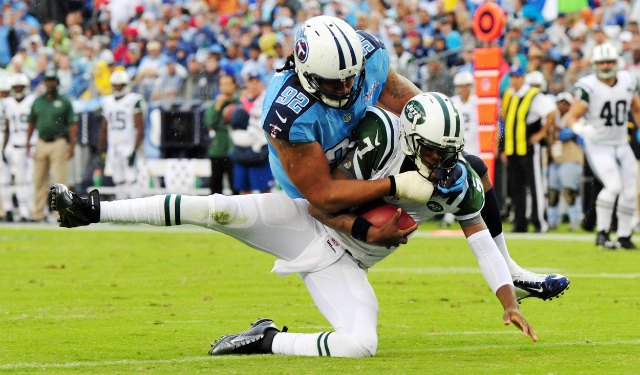 Up until Sunday, rookie Jets quarterback Geno Smith had performed admirably this season. Sure he had made too many mistakes, turned the ball over too many times. But he also had played better than many would have expected while leading New York to a surprising 2-1 record.
And then came the Titans game Sunday. And it was terrible, as Smith committed four turnovers (two interceptions, two fumbles) in a 38-13 loss. Other than that, his stats looked OK (23 of 34 for 289 yards and a touchdown), but in coach Rex Ryan's mind, Smith's performance wasn't acceptable.
Which you could understand after watching Smith's version of the Mark Sanchez butt fumble here (in this case, we'll call it the behind-the-back fumble).
But in case you thought the team might be willing to make a switch so soon, dumping Smith on the bench and starting Matt Simms (who seemed quite capable in the preseason), you're going to have to wait a little longer.
Writes the New York Daily News' Manish Mehta: "Geno Smith isn't going anywhere anytime soon."
One reason Jets fans might think otherwise: Smith is tied with Giants quarterback Eli Manning for the most turnovers in the league with 11. And on Sunday, the Titans took advantage by scoring 28 points off Smith's miscues in delivering an embarrassing loss for New York. But remember, the Jets took Smith with their second-round pick in the 2013 draft because they thought (hoped?) he'd be the successful franchise quarterback Mark Sanchez never could be.
To bench him now for the unproven Simms would be a confidence breaker for Smith. Why would you do that to somebody you're going to rely on for potentially the next several years? On the other hand, Ryan was accused many times of coddling Sanchez. Right now, that's not what he's publicly doing with Smith, saying he won't give Smith a pass just because he's a rookie.
"How many times are we going to make that an excuse?" Ryan asked "One of these days we're going to have to learn from them and it better be soon…. We better learn in a hurry. It has to get better."
But Ryan also hasn't committed to Smith in the long-term, basically naming Smith the starting quarterback every week. And sure, Ryan is coaching for his job now, but doesn't it make more sense to make Smith the starter for good and take his chances that he's made the right choice? Instead of leaving it up in the air every week with the possibility of a Sanchez return from injury later in the season floating around the organization?
"I have total faith in Geno," right guard Willie Colon told the paper. "We're going to ride with him until the end."
Unless, of course, the Jets don't.
Follow Josh Katzowitz on Google+
The Chargers, after starting 0-4, can take first in the AFC West with a win Sunday

The Lions cruised to a victory but will need to win out to have any chance of reaching the...

Here's every official injury designation for each NFL team for Week 15
This might go down as the best catch of Week 15

Our computer model simulated every Week 15 NFL game 10,000 times with very surprising resu...

Ryan Shazier and the Steelers were the big winners in Pro Bowl voting that was unveiled on...