NFL Cuts Musings: Tape shows Michael Sam wasn't good enough
Michael Sam can contribute in the NFL, in due time. After watching tape of his preseason with the Rams, it's clear he wasn't quite good enough to stick in St. Louis.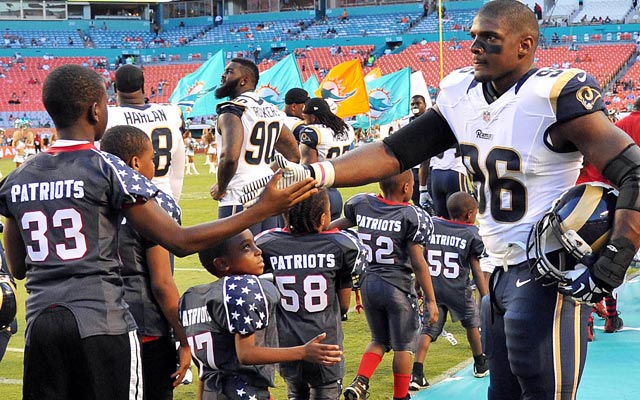 Did rookie defensive end Michael Sam deserve to make the St. Louis Rams' 53-man roster?
The answer is no.
Let's put aside the social issue of him being the first openly gay player in the NFL and just focus on the football. Sam did some good things in the preseason, but he did it against backup tackles, some of the already-cut variety.
I went back and studied Sam's preseason games and came away with this conclusion: He plays hard and has some pass-rush ability, but he needs a ton of seasoning.
One more thing: Undrafted rookie Ethan Westbrooks, who made the team, outplayed him.
Sam, who was a facing long odds as a seventh-round pick, was credited with two sacks against the Browns in Week Three, but the second one wasn't his to be given. He did nothing on that play, and fell on the pile to get the sack. On the first one, he did beat Browns tackle Martin Wallace, who is an undrafted free agent who actually made the Browns' 53-man roster.
On that sack, Sam looked like an NFL pass rusher, which is why I think he needs more seasoning. There is flash there, but that's against backup linemen. I don't think he's explosive enough to win against good ones, although he did beat Packers tackle Derek Sherrod -- a first-rounder in 2011 -- for a sack, but Sherrod has been plagued by injuries in his time with Green Bay.
There's also a play in that Browns game with 7:41 left in the third quarter that concerned me. The Browns have a first-and-goal at the 1. When I ran that play over and over again, Sam was so slow out of his stance that he was still down when the rest of the Rams line was already engaging the Browns linemen.
Those are the things that make me wonder about his explosiveness. Westbrooks, who is shorter and stouter, can turn the corner faster. He's also quicker off the ball, which is why it made sense to keep him.
But all is not lost for Sam. I give him a lot of credit for losing weight to get faster before camp. Now he just needs to learn the tricks of the trade and work on getting off the ball quicker.
That's why the practice squad makes sense. I would be shocked if a team claims him on waivers, which means the Rams will sign him to the practice squad where he gets to learn from good ones in Robert Quinn and Chris Long.
More Musings
•In the past, teams would hold onto draft picks longer than they should have. That's not the case anymore. With a rookie wage scale, there isn't as much patience. Here's a look at some of the premium draft picks cut Saturday.:
-- WR T.J. Graham, 2012 third-round pick, released by Buffalo
-- OLB John Simon, 2013 fourth-round pick, released by Ravens
-- CB Leon McFadden, 2013 third-round pick, released by Cleveland
-- DT Devon Still, 2012 second-round pick, released by Bengals
-- WR Stephen Hill, 2012 second-round pick, released by Jets
-- WR Josh Boyce, 2013 fourth-round pick, released by Patriots
With the economics the way they are, it makes sense to cut loose a player not living up to the draft hype -- even if it's only been a year or so.
•Kickers are becoming the new running backs: They are quickly replaceable.
Look at the final cuts from Saturday.
The Philadelphia Eagles cut Alex Henery and kept rookie Cody Parkey, who made two 50-plus field goals in the preseason finale.
The Kansas City Chiefs cut loose Ryan Succop and kept rookie Cairo Santos. That move saves the Chiefs $1.5 million.
Those transactions come after the Cardinals cut Jay Feely for rookie Chandler Catanzaro and the Bucs cut Connor Barth for Patrick Murray, a moves that saved the team about $1.5 million.
This is a risky way to go for teams, but there are so many good kickers out there and it makes sense to go with the one with the stronger leg, not just on kicks but kickoffs.
•I asked several general managers and coaches how big a loss Aldon Smith would be for nine games for the San Francisco 49ers. Three of them replied with one-word answers: Big.  Two others said, "Really big." And one GM said. "They will be without their two best defensive players for half the season. That is tough to overcome." He was referring, of course, to linebacker NaVorro Bowman being out until October or so until the recovers from his torn-up knee that he injured in the NFC Championship Game. This will be a real test for the 49ers. I do like Corey Lemonier, who played some as a rookie last season, to fill in for Smith. He's not close to being in the same class, but he has pass-rush skills. As for Bowman, there is no replacing his coverage skills, even if rookie Chris Borland had a pick-six in the final preseason game.
•It looks like the career of Champ Bailey has come to the end with the news that the Saints released him. Bailey's next stop is the Pro Football Hall of Fame, unless he tries to give it another shot. Bailey got a $500,000 bonus to sign with the Saints, so he got that out of the deal. Bailey is one of the classiest players I've dealt with in the media over the years. He could be a great television analyst.
•When I visited Bucs camp earlier this month, Gerald McCoy was killing the Tampa Bay guards. That's not such a big deal since he kills a ton of guards and could be the NFL Defensive Player of the Year. But it was embarrassing seeing what he did to the Bucs guards. At the time, general manager Jason Licht promised me something would be done. So, first, he trades for Logan Mankins from the New England Patriots. But it didn't end there. Jamon Meredith, who opened the summer as the starting right guard, was cut Friday. That's cold, baby. Meredith was also one of the team's backup tackles, but the Bucs opted for rookie Kevin Pamphile to handle that role. Pamphile has spent the summer working at tackle, but the idea is that he could cross-train at guard once he learns all the tackle requirements.
•Another player who went from starter to getting cut was Jaguars center Mike Brewster. He just wasn't strong enough at the point of attack and he had big problems with his shotgun snaps. It appears the Jaguars are set to start rookie sixth-round pick Luke Bowanko at center. He started slow this summer, but even after dinging an ankle he has come on strong to win the job. He needs to get stronger as well, but he is a big kid who will mix it up. The Jaguars will start a rookie center, as well as rookie right guard Brandon Linder, the team's third-round pick. Linder might have been their best lineman this summer. So by Week Four, there's a good chance that the Jaguars could have a rookie starting at center, right guard, quarterback (Blake Bortles) and receiver (Allen Hurns, Marqise Lee and/or Allen Robinson).
•I was way wrong about Josh Boyce. I thought he would come into the NFL and develop into a quality player. But the Patriots cut him Saturday before his second season. Boyce caught nine passes last season. Somebody will claim him.
•The release of veteran tackle Eric Winston by Seattle shouldn't come as a huge surprise. When the tackle-needy Cardinals didn't bring him back, you knew there were issues. Winston's been a nice, solid player in his career, but this could be his last stop.
•When Stephen Hill came out of Georgia Tech he was raw. If he worked, the idea was he could follow a path like Calvin Johnson, who also came out of an option-heavy offense at Tech to be a big-time receiver. The problem was Hill never got it. He never translated his size and speed into becoming a big-play receiver, so the Jets cut him Saturday. That led to agent Alan Herman blaming it on the Tim Tebow-Mark Sanchez mess. Herman's been around for a while. He knows players get cut because they aren't good enough. Hill's lack of development is on Hill -- not anybody else.
•When I was in Tennessee's camp last summer, the coaches raved about corner Tommie Campbell. He was tall at 6-3, and the staff thought they had a player who could be like the Seattle corners. He was running with the first team in camp, but quickly fell to the second team. On Friday, he was cut. Campbell has the look, but it never translated on the field.
•Denver's release of veteran Kevin Vickerson shows it likes the idea of getting younger. Its tackles are now Terrance Knighton, Sylvester Williams, Marvin Austin and Mitch Unrein. Knighton is the oldest at 28, Unrein is 27th and Austin and Williams are 25.
These prospects aren't first-round locks now but could be in for a rise after the Senior B...

Newman was the oldest defensive player in the league to get regular snaps this season

Some Midwest companies seem to think that no Vikings fans will make it out of Philadelphia...
Mike Tierney has owned NFL totals and has a strong pick for the NFC Championship Game

Jackson was upset Pittsburgh players were looking ahead to a Patriots rematch

The bulletin board material is piling up for Sunday's AFC Championship game