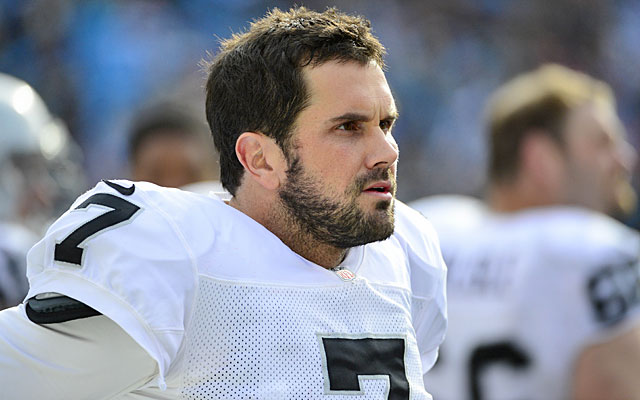 More NFL offseason: Mock Drafts | Prospect Rankings | Pro days | Top free agents
Will Johnny Football turn into 'Johnny First-Round Bust?' Maybe not, but it's almost a guarantee that one of the quarterbacks in the 2014 NFL Draft class will become a bust. 
Nothing's a certainty in the draft, except for the one thing that actually has been: Whenever there's multiple quarterbacks drafted in the first round, you can count on at least one of them being terrible.
There could be as many as five quarterbacks selected in the first round on May 8 and the law of averages says that one of them is probably going to be the next Tim Couch. Speaking of Couch, he came out of the last draft where five quarterbacks were selected in the first round: the 1999 NFL Draft.
Let me list off all the first-round quarterbacks from the 1999 draft so we can all cringe together: Tim Couch, Donovan McNabb, Akili Smith, Daunte Culpepper and Cade McNown. Three of the five guys listed didn't even make it to the 2004 season. 
Basically, that's the gamble you're taking drafting a quarterback in the first round.
Even the gold standard of quarterback drafts, the 1983 draft, had a few bombs. Of the six quarterbacks taken in the first round, three of them -- John Elway, Dan Marino and Jim Kelly -- ended up in the Hall of Fame. Then there was Tony Eason and Todd Blackledge, two guys who won't ever be anywhere near the Hall of Fame unless they pay for a ticket.
Who will be the Eason of 2014? Actually, let's not even think about that, hopefully no one is the Eason of anything ever again.
The 1983 and 1999 drafts are the only two drafts since 1970 that have produced five or more first-round quarterbacks. If Pitt's Tom Savage -- who has been invited to New York -- gets taken in the first round, then 2014 could see five quarterbacks taken.  
No matter how many quarterbacks end up in the first round this year, one thing's clear: They don't want to end up on the following list -- the 10 worst first-round quarterbacks drafted since 2000.
If anyone in the Texans' front office reads this list, they'll probably start negotiating with Jadeveon Clowney tomorrow.
Ten worst first-round quarterbacks since 2000
1. Raiders, JaMarcus Russell (No. 1 overall in 2007): Here's a list of people the Raiders should have drafted instead of Russell -- actually I don't have enough time to write down the name of everyone in the world, so I'm not going to make that list. This will go down as one of the worst picks in NFL history. Russell didn't even last three seasons in Oakland and when he did play, he was bad. The former LSU quarterback went 7-18 in 25 career starts. 
2. Lions, Joey Harrington (No. 3, 2002): Harrington started 10 or more games in all six of his NFL seasons and not once did he finish a season with a winning record. He threw 85 interceptions in 76 career starts (26-50). Harrington will go down in history as the guy who bridged the gap between the Michael Vick and Matt Ryan eras in Atlanta. 
3. Cardinals, Matt Leinart (No. 10, 2006): In four seasons with the Cardinals, Leinart became an expert at losing quarterback competitions. First he understandably lost one to Kurt Warner, then after Warner retired, Leinart somehow lost a quarterback competition to Derek Anderson. That was in 2010 and the Cardinals ended up cutting ties with Leinart before the season started.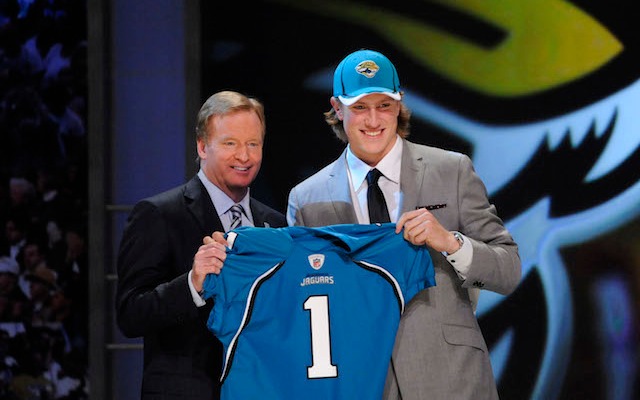 T-4. Browns, Brandon Weeden (No. 22, 2012); Jaguars, Blaine Gabbert (No. 10, 2011): If the team that drafted you gets rid of you in three years or less, then you're a bust, right? Glad we agree on that. Anyway, if you want to see Weeden and Gabbert carry clipboards for teams that didn't draft them, make sure to circle the 49ers-Cowboys game on the schedule next season. 
6. Browns, Brady Quinn (No. 22, 2007): Quinn has had a pretty horrible NFL career, but at least he can go to sleep at night knowing he wasn't the worst first-round quarterback in the 2007 draft. That honor, as mentioned above, belongs to JaMarcus Russell. 
7. Bills, J.P. Losman (No. 22, 2004): Name the first-round quarterback from the 2004 draft who's not Eli Manning, Philip Rivers or Ben Roethlisberger? Losman is the answer to that trivia question, so at least he'll always have that. 
8. Vikings, Christian Ponder (No. 12, 2011): If the Vikings go with a quarterback at eighth overall this year, we can officially label Ponder a bust. The only reason he's not a bust yet is because he did a really good job of handing the ball off to Adrian Peterson in 2012 and the Vikings made the playoffs. So Ponder has a playoff berth under his belt. That counts for something.
9. Ravens, Kyle Boller (No. 19, 2003): Boller went to the same college as Aaron Rodgers, if that counts for anything, which I don't think it does. Boller started 47 games over eight seasons and finished with a career record of 20-27.  
10. Titans, Vince Young (No. 3, 2006): Young's on this list because when you pick a quarterback third overall, you expect him to last more than five seasons with your team. That's how long Young lasted in Tennessee. On the other hand, Young actually had a decent career, he just couldn't stay healthy. Young went to two Pro Bowls and was named the Offensive Rookie of the Year in 2006. Due to various injuries, Young never made it through an entire 16-game regular season during his six years in the NFL.  
Didn't quite crack the top 10: Texans, David Carr (No. 1, 2002), Redskins, Patrick Ramsey (No. 32, 2002), Jaguars, Byron Leftwich (No. 7, 2003), Titans, Jake Locker (No. 8, 2011). Also, Carr didn't make the list because he was drafted by an expansion team, which is pretty much the closest you can get in the NFL to being set up to fail. 
Not on this list because I didn't want the list to turn into a conversation about Tim Tebow: Broncos, Tim Tebow (No. 25, 2010).